On Saturday June 23, author (The Disney Treasures, The Mickey Mouse Treasures) and past manager of the Walt Disney Archives Robert Tieman will be delving into the little-known, almost-forgotten world of the Advance Promotion Campaign. Illustrated with rare ad materials and photos; Selling Walt: The Business (and Fun) of Movie Promotion offers a behind-the-screen look at the creation of Walt's public image-and his Studio's standing in popular culture. Visit www.waltdisney.org for tickets. In anticipation of our upcoming program, museum volunteer Keith Gluck gives us deeper glance at the history of the merchandising behind the world's favorite rodent: Mickey Mouse!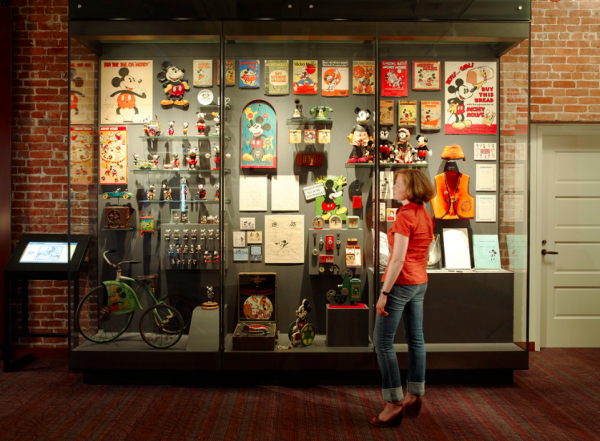 I only hope that we don't lose sight of one thing—that it was all started by a tablet. While it's true that the very first merchandising of a Disney character was actually that of Oswald the Lucky Rabbit, in the form of: a button, a stencil set, and marshmallow coated in chocolate, the real spark for Disney marketing came thanks to a chance meeting Walt had in a New York hotel lobby in 1929. A man approached Walt and offered him three hundred dollars in cash for the right to feature Mickey Mouse on a children's pencil tablet he was about to produce. Later, when recalling the story, Walt said, "As usual, Roy and I needed the money, so I took the three hundred."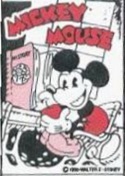 After the success of the tablet, more offers followed. The first merchandising contract Roy signed was with George Borgfeldt & Company. The deal allowed the New York-based company to manufacture and sell "figures and toys of various materials, embodying design of comic Mice known as Minnie and Mickey Mouse, appearing in copyrighted motion pictures." Disney received a 2.5% royalty for products selling for fifty cents or less, and 5% for items costing more. Walt then expanded on marketing Mickey by having him appear in a comic strip for newspapers, which was immediately followed by an offer of syndication. Mickey began bringing in much-needed revenue for the Disney Brothers Studio, but there was potential for a lot more. 
Then one day in 1932, Walt received a phone call from an affable fellow named Herman "Kay" Kamen, a Kansas City advertising man. He had a vision of putting a Disney character in every home in America. Intrigued by his energy, and already dissatisfied with his current deal, Walt invited Kamen out to California to hear his proposal. During the meeting, Walt and Roy quickly learned that not only did he have great ideas, but they were also all on the same page in terms of only allowing high quality merchandise to be stamped with the Disney name. On July 1, 1932, Kamen signed with Disney. The contract outlined a 50/50 split of the profits, a deal with which both sides were highly content.
Kamen wasted little time realizing his vision. Soon Mickey and Minnie could be found in department stores everywhere, adorning such products as: napkins, wallpaper, books, phonographs, all types of clothing, hairbrushes, toys, and much more. Mickey products extended beyond the store shelves as well, thanks to annual, then biennial, merchandise catalogs published by Kamen.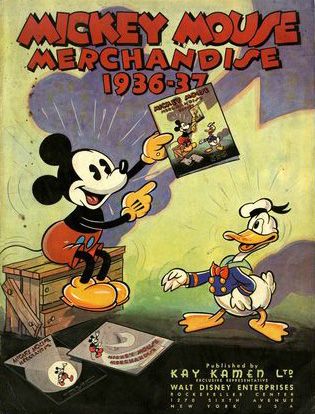 In 1933, Mickey marketing took another giant step forward. Kamen struck a deal with the Ingersoll-Waterbury Clock Company to produce Mickey Mouse timepieces, and it was a boom for all parties involved. On its first day of release, the watch sold a record 11,000 units at Macy's in New York. Ingersoll-Waterbury, on the verge of bankruptcy prior to the deal, saw their workforce increase by 900% (from three hundred employees to three thousand) mere weeks later.
Some of those historic timepieces are actually on display in Gallery 2 of The Walt Disney Family Museum, some of which were generously donated by Walt's grandson, Walter E.D. Miller. A few of the authentic Ingersoll items you can see are: A watch display standee (1934), Mickey Mouse alarm clock (1934), Mickey Mouse clock (1947), Mickey Mouse pocket watch (1933), Mickey Mouse wristwatches (1933, 1938), and the very first electric Mickey Mouse clock (1933).
Thanks to the success of Mickey, through both films and Kamen's merchandising, Walt was able to afford to start work on a little film called Snow White and the Seven Dwarfs. Because the length of time it was in production (about three years), and the cost associated with it (2 million dollars, a then unheard of sum for a cartoon), detractors referred to the project as "Disney's Folly" before its release. Kamen helped assure that moniker wouldn't last, as he inundated the market with Snow White merchandise. Kay's marketing campaign for the film was the first of its kind, and to no surprise was later mimicked by the competition. Snow White, regarded by many as the greatest achievement in animation to this day, was a smash. The financial windfall Disney received from its success enabled Walt to build a new, state-of-the-art studio in Burbank, California.
There's no doubt that Walt's many talents, imagination, vision and focus on quality is what carried Disney to the top of the entertainment industry. However as Roy knew all too well, none of it came for free. "It takes a lot of money to make these dreams come true," Walt once said. And in the early days, a lot of that money was possible thanks to a cartoon mouse and a pencil tablet. And, a man named Kay, who excelled at selling Mickey, and led the rise of Disney Marketing.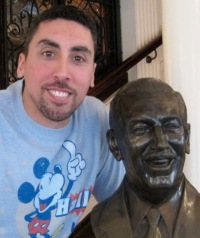 Keith Gluck is a volunteer at The Walt Disney Family Museum, writer/editor for thedisneyproject.com, and lifelong student of Disney. His Disney life started early, visiting Disneyland before turning one, and writing his very first book report on a Walt Disney biography for kids.