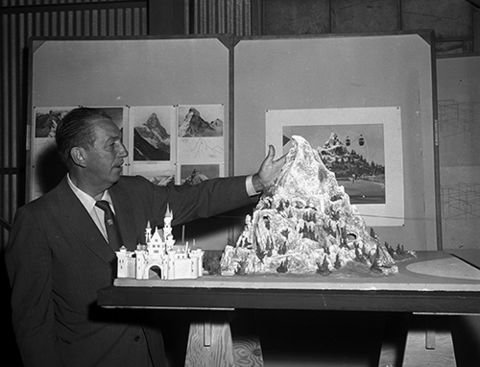 With excitement abuzz over Disneyland's latest planned expansion, we pay tribute to its first major park expansion as proof of Walt's oft-proclaimed pronouncement that "Disneyland will never be completed. It will continue to grow as long as there is imagination left in the world." The official "second opening" occurred on June 14, 1959, nearly a month shy of the park's fourth birthday, which included the addition of three attractions whose thrill level necessitated the creation of a whole new tier of attraction admission tickets—the vaunted "E" ticket.
The three attractions—Matterhorn Bobsleds, Disneyland- ALWEG Monorail System, and Submarine Voyage—represented more than Walt Disney's ever-growing fascination with different modes of transport. Walt's love of land transport is not surprising, given that his love of trains goes back as far as his formative years in Marceline, but that these three attractions also share an overarching theme of innovation through land, air, and sea conveyance.
Matterhorn Bobsleds was inspired by the on-location shoot of Walt's latest adventure film, Third Man on the Mountain, which would be released later that same year. The story has been told that Walt sent a postcard of the famous mountain in the Swiss Alps where the filming was taking place, to Imagineer Vic Greene with a simple message: "Vic, build this! Walt." The attraction itself—designed and built to 1/100th scale of the original by a coalition led by famed Imagineer, Disney Legend, and avowed roller coaster hater Bob Gurr—turned out to be the first tubular steel continuously-tracked roller coaster, an ancestor of today's highly advanced steel coasters. As the intersection of the day's cutting edge technology and an Alpine runaway toboggan fantasy, it plays its role well as the physical barrier between Tomorrowland and Fantasyland.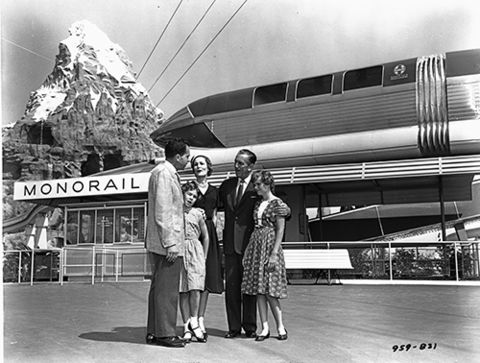 Switching gears, the Disneyland-ALWEG Monorail System was and continues to be the first daily operating monorail system in the Western Hemisphere. Vice President Richard Nixon and his family (along with his Secret Service detail) were on hand for the opening ceremony. Walt invited Mr. Nixon's daughters, Julie and Tricia, to cut the ribbon—but they had trouble managing the oversize scissors and Walt had to help out. (In a few years Walt himself would have similar difficulties with the large scissors used in the opening ceremony of Ford's Magic Skyway—yet another transportation-based attraction—at the 1964-65 New York World's Fair.) The Monorail has since been recognized as a Historical Mechanical Engineering Landmark by the American Society of Mechanical Engineers.
Of the three attractions, Walt may have been proudest of the submarines. Less than a year after the world's first nuclear-powered submarine—appropriately, the U.S.S. Nautilus—became the first ship to cross the North Pole, Walt unveiled his very own Nautilus (and seven sister submarines) in an attraction unlike anything Park guests had ever experienced before. Two months following the opening of the Submarine Voyage, Walt hoped that the submarines would provide the ultimate backdrop for a visit from Soviet Premier Nikita Khrushchev, considered in America as the "boogeyman" of the Cold War climate of the 1950s. Walt was looking forward to diplomatically boasting that Disneyland deployed the eighth largest submarine fleet in the world (and the largest peacetime fleet to boot!). However, the trip was nixed due to security concerns by the State Department and Los Angeles law enforcement. Although Walt was disappointed by the change in plans, no one was as disappointed as Khruschev, who seemed ready to start World War III over the incident.
Each of these attractions continues to delight and inspire dreamers to this day. Walt would continue his innovation in transportation technology with the invention of the PeopleMover technology for the 1964-65 New York World's Fair and incorporate both monorails and PeopleMover vehicles in his plans for an Experimental Prototype City of Tomorrow (EPCOT). For his Florida Project, the Monorail would be more than an attraction: it would be a major transport system throughout the entire property. Walt's Submarine Voyage would also be brought to the project (initially dubbed "Disney World" by Walt, but by opening was renamed "Walt Disney World" by Roy O. Disney in honor of his beloved brother). Walt's great transportation attractions continue to inspire Imagineers today. A re-theming of Disneyland's Submarine Voyage based on the 2003 Disney-Pixar film Finding Nemo brings visitors to the undersea world of Dory, Crush, and Nemo himself. And while Walt's beloved Matterhorn Bobsleds can only be found at his original Magic Kingdom, they undoubtedly link to Expedition Everest — Legend of the Forbidden Mountain (2007), an "E-Ticket" roller coaster attraction through the Himalayas for Disney's Animal Kingdom Park at Walt Disney World Resort. Walt's fascination with moving vehicles—on land, via highways in the sky, through mountains and under sea—is a lasting legacy.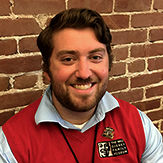 Chris Mullen
Guest Experience Associate at the Walt Disney Family Museum