This month we celebrate the Season of Giving, and the generous legacy of Walt Disney. In addition to his generosity to the community and numerous charitable organizations over his lifetime, and the bounty of Walt's influence in many areas of our culture around the world, the holiday tradition of special Disney Christmas gifts to children (and grown-ups) around the world began with Walt and a one-of-a-kind colleague. Disney historian David Lesjak offers this expert view of Kamen's Christmas initiatives over the first few decades of the Walt Disney Studios.
"And now comes Christmas, when merchandise as Christmas gifts can be sold in large quantities. What would be more acceptable than a 'Mickey Mouse' gift?"
— Kay Kamen news bulletin to all licensees, Oct. 17, 1932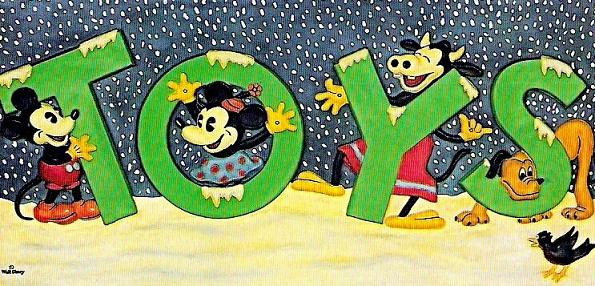 Christmas day—that magical time of year when families get together to share the spirit of the season, and children wait with barely-contained excitement for word that it's time to open presents. And if you were a child in the mid-1930s, chances are your local retailer's toy department was decorated with a Disney theme during the Christmas season.
During the height of the Great Depression, Mickey Mouse reigned as "King of Toyland." Hundreds of items featuring the mouse's likeness could be found for sale in every major department store across the nation. The man responsible for the coronation of Mickey was a former hat salesman named Herman Samuel "Kay" Kamen.
Walt and Roy Disney signed Kamen to a contract on July 1, 1932, and when existing merchandise agreements expired a little over one year later, Kamen became Disney's sole merchandise licensing agent.
The Kamen/Disney partnership quickly became one of the most successful collaborations in business history. Within six months, Kamen doubled retail sales of character merchandise to $6 million, and by 1935 over $35,000,000 worth of character merchandise had been sold. By the late 1930s, royalty income from merchandise exceeded revenue from film rentals. 
From his New York office Kamen and his group of in-house artists and sales reps successfully marketed Disney's stable of characters to hundreds of manufacturers. The list of licensees that created Disney products reads like a "Who's Who" of American business giants: Ingersoll, Lionel, General Mills, and Cartier were just a few of the companies who signed contracts to sell all manner of Disney merchandise.
To promote his licensees and the items they made, Kamen published several yearly merchandise catalogs. These books were distributed to store buyers across the country in 1934, 1935, 1936-37, 1938-39, 1940-41, 1947-48, and 1949-50.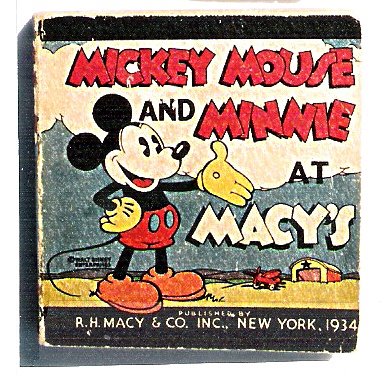 In 1933 Kamen published the first of four annual Christmas Promotion manuals. While that first manual appears crudely amateur by today's standards, by 1935 the Christmas manual had transformed into a slick looking publication that outlined a complete toyland campaign.
The 1935 manual was loaded with publicity ideas, sample radio spots and newspaper ads, promotional merchandise and giveaway premiums, and animated display pieces. In the book's foreword Kamen wrote, "Mickey Mouse commands great prestige through 10,000 motion picture screens, 300 newspaper comic strips, and over 80 manufacturers producing millions of dollars worth of merchandise. We have found that where Mickey Mouse is established as the dominant theme for Christmas and supported as a star should be, the results are gratifying."
Typically, the first stop on any Christmas shopping excursion led straight to toyland. Kamen ensured the toy departments of the nation's largest retailers featured Disney themes, and that the store Santa distributed a Disney premium. In 1934 Kamen boasted the toy departments of 35 leading retailers featured Disney themes. That number grew to 50 by the year 1935.
Two of the rarest Disney Christmas premiums were given away by the Macy's Santa Claus. In 1934, youngsters received Mickey Mouse and Minnie March to Macy's, a soft-cover book which told the story of the Pilgrims. In 1935, children received Mickey Mouse and Minnie at Macy's.This book told of the couple's trip to New York, and their subsequent transformation into giant balloons that led Macy's big seasonal parade. 
Two great giveaway premiums were offered in Kamen's 1935 Christmas manual. The Magic Movie Palette was a small, four-page book that featured two cut-out windows and a moveable dial, which, when turned fast enough, gave the illusions of either Mickey ice-skating or Minnie walking along a snowy path.
Mickey Mouse and the Magic Carpet told the adventures of Mickey and his friends as they climbed aboard "…an ancient carpet from out of the east, from the land of the Arabian nights." The carpet took Mickey and his friends across North America to points of interest including the Grand Canyon, and Niagara Falls.
The Magic Carpet premium tied-in with a children's ride that retailers could purchase directly from Kamen. The 1935 manual indicated, "In groups as large as fifty, [children] are seated on a carpet 30 feet long by 6 feet wide…on goes a cloud machine…a wind machine…and a whirring motor sound to simulate an airplane. On a translucent screen is flashed…motion pictures depicting a trip over mountains, snow, etc. The carpet…starts an undulating motion…pronounced enough to give the effect of a ride through the air." At the conclusion of the ride, children visited Santa and received a copy of the related book.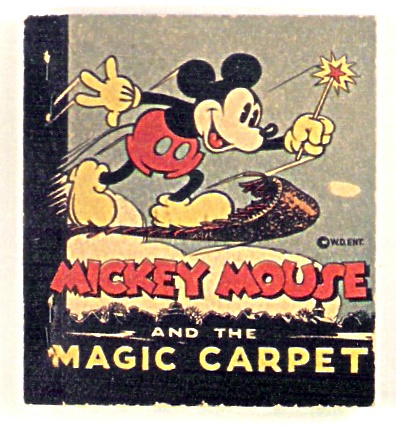 Old King Cole, an Ohio-based company that specialized in display items, helped Kamen transform toy departments into wonderlands. The company produced stunning three-dimensional Disney figurines constructed of papier-mâché. Some of the company's colourful displays measured 6x9 feet, and many had moving parts.
The 1938 edition of Display Animation featured 26 photos of Old King Cole/Disney window displays. One of the more elaborate Snow White exhibits appeared at Pennsylvanian store. For 25 cents children could visit a walkthrough area that featured nine window exhibits showcasing scenes from the film "…and receive a surprise package from Snow White in person."
In 1938 toy-store Santas handed-out Dopey's Christmas Tree, a booklet that featured the story of Dopey and his visit with "Little Bob and Betty" on Christmas Eve. The trio embarked on an adventure which took them to the Dwarf's cottage where they ate cake, played with toys, and watched a circus performed by forest animals. The book's tagline read: "But do you think Bob and Betty had been dreaming? Yes, but the lovely part was their dream must have come true, for all the toys they had seen…were right in the toy department of their favorite store."
A similar premium, Pinocchio's Christmas Party, was issued in 1939. This booklet was illustrated with Disney toys and maquettes from Disney's own Model Department. The last paragraph in this book read, "And here's the nicest part…all of the toys the Blue Fairy gave Pinocchio you can see for yourself in the toy department right in our store."
Besides toy department premiums and display items, many pieces of Disney merchandise were produced specifically for the Christmas season. Hall Bros. (which later became Hallmark) printed dozens of different Christmas greeting cards featuring Mickey and his friends and a seasonal message. In 1930 Walt Disney started his own Christmas tradition by issuing the Studio's first corporate Christmas card — most promoted and upcoming film release.
Hallmark and King Features Syndicate, Disney's newspaper strip distributor, teamed up to issue a Christmas card in 1935 using characters King Features represented. The multi-page card told the iconic story of The Night Before Christmas. Page one pictured Mickey asleep in a chair in front of the fireplace.
In 1934, the English firm of Collins published The Night Before Christmas, and Santa's Workshop. Both books were based on Disney Silly Symphony cartoons of the same name. In 1936, Whitman published Mickey Mouse and His Friends, which told the story of Mickey's Christmas party. Several issues of the Mickey Mouse Magazinehad a Christmas theme — the 1933 and 1934 dairy editions featured Santa on the cover, while the December 1937 newsstand edition had Mickey dressed as Santa. This same illustration was also used on the cover of a shoe store giveaway.
In 1935, thousands of children received the Lionel "Santa and Mickey" handcar as a gift. As Mickey peeked out from Santa's toy sack, the jolly old fellow pumped the handcar around a circle of track. Although thousands sold for $1.00, this version is the hardest of the three Disney Lionel handcars to locate today.
Dennison helped parents disguise presents with a variety of Christmas wrapping paper, gift tags, stickers, and seals. And while Mickey and the gang waited to be unwrapped, Disney lights on the family Christmas tree acted like a beacon for children, showing them the way towards the presents stacked underneath.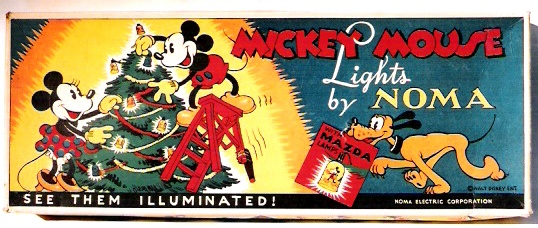 NOMA produced several sets of Disney-themed Christmas lights beginning in 1935. Sets came with a light strand decorated with eight plastic shades, each of which had a decal featuring Disney characters engaged in various Christmas activities. Mickey Mouse and Silly Symphony sets were available in the U.S., while Snow White and Pinocchio sets were available in Canada.
Many of these vintage items can today be found for sale in auctions, collectible shows, and antique stores, where the remain beloved and favored possessions. Thanks to Kay Kamen and the merchandise he licensed, collectors can relive the magic of Christmas 80 years past.
And yet, perhaps the most interesting aspect of this merchandising bonanza is that it was not really a component of Walt and Roy's initial business strategy for their new characters. Still stinging from the loss of Oswald the Lucky Rabbit, merchandise was at first considered primarily as a means to publicize the characters outside of the movie houses and to attach rights protections across various avenues other than the films themselves. "We developed the merchandising to a point more from that angle [to protect the characters]," Roy Disney recalled in a 1968 interview, "not realizing its money potentials…Kay walked in our office one day and said, 'I don't know how much business you're doing but I'll guarantee you that much business, and give you 50% of everything I do over.' We made a deal with him. He was a merchandizing-minded fellow. He did a terrific job for us." 
And for Disney fans, young and old, across the many generations since, this "terrific job" is a gift that keeps on giving.
All illustrations courtesy of David Lesjak. © Disney
David Lesjak is a Disney historian who has been researching and writing about the history and creative legacy of Walt Disney for 25 years. David collects 1930s Disney memorabilia and Disney World War II items. He shares his knowledge through speaking engagements and his two blogs: Vintage Disney Collectibles, and Toons At War. David has been a Consultant, Special Projects, to The Walt Disney Family Museum.
Images above ©Disney