"I suppose I've always been in love with trains," Walt wrote, and in October we are celebrating his lifelong locomotive love at The Walt Disney Family Museum, and here on Storyboard. This article was written especially for Storyboard by Disney Historian Joseph Titizian.
"The reason Walt built Disneyland is because he wanted one. He wanted the biggest train layout; he wanted a place for all of his toys." —Bruce Gordon, Imagineer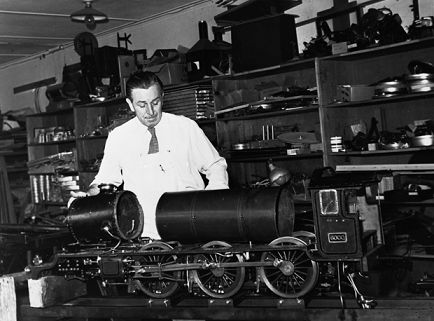 Guests who visit Disneyland (or any Magic Kingdom-style park created since) are greeted by two great symbols of the life and career of Walt Disney. The first thing they see is the large floral Mickey Mouse, which has warmly welcomed Disneyland guests since opening day. The second thing guests see (and hear!) is the culmination of Walt's lifelong passion for railroading—the Disneyland Railroad, as it pulls into Main Street Station. In designing Disneyland, Walt told legendary artist Herb Ryman that he wanted it "to look like nothing else in the world. And it should be surrounded by a train." What most people don't know is that Walt personally owned the Disneyland Railroad, as well as the Disneyland Monorail, as well as his apartment  above the Main Street Fire House.
Walt's love for trains went back to his early childhood. In a 1938 Family Circle article titled "Snow White's Daddy," Walt recalled one of his earliest train memories, "When I was five my family moved out of Chicago and we went to Marceline, Missouri…I can clearly remember every detail—just as if it had been yesterday. I even remember the train ride from Chicago to Marceline, and I remember the new things I saw as I looked out of the window."
At the age of 15, Walt spent his summer working as a news butcher on the Santa Fe Railroad, selling newspapers, soda, candy and cigarettes to passengers. Walt stated that cross-country train trips for business helped him decompress from the stresses of the studio. Mickey Mouse was born on a particularly stressful trip, after a devastating visit to New York, where Walt found out he had lost most off his staff and his rights to Oswald the Lucky Rabbit.
Walt was also surrounded by other rail fans at the studio, most famously Animator Ward Kimball, who by 1945 had restored and built a full-scale railroad in his San Gabriel, California backyard. For Christmas, 1947, Walt gave himself a Lionel Train Set. He wrote to his sister Ruth, "I bought myself a birthday Christmas present, something I've wanted all of my life – an electric train. Being a girl, you probably can't understand how much I wanted one when I was a kid, but I've got one now and what fun I'm having. I have it set up in one of the outer rooms adjoining my office so I can play with it in my spare moments."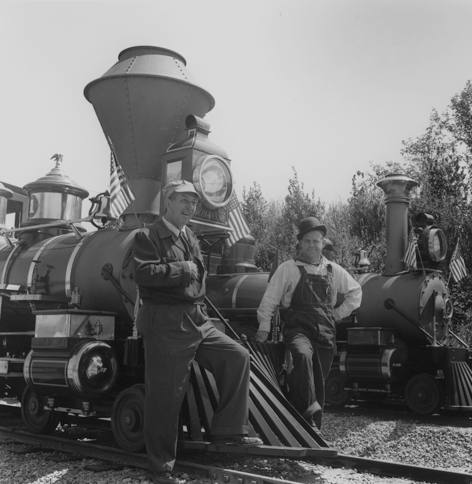 During the summer of 1949, Walt and Ward attended the Chicago Railroad Fair. There Walt saw full scale historic trains in pageants with performers in period costumes. He walked through recreated "lands" including an "old New Orleans," and enjoyed a spectacular fireworks show over Lake Michigan in the evening. Many of these Railroad Fair experiences would help shape what would become Disneyland. After seeing Animator Ollie Johnston's backyard steam railroad, Walt decided he had to have one of his own. By Christmas of 1949, Walt's hand-built miniature steam train, the Lilly Belle, was completed and running at the Studio. By the late spring of 1950, it was running along more than 2,500 feet of track around the Disney family's new home in Holmby Hills.
Rides on the Lilly Belle became an increasingly popular weekend activity with friends, neighbors and employees visiting the Carolwood house for a ride on Walt's train. Walt considered moving the train to the studio and charging an admission for rides on the Lilly Belle on the weekends, but it was decided that would not be cost effective. Then Walt thought about creating a train ride, but on a larger scale, around a small amusement park on 16 acres of unused land adjacent to the Studio. Walt's vision continued to grow, and the small plot of land became too small to contain all of Walt's ideas. After an exhaustive survey of the greater Los Angeles region, the small agricultural town of Anaheim was chosen as the site of Walt's park, now called "Disneyland."
Walt struggled to gain financing to build the park, and personally paid for the design and construction of the Disneyland Railroad, as well as the short-lived Viewliner "train of the future," and its replacement, the Disneyland-Alweg Monorail System. These attractions remained Walt's personal property after Disneyland opened. The staff and maintenance workers for these attractions were employees of a private company Walt created called RETLAW (Walter spelled backwards). RETLAW owned and operated the Disneyland Railroad, Disneyland Monorail, and Walt's apartment until 1981, when they were sold to Walt Disney Productions.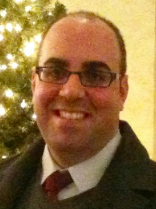 Joseph Titizian is an inaugural member of The Walt Disney Family Museum volunteer team. He is a regular contributor to this blog, and has developed continued education courses for the volunteer team. A lifelong Disney fan, Joseph has previously worked at Disneyland Park and Pixar Animation Studios.
The Great Locomotive Chase screens daily through October at 1:00pm and 4:00pm (except Tuesdays, and October 15). Tickets are available at the Reception and Member Service Desk at our museum, or online by clicking here.