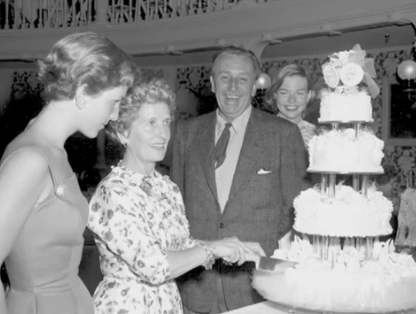 My parents were married on July 13, 1925. It seems that all—or nearly all—of mother's large family were present at the wedding in Lewiston, Idaho. Her sister Hazel and her daughter Marjorie, along with mother, went up from Los Angeles.  My father's family did not make the journey, for financial reasons, and I think that Roy and Edna (who had been married in April of that year) were not there for similar reasons.
Dad always honored this date with flowers. On their 25th anniversary, Sharon and I wanted to get them a special gift, and a good girlfriend of mine took us to a shop in Westwood Village that specialized in silver, crystal, and the like. We knew very little about this sort of thing, but I recall that both of us really wanted to do it. I would have been 16 1/2, she 13 1/2. 
On one occasion, maybe 1960, Ron and I and my sister and her husband, Bob Brown, gave them an anniversary dinner in the wine cellar of the restaurant Scandia on the Sunset Strip. We invited three couples that we considered to be their "best friends" at that time:  the architect Welton Becket and his wife Faye, the actor/US Senator George Murphy and his wife, Julie, and Jack and Peggy Bolton. Jack was an agent at MCA. They were really people that we felt comfortable with, too, and the wine cellar did not accommodate a larger group.
The only party that they ever gave to celebrate their anniversary…that I know of…was the wonderful event before the opening on Disneyland in July of 1955.