This is the fourth of a five-part series that looks back at the Museum's roots and its journey to opening day, Oct. 1st, 2009. This piece was orginially written by Walter E.D. Miller shortly after Bruce's memorial service in November 2007. We are posting it again in tribute to a man whose creative imagination can be seen throughout our Museum.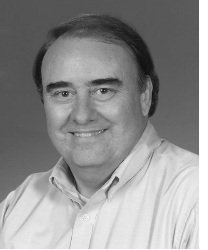 The first time that we met Bruce Gordon was on a soundstage in Hollywood, where we interviewed him for the Walt Disney Family Foundation/Pantheon Productions documentary Walt: The Man Behind the Myth. Bruce spoke eloquently and enthusiastically that day, about Walt and Disneyland. My Mom, sister Joanna, and I were a captivated audience. After the interview, we hoped to chat for a minute or two, but just as quickly as he had entered the stage in his blue button down dress shirt, khaki pants, and black tennis shoes, he was out the door, back to Walt Disney Imagineering.
It was only later that Bruce told me he had no idea that those were scheduled to be on-camera interviews, and he amusingly told me that it was a great deal because he got a free haircut out of it when he went into makeup. I would later learn that Bruce found most things in life amusing.
Several years passed before I spoke with him again. This was shortly after I had received separate, urgent phone calls from Richard Greene, Jeff Kurtti and Paula Lowery, all eagerly informing me that Bruce had become unexpectedly available for hire, and that he might be interested in working on the Foundation's Museum Project. This was falling right into my Mom's, Dad's, and my wishes that either Tony Baxter or Bruce Gordon would be available to contribute their creative talent to our project. That day, I had the honor and privilege to call Bruce Gordon, the Imagineer, and offer him the job as Show Producer for The Walt Disney Family Museum.
Bruce spent the next two-plus years working for the Family Foundation as Show Producer, story consultant, video editor, creative consultant, technological advisor, digital wizard, historian, Apple Computer expert, and never once did he say no to taking on another task. He came to meetings early, never late, with a drive and a focused determination that was at times combative, defiant, collaborative, and brilliant, but it was always loaded with a tireless enthusiasm and playfulness.
He was driven to make this Museum the very best it could be, and insisted on it, demanded it, and although he didn't always get his way, and was the first one to tell someone their idea didn't work, he was also the first person to latch on to a good idea. He was constantly plussing the storyline, exhibits, and content, to accurately depict the story and life of Walt, the entertainer, producer, genius, but mostly the man and his spirit.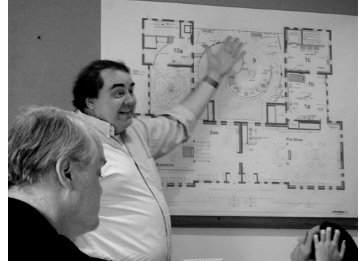 What we quickly found in Bruce during the few years that he worked with us was his strong character, great sense of humor and brilliant mind. He was Cockney English, Irish or German, depending on his mood, and he was a song and dance man, or all of the above, during a meeting and within an hour's time. He was a stubborn optimist and loyal combatant. He was a patient instructor and a captive audience. He rarely interrupted and always raised his hand and anxiously waited his turn to speak.
He was also a gourmet junk food junkie, and proud of it, with the ever-present Diet Coke at his side, but he never drank or smoked. He could critique and dissect elevations or plans in a flash, and had a solution or suggestion a second later. He wore the same outfit regularly, but had new trivia, or a twisted philosophical look on life to share with us everyday. He loved the past, but lived in the moment, and looked forward to the future. Mostly he loved to laugh, and would laugh with you, but never at you.
Bruce was a loyal friend and colleague. He was fiercely devoted to his fellow Museum Content Team members and friends, Jeff Kurtti and Paula Sigman Lowery, and worked closely and affectionately with his friend, the Museum's Research Specialist, Hugh Chitwood. He was a close friend with Ed Squair, from The Walt Disney Company Photo Library, and Richard Sherman, the Disney Legend. One of the first things my parents and I learned about Bruce and his personal life was his devotion to his father, Walter, and his sister, Nancy. He visited his father on every Sunday, and he spent every vacation with the two of them. In the fall of 2007, he and his father traveled the entire Route 66, just the two of them, from Los Angeles all the way to Walt's boyhood town, of Marceline, Missouri.
Our family's short time with Bruce was a ride in itself, full of ups and downs, thrills and laughter. And as painful as it is that Bruce wasn't at the opening of The Walt Disney Family Museum, his fingerprints are all over it. He contributed so much to our project, and was passionate about it, and believed in it to the very end, because he believed in Walt, completely and affectionately, yet he had so much more to contribute to the project, the friends, family and us. He worked with a group of very talented people on this project and throughout his career, and he left a lasting impression with everyone he met, and with most of us -- we walked away from Bruce with a big grin on our face.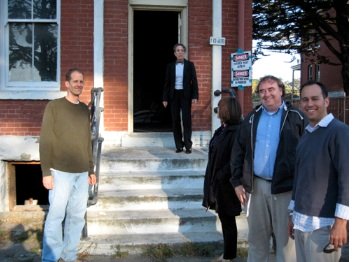 The last time I saw Bruce was in our Walt Disney Family Foundation offices, with Paula, Hugh, Jeff Kaye, the Foundation controller, and Jeff Kurtti. My Mom had invited Floyd Norman over for an introduction to the Museum, a presentation that Bruce did often. After Floyd left, and my Mom dashed off to the airport, we all gathered in my office, around my monitor, and shared a laugh as we looked at my collection of project photos from the past two years. After that, Bruce shared with all of us his latest hi-tech gadget, which he did on a regular basis, a remote control miniature robot. He loved robots and gadgets. My last impression of seeing Bruce, before I said goodbye, was watching him intensely, and with curiosity playing with his new toy gadget.
He was a big, clever, brilliant kid to the very end, with a insatiable thirst for life and Diet Coke, and we will all miss his big warm eyes and contagious laugh. When you visit the Walt Disney Family Museum, Bruce Gordon's presence will be all around you, right along with Walt's.
Bruce Gordon passed away, unexpectedly on Nov. 6th, 2007.