"I'm just very curious—got to find out what makes things tick," Walt Disney said. "All our people have this curiosity; it keeps us moving forward, exploring, experimenting, opening new doors." This legacy of Walt Disney continues to this day—and the artists and Imagineers at Disney are frequently the most informed and passionate enthusiasts of Walt Disney.
In observation of this month's celebration of Walt's visionary ideas about space, progress, and the wonders of the future, we share a conversation on that subject between two remarkable Disney aficionados and Walt Disney Imagineers, Vanessa Hunt (a Founding Member of The Walt Disney Family Museum) and Tony Baxter (a friend and frequent advisor of our museum).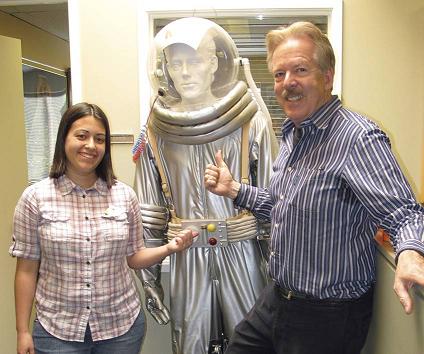 Vanessa: Walt Disney had a unique vision of "tomorrow." Can you describe what that vision was?
Tony: In the early 1950s America was still coming out of World War II, population centers were moving into the suburbs, families were growing, and there was an incredible feeling of optimism in the country. The future looked bright and exciting. Walt had an impressive body of work at that point, things as varied as Snow White and the True-Life Adventure series, but it was primarily concerned with the past, and fantasy, and nature. He hadn't really contemplated the future at that point, and that's one of the things he wanted to achieve at Disneyland, to show people how the world is going to be.
But unlike Fantasyland, the realm of classic fairytales, Adventureland, which drew from his nature films, and Frontierland, inspired by the American Old West, Walt had no mythology to base the future on. So it was very insightful for him to pair the leading scientist working in America at the time, Wernher Von Braun, with talented animator Ward Kimball. At first glance it was an odd combination, but Walt hoped this mixture of "oil and water" would forge something that was factual from a scientific standpoint but also fun and inspirational to the average person.
Out of that partnership came the "Man in Space" Disneyland TV installments, which were an optimistic look at the prospect of space exploration. That ended up shaping the look and feel of Tomorrowland and several of its early attractions, including Flight to the Moon and Flying Saucers. But this was an idealized version of the space age—the attractions, the building forms; all of it was aimed at making the future look wondrous and full of potential. 
Vanessa: "Progress" was a big theme for Walt, especially during his later years. What is the "progress" that Walt envisioned?
Tony: One thing about Walt, he never sat still. No matter what he accomplished, he was always thinking about the next big thing. At his Studio he pushed for sound cartoons, color, stereo soundtracks, widescreen, etc. So yes, progress was a very big part of his philosophy.
But he was smart about it. Progress wasn't for progress's sake. It was a means to advance his central goal of telling a fantastic story. We still practice this today. Take the Star Tours attraction: we did something no one else had done before and took a motion base simulator and built an immersive experience around it. The simulator is an amazing piece of technology, but it's really just a tool that allows us to relate the Star Wars mythology in a way no one had ever experienced it. So like Walt, we never put these technological advancements out there on their own: they are buried as servants of story.
The Sherman Brothers, who composed the unforgettable "it's a small world" and the Mary Poppins score, wrote a song as a tribute to Walt's passion for progress called "There's a Great Big Beautiful Tomorrow" that was used at the General Electric pavilion at the 1964 New York World's Fair. The theme of that pavilion, by the way, was "Progress is our most important product."
Vanessa: Tomorrowland was a big part of Walt's plan for Disneyland. What challenges do you think Walt faced in "imagining the future?"
Tony: Walt lived in a time of great technological advances, but there were still a lot of limitations. When Disneyland opened in 1955, there was only so far they could go in bringing to life all the different realms using the tools they had, especially in Tomorrowland.
So when he was approached to work on the 1964 New York World's Fair, he realized he could partner with the leading industries in America to exponentially expand his creative, technological and financial capabilities. Each company opened the door to their expertise and resources to put focus on doing something really stunning. It was a matter of putting talent and money on something and seeing how far you can go. So he was able to make a robot mimic a human, develop the Omnimover and PeopleMover systems, and achieve many other breakthroughs. A lot of that technology ultimately ended up back at Disneyland, including Tomorrowland.
Vanessa: There have been many renovations to Tomorrowland, including one in 1966/1967. What can you tell us about that update, and the decision to keep refreshing it? What has been the biggest challenge in the ongoing creation of a "Land of Tomorrow"?
Tony: Walt's era was one of great industrial and mechanical change, and "the future" was a lot easier to define. But the future is always evolving. In Walt's day, it would have been impossible to envision the massive transformation of information that has occurred in the last two decades.
The technologies that were developed became the outgrowth for '67 Tomorrowland. Walt could see the challenge of the future not being anything that one person could solve. It was something that he was going to have the best minds and the biggest organizations working together to bring to life. That was a major transition from the first Tomorrowland.
Since then several things have happened: we've had an information revolution and the vision of needing to live in highly dense, urban environments hasn't happened. In fact suburbanization and computers allowing people to commute to their business electronically has allowed people to rethink what the future is all about.
The dream of living in a kind of an "emerald city" has been replaced, perhaps, with living with nature. We still have science fiction that shows us these urban things but generally when you see those they're dense and crowded and no longer where you want to live. So the challenge of answering, "what is the future?" becomes more and more elusive, because everyone has a different view of it. As we add things, we look for ways to make the future look more speculative, a little bit more fantastic. A show like Star Tours works really well because in a way, it looks futuristic but the opening tells us that it was in a galaxy a long time ago and far away. So it satisfies that urge to have that look, but it frames it up in a fantastic way where it's not presuming to be the future we're all going to live in.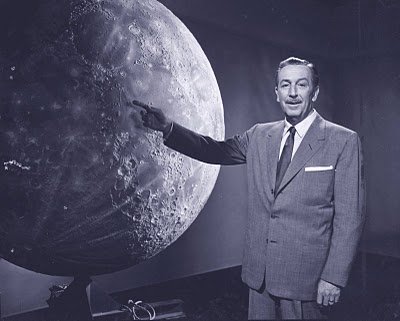 Vanessa: Where was Walt in the thinking of the team that developed Future World at EPCOT?
Tony: The last day Walt was at the Studio working, he put together a film for American industrial leaders to inspire them to jump on board the dream he called "EPCOT" [Experimental Prototype City of Tomorrow]. He saw it as a way of reinventing the city, a place where we can test out and try all the coming technologies and integrate them in how people live. They could experiment with new ways of cooking, transportation, etc.
The spirit of the people that went on to design today's Epcot was the same spirit Walt had when he realized he had to do have a partnership with leading minds. So not only was that done in terms of marriages with various big corporations in America, but each of the subjects—energy, space, transportation, imagination—had a board of advisors made up of academic minds that worked between the corporate goals and the entertainment goals to set us on a course that wasactually happening. It reminded me on a grand scale what Walt had done with Wernher Von Braun sitting on one side of the table, Imagineers in the middle, and Ward Kimball on the other side.
Vanessa: Is "imagination" a futuristic idea?
Tony: This question hits really close to home with me, because I was very involved with the Imagination pavilion at Epcot. When we developed that, we realized there was a process that everyone goes through, no matter what you do for a living, or what you do for fun. You have to gather information and assets, store them, and then combine them with other things to create a something new. Gather, store, combine. That's where imagination comes in.
To this day, the air we breathe at Disney is imagination. It has to be the founding cornerstone of what the future will be. I believe everyone has the capability to take and absorb content and put it together with content they have stored to create new product. It's only the level of how profound it is that varies. Once you understand that we all have that talent, and how it works, it's just a matter of going out into the world and applying it.
Vanessa: If Walt walked in the door today, what are the elements of "the future" you'd be most anxious to share with him?
Walt was very forward thinking and perceptive. Back in the 1950s he wanted to produce TV shows in color even though the other studios were only making black and white content. People told him, "Walt, there are no color televisions," to which he replied, "But there will be." So Disney programs from back then like Davy Crockett are still valuable to us today because they're in color.
That said, I don't think even in his wildest dreams Walt could have envisioned how much technology has evolved. For example, he passed away before there was an inkling of what computers would become — in his day they filled entire rooms and couldn't do much more than store a small amount of data that could be used to run an Audio-Animatronics figure. Now computers live on tiny chips and are infinitely more powerful and the potential for their use is boundless.
He'd also love the advances in communications. There used to be a picture phone booth at Disneyland where you could see and talk to someone in another booth in New York in real time. Today you can videoconference with anyone, anytime, just about anywhere with mobile devices. I also think Walt would have fun watching movies like Snow White or Sleeping Beauty on mobile devices. The freedom that allows, I don't think he could have imagined that because the content was so controlled back then.
But as I said he was insightful enough to sense the possibilities. I think he'd really smile if he saw a Blu-Ray of Davy Crockett because his first thought would be of the people who told him he was crazy for making it in color. Everyone who knew Walt said if you brought him something new he'd start thinking about what he'd do with it before you were even done explaining it to him. So if he were still around today, he would up all night with a smart phone or tablet computer figuring out how to use it, how to apply it, how make it better. He would be creating things we couldn't even perceive—and they would still be changing the world.
Images above: 1) Vanessa Hunt (left) and Tony Baxter, along with a futuristic friend. Courtesy of Vanessa Hunt. 2) © Disney.
Vanessa Hunt is a lifelong Disney aficionado and Walt Disney Imagineer. Her Disney career began at her local Disney Store in 2001, after which she worked at the Disney Studio Store in Burbank. Her educational background is in Art History, and she has spent the last four years as one of three people responsible for the more than 90,000 pieces of original art work preserved in the Art Library at Walt Disney Imagineering. She has serves as curator for several WDI exhibits featuring the works of many of the early Imagineering Legends, and in 2009, she consulted for The Walt Disney Family Museum, digitally re-creating the 1941 Studio strike signs. In addition, Vanessa brings her skills as a researcher and enthusiasm for all things Disney to the Disney California Adventure Entry Team. She is also designing a book for Disney Editions, Poster Art of Disney Parks.
Tony Baxter has, for more than four decades, been one of the most influential and prolific of the "second generation" Disney Imagineers. He has played a key role in the design and creation of many noteworthy Disney attractions and theme parks, including Big Thunder Mountain railroad, Star Tours, Splash Mountain, Indiana Jones™ Adventure, Finding Nemo Submarine Voyage, and an overall creative role for Disneyland Park and Disneyland Paris Park. In 1989, he was appointed senior vice president responsible for the concept development, design, and creation of Disneyland Paris, and is currently Senior Vice President, Creative Development, Walt Disney Imagineering. He has received the "Distinguished Alumni Award" in fine arts from CSU Long Beach, the "Over the Years Award" by the International Association of Amusement Parks and Attractions (IAPPA), and the "Lifetime Achievement Award" from the Themed Entertainment Association (TEA).