Our Film of the Month for January has been called "the best Disney live-action feature that you've never seen" by film writer Karl Holzheimer. One of the finest adventure dramas of its era, Third Man on the Mountainwas praised by the show business daily Variety, "It has the sort of altitude thrills to send the viewer cowering deep in his seat and the sort of moving drama to put him on the edge of it." Time magazine felt that the film might "well become a children's classic of the screen, a sort of 'Tom Sawyer of the Alps'." Although critics and audiences were enthusiastic, this great film has never reached the status in the Disney legacy that it richly deserves. Disney historian and writer Jim Fanning has written this excellent article about this unjustly-forgotten film, exclusively for Storyboard.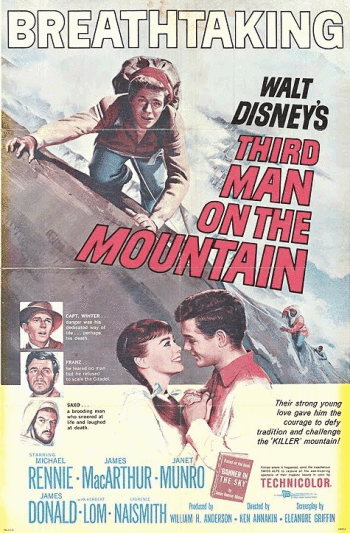 The movie poster made its point in one exclamatory word: "Breathtaking." That's Walt Disney's Third Man on the Mountain (1959), the compellinglive-action feature about young mountain climber Rudi Matt (James MacArthur) and his quest to conquer the "killer" mountain that towers above his village in 1865 Switzerland. Encouraged by a famed English climber (Michael Rennie) as well as the youth's devoted girlfriend (Janet Munro), Rudi not only develops his mountaineering skills but also discovers something about life and true heroics in his seemingly impossible mission to scale the imposing summit. That "Breathtaking" poster proclamation could equally apply to the film's shot-on-location scenery, the outstanding cast, the groundbreaking photography of the mountain climbing scenes, or the stirring story—or for that matter, the behind-the-scenes saga of how Walt Disney's mountainous motion picture was made. 
"At this time," remembered Third Man on the Mountain director Ken Annakin, "Walt had taken a shine to Switzerland and everything Swiss. He used to go there on his summer holidays every year, and adored it, and this story he felt would be the thing for all young people. No effort was spared to make it as entertaining as the holiday which Walt was taking in Switzerland proved to be for him." Walt had a great love for the cleanliness, the peacefulness of Switzerland, as well as its folk dances, music and traditions. In fact, Walt cinematically explored that land's spectacular beauty and charming customs in one of his People and Placesfeaturettes, the Oscar-nominated Switzerland (1955). Most of all, Walt was fascinated with the mighty Matterhorn, one of the highest peaks in the Swiss Alps. And the story that was to become Third Man on the Mountain was not only set in Switzerland, it was all about the Matterhorn.
The Matterhorn is referred to as the Citadel in the film, as it was in the 1955 Newberry Honor book Banner In The Sky by James Ramsey Ullman upon which the film is based. "I read Banner in the Sky," recalled Disney producer Bill Anderson, who had served as associate producer on Walt's acclaimed drama Old Yeller (1957), "and I simultaneously saw some spectacular film work done by a French mountain guide named Gaston Rebuffat. I thought he could enable us to make a really spectacular story of someone climbing. So I mentioned it to Walt and gave him a synopsis of the story, and I showed him this film by Rebuffat. And I said to Walt, 'I think there's a story here.'" Walt was not only excited by the movie thrills promised by the mountain-climbing and at the prospect of making a film that would spotlight his beloved Switzerland, he also knew the film would showcase the talents of one of his young contract players, James MacArthur.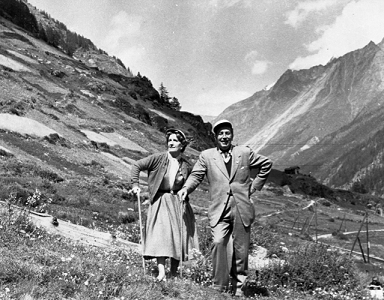 Walt first saw the teenaged actor in the juvenile delinquency-themed filmThe Young Stranger (1957)—an irony considering that some of the great showman's 1950s and 1960s films were created as something of an antidote to what he considered a too-dark picture painted by some other Hollywood movies. "I get so put out with all these pictures about delinquency," Walt stated, "and I don't think they show a true picture of young people today. Despite all the publicity about delinquency, America's youngsters are a pretty good lot"—and that went for 19thcentury Swiss Rudi Matt, too, who is about as anti-delinquent as a young fellow could be (even though he also possesses a healthy share of rebelliousness in his passion for mastering the Citadel).  
The embodiment of the passionate young climber, James MacArthur unquestionably brought a different vibe to Walt's films. Edgier and with a more complex persona than most of Disney's other teen stars, James projected a serious intelligence. His mother, actress Helen Hayes, credited television producer Martin Manulis with putting young MacArthur's talents onscreen. "Jim dropped in to watch me rehearse a TV play about four years ago," the famed stage and film star recalled at the time of Third Man's original release. "Manulis saw him and said, 'What a wonderful face!' A year later a TV script came along and Manulis sent for Jim." Produced by Manulis and directed by John Frankenheimer, "Deal a Blow" (an episode of the Climax television series) was a powerful drama about an alienated young man caught up in an escalating misunderstanding. It was made into a theatrical film re-titled The Young Stranger, also directed by Frankenheimer. "Walt Disney had seen that picture," MacArthur said, "and thought that I would be a useful guy in his stable for the kind of pictures he was doing. Walt contacted my agent and said, "I'd like to hire Mr. MacArthur to be in this picture calledThe Light in the Forest. Third Man on the Mountain was my second movie for Walt, a loosely knit story based around the first climber of the Matterhorn."
To portray Rudi Matt, James was obviously going to have do some mountain climbing himself. "I was pretty athletic, but climb a mountain? Heck no, never done that," said James MacArthur. "Ken Annakin said, 'Are you fit?' I said 'Yes, I think I'm fit,' and he said 'Well, you better be!' So off we went to Switzerland." To help them deal with the demanding conditions of filming in the Swiss Alps, James and the movie's other stars undertook a two-week crash course in mountaineering given by Alpine guides.
The cast members learned to climb so well that they ended up doing some of their own stunt work. "Even Janet Munro was truly hung from the end of that rope," noted Annakin of the actress who added sparkle to such Disney films as Swiss Family Robinson (1960, in which she also appeared opposite MacArthur). "She had a great sense of balance and being able to look out for herself and fall well. She was one who would do anything. It was basically a matter of me deciding what I would risk her on. She was a wonderful girl to work with."
Each cast member had a mountain guide who would decide whether or not he or she could do a particular maneuver. "Jimmy MacArthur took to it like a duck to water," said Ken Annakin, "and actually on his first rest day sneaked off, to the horror of the insurance people when they learned about it afterwards, and climbed the Matterhorn." I got very good in my ability to climb," agreed MacArthur. "They had some really fine Swiss mountain climbers doing some scaling of the mountains that was beyond my skills. But Ken had me out hanging over 3,000 foot drops. I think the highest we went for filming was probably 11,500 feet or something like that."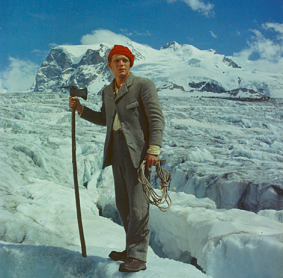 The arduous filming lasted a total of three months. The shooting schedule in the Alps alone spanned several months, allowing the crew to experience the cycle of the seasons. "We went from full snow to bare hillsides," recalled Annakin. At one point, climber Gaston Rebuffat and a camera team filming the Alpine scenes spent eight hours—then the longest recorded stay—on the summit of the treacherous Matterhorn. Since the Matterhorn must be climbed in daylight and the round trip normally takes six to eight hours, Disney's intrepid camera crew left a halfway-hut at dawn and completed the last hour of their descent in dusk. Making the feat even more impressive, each of the ten men was burdened with a 60-pound pack containing cameras and other movie gear. "I have never seen anything like it," admitted veteran Swiss guide Adold Schaller. "It was impossible, but they did it."
Walt's master matte artist Peter Ellenshaw was also in Switzerland for the shoot. Peter added Disney movie magic to the film, designing matte paintings for scenes in which the dizzying downward shots or distant mountain peaks were obscured by fog or other visual obstacles, or for shots that would have been impossible to capture with the movie cameras.
Aside from the suspenseful sequences scaling the peaks, Walt was also interested in capturing the quaint happenings at the foot of the mountains. The authentic folk dances seen in the film were courtesy of fifty-seven National dancers and singers from the Valasian villages of Sierre and Sion. Comprised mostly of tradespeople, this group of non-professional artists wore genuine folk costumes as they performed centuries-old songs and dances.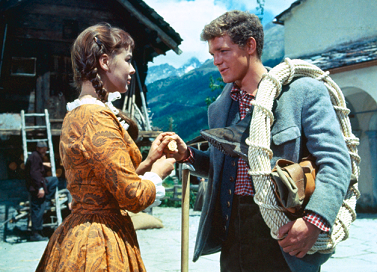 Not all of the background players were Swiss natives. Helen Hayes portrayed a tourist in a scene with Joyce Bulifant, then MacArthur's wife. (Also seen in another cameo as an American tourist is original author, James Ramsey Ullman) After winning an Oscar® (her second) for Airport(1970), Miss Hayes returned to Disney, starring in such movies as Herbie Rides Again (1974) and Candleshoe (1977). Perhaps most famous as Marie, wife of news writer Murray Slaughter on the TV classic The Mary Tyler Moore Show, Joyce Bulifant was featured in Walt Disney's The Happiest Millionaire (1967).
Released on November 10, 1959—a banner Disney year that also saw the release of Sleeping Beauty, The Shaggy Dog and Darby O'Gill and the Little People—Third Man on the Mountain fulfilled Walt's vision of beautiful Swiss scenery, spellbinding mountain-climbing sequences and a passionate human drama powerfully brought to life by its adventurous players, especially Walt's young star James MacArthur. "It has the sort of high altitude thrills to send the viewer cowering deep in his seat and the sort of moving drama to put him on the edge of it," opined Variety.
Unfortunately, this captivating film was not a great financial success. Producer Bill Anderson felt the climbing sequences may have kept away some viewers, especially women. "My wife wouldn't look at it," he later reported. "I heard Mrs. Disney say at a screening, 'Tell me when they're through climbing.'"
Walt Disney, however, was satisfied. "Walt liked Third Man on the Mountain," Anderson said simply. "He was very complimentary when it was finished." Ken Annakin reported that the film was Walt's favorite of the four movies the director helmed for Disney. Walt proudly showcased this colorful movie on Walt Disney's Wonderful World of Color under its original Banner in the Sky title in two parts: "To Conquer the Mountain" broadcast on February 17, 1963 and "The Killer Mountain" February 24, 1963. 
This fine film's most enduring legacy may be Matterhorn Mountain at Disneyland Park, for it was during his visit to Switzerland while Third Man on the Mountain was being filmed that Walt decided he would bring the mountain to the Park. The great showman spent three weeks on location in Zermatt, while the film was in production. "He was very enamored of the scenery," noted James MacArthur. "He had the Tyrolean hat and a walking stick. The Matterhorn ride at Disneyland did come right from Third Man on the Mountain, of course." The Matterhorn Bobsleds started running on June 14, 1959, five months before the film premiered, and the magnificent Matterhorn replica has been a wonder of the Disney world ever since.
James MacArthur had a high opinion of the man who put him atop the mountain. Walt Disney, he recalled, "was such a personable, nice guy that you lost sight of the magnitude of the figure that was sitting across from you or talking to you. I worked for different studios but this was a family. You came out to Burbank and it was a family. There was a magic to it that didn't exist [at the other movie studios]. Everything lent itself to being upbeat."
The film's poster further proclaimed, "A new high in thrilling action, suspense and excitement!" Third Man on the Mountain is surely all that and more, thanks to the sure-footed direction of Ken Annakin and the peak performance of the always-appealing James MacArthur. It is one of Walt's finest live-action productions.
Jim Fanning is a writer, historian, editor and researcher specializing in Disney. In a career dedicated to celebrating and exploring the work and life of Walt Disney, Jim has authored books, magazine articles, TV documentaries, comics and a variety of other works, including a biography of Walt Disney. A contributor to Disney twenty-three Magazine and the D23 website, Jim has written  officially commissioned projects for many departments of The Walt Disney Company, and has interviewed many Disney Legends, including Frank Thomas, Ollie Johnston, Marc Davis, Carl Barks, and the Sherman Brothers. He also wrote many episodes of the groundbreaking documentary TV series, Disney Family Album, and has contributed writing and research to The Walt Disney Family Museum.  
Third Man on the Mountain screens daily through January at 1:00pm and 4:00pm (except Tuesdays, and January 21 and 29). Tickets are available at the Reception and Member Service Desk at the Museum, or online by clicking here.
Images above: 1) Movie poster for Third Man on the Mountain. © Disney 2) Walt and Lilly on the picturesque Swiss location for Third Man on the Mountain. ©Disney. 3) Young star James MacArthur brought both vitality and intelligence to his role. © Disney 4) MacArthur and his co-star Janet Munro did much of their own climbing work on the feature. © Disney