On Sunday July 17 at 3:00PM, The Walt Disney Family Museum presents The Disneyland Model: Creating the Disneyland of Walt's Imagination. Hear from Carol Bauman, model supervisor at Kerner Optical, about the making of our museum's crown jewel—the Disneyland Model. Join us as we explore the intricacies of the model, learn about the creative process—and what it represents.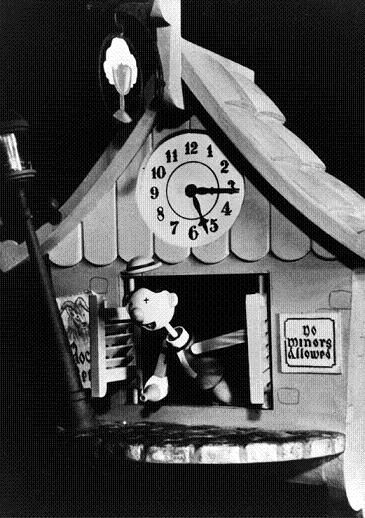 Miniatures and models held a special fascination for Walt Disney, and he used three-dimensional sculpture to help visualize his concepts and ideas as part of the creative process, from the Studio's animated films, through the design of Disneyland, and beyond. Even today in the digital realm of three-dimensional animation and in theme park design, the tradition of using sculpted (or digital) models continues. Designer, product creator, writer, sculptor, illustrator, historian, blogger, and maker of things, Kevin Kidney, offers an overview of Walt Disney and model making. 
In the late 1980s, I supervised the model shop for Disneyland's Entertainment Art Department. We were just a little group of four young artists, all still in our twenties, making scale model stage sets and parade floats in the development of new theme park entertainment. It was an exciting time for us and we were genuinely thrilled to be following in the creative legacy set by Walt Disney and his legendary artists of the past, many of whom seemed almost godlike to us.
One evening in 1989, I attended a puppetry seminar in Orange County where I met a man named Bob Jones, who had been a model maker at the Disney Studio on the early features. He was a friendly, upbeat guy in his late 70s, with a bald head and a big smile, and we just seemed to hit it off right away. Despite the gap of years, we felt somehow connected as colleagues, both of us sculpting "behind the scenes" for the same company, but separated by decades. Until we met, I didn't realize that I was already familiar with—and inspired by—samples of his work that I had seen before: a plaster Jiminy Cricket in the Walt Disney Archives in Burbank, a cuckoo clock depicting a little inebriated man "hiccupping" the hour in the film The Reluctant Dragon, and a model of a Pleasure Island stagecoach (pulled by a team of sorrowful donkeys) showcased at Disneyland to promote the 1983 opening of New Fantasyland.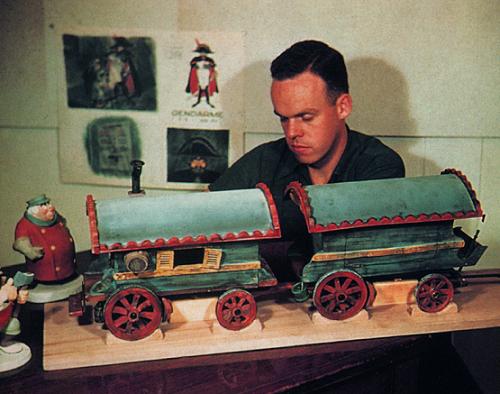 Bob had been a professional puppeteer in the early 1930s, and landed a job in the Disney Studios' Camera Department in 1937 as one of eight employees to photograph Snow White and the Seven Dwarfs on film. As the Studio transitioned to its second feature, Pinocchio, Walt began to look for ways to speed along the amount of time it took for his animators to switch gears from drawing one character to learning another. By this time, paper model sheets were already the standard guide to keeping Disney's filmed 'actors' more consistent in appearance and personality throughout each film. Under the leadership of artist Joe Grant, the Character Model Department produced countless drawings, showing the design and appearance of practically anything that moved on the screen. Newly-designed characters were sketched in key poses and in a variety of possible moods, then carefully selected by Grant, who made each final model sheet official with his trademark seal of approval, 'OK, J.G'. These model sheets were then photocopied and distributed to as many as 30 different artists who might be assigned to one character.
Still, the flat drawings could only describe so much. Thanks to his puppeteering background, Bob was transferred to a new position under Joe Grant designing Pinocchio's wooden joints and puppet control. "It seems that no one knew anything about puppets or marionettes, and I became the local expert," explained Bob. At Bob's suggestion, a sculptor he knew, Charles Cristadoro, was hired into the department in March 1938 to translate some of the new character designs into three dimensions. Cristadoro completed his first assignment, the woodcarver Geppetto seated on a tool chest, in just eight hours. "I'll never forget that day," Bob recalled. "Joe and I were looking at the figure after everyone had gone home, and Walt walked in. He picked up the figure and studied it from all sides. 'This is it,' he said."
The model brought the flat sketches to life in a wondrous new way, and the production of hand-painted plaster character statues now began in earnest. Bob took the Geppetto figure, made of a heavy oil-based clay called plasticene to a friend, Ted Kline, who specialized in casting complicated shapes. A total of fifteen duplicates could be made of each sculpture before the mold deteriorated, (which gives us a hint as to why these models are so very rare today.) The figures were then cleaned up and polished, and finally painted in oil colors by the Studio's Ink and Paint Department, under the direction of Helen Nerbovig.
To meet the growing demand for character models, two more sculptors were brought in: Lorna (Shirley) Soderstrom and Duke Russell. Bob once described Duke Russell to me as a "big guy who was especially adept at sculpting very small detail." For the "Dance of the Hours" sequence in Fantasia, Russell sculpted 3-inch high figures of ostriches, elephants, alligators and hippos from which multiple duplicates were made. These were arranged on a tabletop set built by Bob and lit from extreme angles so that the effects animators could observe the long shadows cast by the animals. (More than a decade later, incidentally, Duke Russell would go on to sculpt the original working model of Speedy Alka-Seltzer® for the famous TV ads.)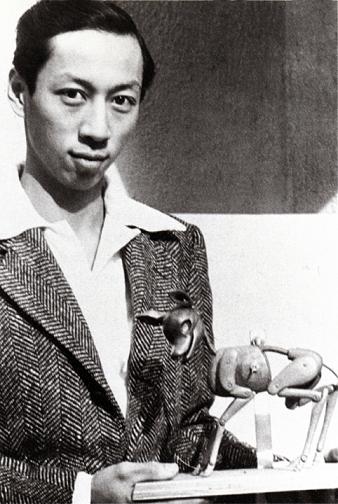 The finest work produced during this period was the exquisitely detailed "special effects" models built by Bob Jones and a newcomer to the studio, twenty-one year old Wah Chang. Wah would later earn renown as the designer of the sci-fi classics The War of the Worlds and The Time Machine. For Pinocchio, the two built whimsical clocks and music boxes, a rotoscope gypsy wagon (complete with weighted suspension system to simulate travel along a bumpy road), a stagecoach, a swinging birdcage, and a "whale skeleton" that could be twisted and extended for animating scenes inside Monstro! One of their most beautiful pieces was the jointed armature of a young deer that could be posed in remarkably lifelike ways. This delicate model proved invaluable to animators daunted by the realistic animal anatomy and movements in Bambi. 
Several of the effects models were engineered to actually perform a mechanized function, which greatly impressed Walt. For the scene in The Reluctant Dragon, Walt proudly showcased (in beautiful Technicolor!) an array of maquettes from many of the features in production at the time. As comedian Robert Benchley tours the Disney studio, Bob Jones' hiccupping cuckoo clock provides a striking moment of humor along the way. During the filming of this scene, Bob, himself, operated the clock's movements while hidden from the camera. "I was crouched down on the floor behind the shelf, out of view," remembered Bob, "and I controlled the little drunk guy by squeezing a rubber ball connected to a length of tubing. The hiccup sounds you heard were added later on." 
Frank Thomas and Ollie Johnston praised the contributions made by the character model makers in their book Disney Animation: The Illusion of Life: "[the models were] hard reality in forms and shapes magnificently done, and they were a great aid to the whole animation department. Unfortunately, they were so good that Walt started giving some away to VIP's as souvenirs, while others became permanent decorations in the offices of top personnel. The rest had a way of disappearing, especially as we neared the end of a picture."
Despite the advantages of having a full-time model shop at the Studio, Walt reluctantly disbanded it in the early 1940s for financial reasons brought on by the Second World War. The Character Model department was never formally reorganized after that, but the use of models for artistic reference did not cease entirely. During production of Cinderella, layout man Ken O'Connor fashioned a miniature pumpkin coach as an aid to drawing changing perspectives. Years later, for the exciting climax of 101 Dalmatians, model maker Dick Lucas built the vehicles driven by Cruella De Vil and the other villains to stage an elaborate car chase and collision. The white models painted with black outlines were photographed and copied by Xerox™ process directly onto the animation cels. Once these cels were painted by hand, the cars looked exactly like all the other cels in the picture.
The 1950s saw Walt embarking upon a completely new concept of entertainment, Disneyland, and once again he relied on models to explain and promote this new idea. A storybook castle, a Mississippi riverboat, turn-of-the-century storefronts, and other fanciful elements were first realized in charming Lilliputian scale. Besides being a tremendous help to Walt in selling his idea to bankers, corporate sponsors and (naturally) to the public, the miniatures served as reference for the many contractors and builders in charge of making the Anaheim park a reality. Bob Jones, in fact, was chosen by Walt to construct the original fleet of pirate galleons for Peter Pan's Flight based on a scale model by artist Bruce Bushman!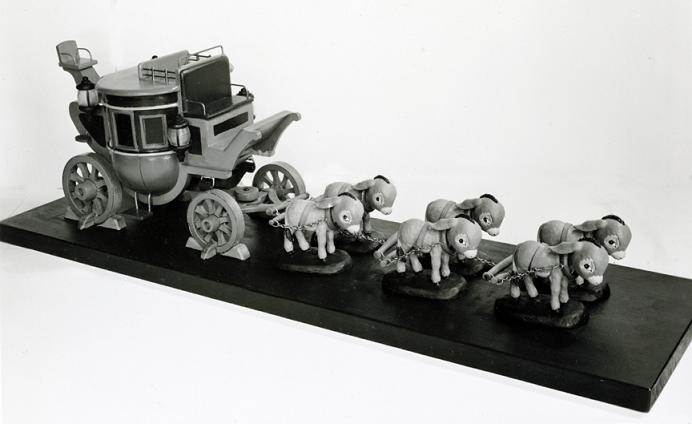 The wealth of artwork produced by and for the Disney organization over the years is mind-boggling, but models are undoubtedly the rarest of them all. Often quite fragile and necessitating careful handling and storage, few have survived. But those that have been preserved remain delightful examples of Walt Disney's effort to turn the purely imagined into something tangible, dimensional…and real.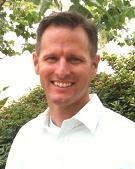 Kevin Kidney is a designer, product creator, writer, sculptor, illustrator, historian and maker of things. He and his partner Jody Daily have had a long creative association with The Walt Disney Company, and most recently designed—and built many scale models for—a new Disneyland parade. He blogs at miehana.blogspot.com.
Images above: 1) The "Tavern Clock" as seen in The Reluctant Dragon. Courtesy of Kevin Kidney. © Disney. 2) Bob Jones at work on Stromboli's Wagon, c. 1939. Courtesy of Kevin Kidney. © Disney. 3) Wah Chang with the articulated Bambi model, c. 1939. Courtesy of Kevin Kidney. © Disney. 4) Millions of Disneyland visitors saw this model of a Pleasure Island stagecoach (pulled by a team of sorrowful donkeys) when it was displayed to promote the 1983 opening of New Fantasyland. Courtesy of Kevin Kidney. © Disney.