Animator Les Clark said that "Walt was Mickey and Mickey was Walt," an opinion shared by everyone who knew both of them. Legendary animator Ollie Johnston recalled, "All the time I was there, before we got into things like Snow White, I always thought of Walt being part of Mickey and vice versa. The ideas that he put into Mickey were so important and made the personality." "To this day Mickey can bring tears to my eyes," Lillian Disney told Bob Thomas in 1973. "That's because Walt and Mickey were so much 'simpatico.' they seemed almost like the same identity." Every day at The Walt Disney Family Museum, we celebrate Walt Disney, and it goes to follow that we daily celebrate his most beloved and internationally famous creation, too. November 18 has become the official day of observation of Mickey's "birthday," but it was not always so. Disney historian, author, and friend of the Museum Jim Korkis explains.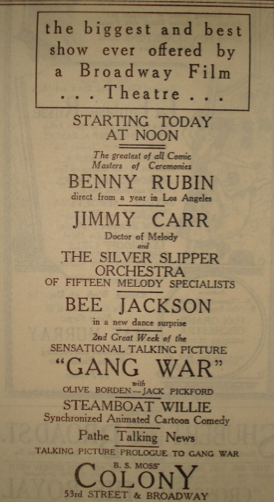 Once upon a time, Mickey Mouse didn't have a birthday. Or, to be more precise, Mickey Mouse didn't have a specific date for his birthday. 
In the September 30, 1933 edition of Film Pictorial, Walt Disney stated "Mickey Mouse will be five years old on Sunday. He was born on October 1, 1928. That was the date on which his first picture started so we have allowed him to claim this day as his birthday." 
Up until the 1970s, Mickey's birthday was celebrated anywhere between September and December, whenever there was a new Disney cartoon being released, or to stage a birthday party event at a theater which usually included the theater booking a program of several previously-released Disney cartoons. 
In 1933, Mickey's fifth birthday was celebrated by a Hollywood testimonial party where the speakers included Charlie Chaplin, Mary Pickford, and Will Rogers. Mickey's seventh birthday (celebrated on September 28, 1935) was promoted as "Mickey Mouse's Lucky Seventh Birthday," and the Disney Studio encouraged theaters to book Mickey Mouse and Silly Symphony cartoons as a special program. In fact, every available print of Disney cartoons was in use during the celebration. Theaters served birthday cake, held costume parties (with free admission for any patron dressed as a Disney character), and there were even adult dinner parties held in cities such as New York and London. A special birthday song, "Mickey Mouse's Birthday Party," was composed for the occasion, and recorded by Guy Lombardo and his orchestra.
For Mickey's eighth birthday, Radio City Music Hall hosted a weeklong salute showing three Disney cartoons as part of every show. There was also a nationwide celebration with theaters offering prizes for Disney costumes, coloring and essay contests. The prizes? Mickey Mouse and Donald Duck dolls from Charlotte Clark and her crew personally autographed by Walt Disney!
Over the years, it addition to birthday celebrations at theaters, the Disney Studios produced two animated shorts spotlighting Mickey Mouse's birthday.
In The Birthday Party (January 7, 1931) directed by Bert Gillett, Mickey's friends (including Minnie, Horace Horsecollar, and Clarabelle Cow) surprise Mickey with the gift of a piano for his birthday. Mickey and Minnie sing "I Can't Give You Anything But Love, Baby," and there is some wild dancing. Lots of generic animal friends join in the celebration. 
In Mickey's Birthday Party (February 7, 1942) directed by Riley Thompson (in beautiful Technicolor® and featuring some classic Mickey animation by Freddie Moore), has Minnie and the gang throwing a surprise birthday party for Mickey. This time Mickey receives an organ instead of a piano, and there is a wild Rumba dance. In addition to Horace and Clarabelle, Donald and Goofy (neither of whom existed at the time of the original 1931 short) join the festivities. (This is the famous cartoon with Goofy struggling to bake a cake using "Volcano Heat" on the oven.)
In 1953, Capitol Records produced a "record-reader" entitled Mickey Mouse's Birthday Party (DBX 3165) to celebrate Mickey's Silver Anniversary. A "record-reader" was a two-record set accompanied by a storybook. An audio cue, such as the sound of a bell or a horn, let a child know when to turn the page, so that the sounds on the record would match the storybook. (In this case, Mickey Mouse coaxed Donald Duck to give the signal to turn the page.)
In September 1953, Dell Comics even printed a special one hundred page comic book "giant" entitled Mickey Mouse Birthday Party. The interior included reprints from several Four Color issues (#181, #27 and #79), as well as some reformatted Mickey Mouse comic strips from 1941 by Floyd Gottfredson and Bill Wright.
Mickey's 40th birthday was officially celebrated on October 28, 1968, and the television special Mickey Mouse Anniversary Show (December 22, 1968) had Dean Jones hosting Mickey's 40th, along with the original Mouseketeers.
However, as Mickey's 50th birthday started to approach, it became more important for the Company to establish a specific date. There were retrospective screenings of Mickey's cartoons at several venues from the New York Metropolitan Museum of Modern Art to the American Film Institute to the Chicago Film Festival. Animator Ward Kimball accompanied Mickey on a special Amtrak train for a 57-city tour. The tour ended at the Broadway Theater (formerly the Colony) where a plaque designating the site as the official birthplace of Mickey Mouse was installed. In addition, Mickey received his star on Hollywood's Walk of Fame, making him the first cartoon character to ever receive a star. 
It was finally Disney Archivist Dave Smith who determined that the official date should be the premiere of Steamboat Willie at the Colony Theater in New York. After checking through correspondence, reviews from New York newspapers, and finally finding a program from the Colony Theater listing the Mickey Mouse cartoon, it was determined that Mickey's official birthday would be November 18, 1928. (And that makes it Minnie's official birthday as well!)
© Jim Korkis, all rights reserved. Published with permission.
---
JIM KORKIS is an internationally-respected Disney Historian who has written hundreds of article and done hundreds of presentations on all things Disney for more than thirty years. He is the author of the acclaimed new book The Vault of Walt. His extensive expertise and knowledge, particularly in previously-unexplored areas of Disney history, has been utilized by many other researchers as well as The Walt Disney Company.
THE VAULT OF WALT is a highly-praised recently-published book featuring more than 450 pages of previously untold stories about Walt Disney, the Disney theme parks, the Disney films as well as many out-of-the-ordinary and forgotten stories of Disney history.
Images above: 1) Steamboat Willie, featured in the November 18, 1928 edition of The New York Times. 2)  Sheet Music for "Mickey Mouse's Birthday Party," 1935. © Disney. 3) Walt and Mickey "meet," from the 1930 Bibo and Lang Mickey Mouse Book. © Disney.