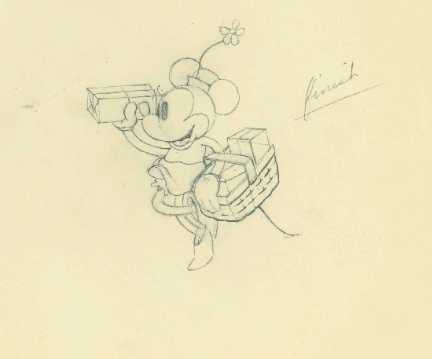 Image courtesy Walt Disney Family Foundation, ©Disney. " If Mickey Mouse is the world's most famous mouse, Minnie is surely the world's second-most famous. Premiering with Mickey in late 1928's Steamboat Willie, this February 14 marks their 85th Valentine's Day together. People have often speculated as to just what kind of relationship Mickey and Minnie share. In the September 30, 1933 issue of Film Pictorial magazine, Walt Disney addressed that very subject. "In private life, Mickey is married to Minnie. A lot of people have written to him asking this question, because sometimes he appears to be married to her in his films and other times still courting her. What it really amounts to is that Minnie is, for screen purposes, his leading lady. If the story calls for a romantic courtship, then Minnie is the girl; but when the story requires a married couple, then they appear as man and wife. In the studio we have decided that they are married already."
Over the years Minnie has often been the impetus of the story for Mickey; the goal or prize he's fighting to obtain. This was quite literally the case in 1938's Brave Little Tailor, when Mickey is mistakenly recruited as a giant killer. When the king offers Mickey millions in gold pazoozas as a reward, Mickey declines. It isn't until Minnie offers her own hand in marriage, and subsequently decorates Mickey's face with lipstick, that Mickey rethinks his position. "Whoopee! I'll cut him down to my size."
Minnie has also demonstrated that she can be quite independent when she wants to be. In the 1936 short Mickey's Rival, Minnie shows her former flame Mortimer Mouse quite a bit of attention during a picnic that was meant just for her and Mickey. When Mickey responds sarcastically to her speaking highly of Mortimer, she tells him, "You're just jealous!" And in 1941's The Nifty Nineties, it is Minnie who is the aggressor when she "just happens" to drop her handkerchief as she and Mickey pass each other in the park. Mickey retrieves said handkerchief, then promptly treats her to a Vaudevillian show. Fun note:  One of the advertisements that adorns the theater's curtain reads "Walter D's hats that please."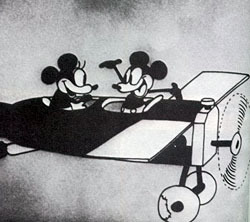 While Minnie has never starred in a feature, she has been the star of many of her own shorts, some completely devoid of Mickey's presence. Walt Disney himself originally provided Minnie's voice, however it wasn't long before he handed over the reigns to 18-year-old ink & paint artist Marcellite Garner. Garner's first performance as Minnie came in the1929 short The Barn Dance. A little-known fact about Minnie is that just as Mickey has two nephews, she has two nieces. Unlike Mickey, however, hers never appeared in a film or short. Minnie's nieces Millie and Melody appeared once, in a 1962 comic book.
After 1952's Pluto's Christmas Tree, Minnie took a 33-year break from pictures, returning in 1983's Mickey's Christmas Carol. Part of Disney's "Fab Five," Minnie was given some long overdue attention in 1986, when the Disney Company declared that her year. She has since made a cameo in a feature film, starred in more shorts, and has even appeared in video games. Today Minnie Mouse is as popular as ever, and the world celebrates along with Mickey this Valentine's Day in recognizing the better half of the world's most famous mouse.
From The Walt Disney Family Museum, Happy Valentine's Day to Mickey and Minnie Mouse!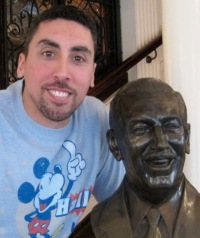 Keith Gluck is a WDFM volunteer, writer/editor for thedisneyproject.com, and lifelong student of Disney. His Disney life started early, visiting Disneyland before turning one, and writing his very first book report on a Walt Disney biography for kids.