What Are Lobby Cards?
"It's like a small movie post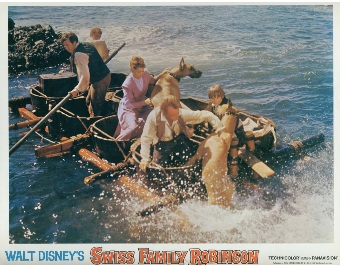 er?"
That is in fact exactly what a Theater Lobby Card is, a small movie poster.
Lobby cards are promotional materials used in the film industry to advertise movies. They are typically 11x14 inch cards that feature a still image or montage from a film, along with the film's title, cast and crew information, and other relevant details.
Lobby cards were originally used in movie theaters to promote upcoming films and to entice audiences to purchase tickets. They were displayed in the lobby of the theater, hence the name "lobby card." In the early days of cinema, lobby cards were often the only visual representation of a film that potential viewers would see before deciding whether or not to watch it.
The Swiss Family Robinson Lobby Cards
Decorating theater lobby walls in the bygone era of cinema, Lobby Cards provided audiences with a taste of what was to come at their local movie house. Featured in the August installment of Look Closer, Lobby Cards promoting The Swiss Family Robinson illustrate the action, laughs, and drama of Walt Disney's largest live-action film. The complete collection of eight cards features the stars of the film, both human and animal, as well as the occasional pirate in perilous circumstances.
The Discontinuation of Lobby Cards
First introduced in 1910, Lobby Cards featured production images or photographs from a coming or current attraction. Lobby Card sets range from as few as six to as many as sixteen cards with the first card in the set, the title card, featuring an image very much like the modern movie poster including film art and credits. Beginning in black and white and later being hand tinted or printed in color as technology advanced, they were a consistent feature of film promotion until the 1980s. The Lobby Card was phased out of US film markets with the advent of the multiplex theater, but is still produced in many languages for international releases and foreign film productions.
Exploring the collection of Lobby Cards at the museum brings you face-to-face with your most loved characters and shows all of the unique elements of this early promotional tool. You will have to "Look Closer" to make sure you don't miss a single detail.
Experience Lobby Cards in Person
Would you like to know more about one of the artifacts in the galleries? Our Look Closer series will give you that opportunity--staff will reveal little known facts, behind the scenes information, or just additional information during the 5 to 8-minute gallery talks!
Next Look Closer event: September 24, 25 + 26 -- Look Closer: Photo of Walt with Fess Parker. 11:00 am and 3:00 pm in Gallery 9.