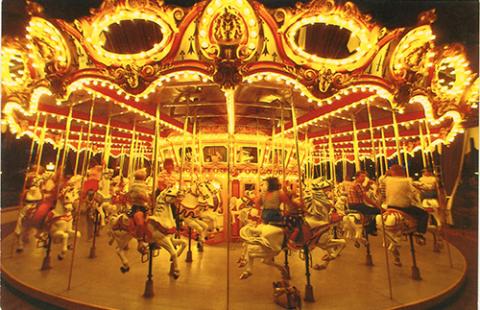 As Walt Disney sat on a bench in Los Angeles' Griffith Park one Saturday, eating peanuts and watching his daughters ride the nearby carrousel, he had an idea. "I felt there should be something built," he later explained, "Some kind of an amusement enterprise… where the parents and the children could have fun together."
It was a seed of an idea, but it soon grew—and Walt didn't forget what had sparked it. On Disneyland's opening day in 1955, guests laid eyes on the King Arthur Carrousel for the very first time, together with other now-classic attractions such as the Disneyland Railroad, Peter Pan's Flight, and Snow White's Adventures.
Walt Disney's King Arthur Carrousel: A Magical Menagerie
Walt purchased an old Dentzel carrousel—which is believed to have been in use from before 1922—from Sunnyside Amusement Park in Toronto, Canada. But this wasn't simply a case of 'buy and use.' Although attractions such as Adventureland's Jungle Cruise had required a great deal of Imagineering effort between conception and launch, making the King Arthur Carrousel a unique Disney experience required a good bit of tweaking by Walt and his team.
Walt had one specific theme in mind for his carrousel attraction – he wanted it to be made up solely of galloping horses, so that every rider could experience 'charging' as part of the legendary Knights of the Round Table. As the original carrousel comprised a real menagerie—giraffes, lions and deer, as well as noble steeds—he ordered for the non-equine animals to supplement the nearby Casey Jr. Circus Train.
Rounding Up the Horses
Next on the list was sourcing the horses now required to fill the carrousel. Walt and his team added new horses from several different carrousels around the country, including one from Coney Island, New York. During a 'behind the scenes' look at Disneyland, Walt later described the effort required in order for each horse to be obtained—"After many months of searching, we finally rounded up enough of the antique hand-carved type to fill our carrousel and run four abreast," he explained.
Some of the horses were fixed in a stationary position—they did not appear to be galloping or charging – and this went against Walt's original plans for the attraction. As a result, a reconditioning process began. This was essentially a "reshaping of the legs to make them all jumpers, in keeping with our King Arthur design," Walt clarified. He enjoyed seeing the different expressions each horse wore: "Being forced to obtain them from several sources, we've happily discovered they all have different faces. Each is a distinct individual." Rumor had it that Jingles, the carrousel's lead horse, was a favorite of Lillian Disney's.
The King Arthur Carrousel Today
As Disneyland Cast Member Rick Temple puts it, the carrousel's horses are more than just part of an attraction—they're "part of history." Rick's role is dedicated solely to the care and upkeep of the horses – repairing, repainting and restoring—and, considering one in every five Disneyland Park visitors takes a spin on the famous merry-go-round, there's no surprise that it's a full time commitment.
It seems that guests at Disney's Parks around the world share Rick's unwavering excitement for the carrousel – in fact, each Disney Park boasts its very own version of the attraction. From the Prince Charming Regal Carrousel in the Magic Kingom Park at the Walt Disney World Resort to the Cinderella-themed carrousels in Tokyo Disneyland Park and Hong Kong Disneyland Park to Disneyland Paris Park's Le Carrousel de Lancelot and Shanghai Disneyland Park's Fantasia Carousel, it's clear that the simple, nostalgic fun of the merry-go-round has never lost its appeal. 62 years after the opening of Walt's own Disneyland, the world he created for adults and children to explore together remains as popular as ever—and there's no doubt that the King Arthur Carrousel, sitting proudly at the center, continues to play its part.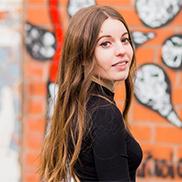 Sophie Jo is a writer and long-time Disney fan from England. Find her tweeting @sophiejowrites or happy-crying over it's a small world.