Our Film of the Month for September is  So Dear To My Heart, a rarely-screened feature that was a personal favorite of Walt Disney, since it re-created on film one of the most memorable times of his life, growing up on a small farm in the American Midwest at the turn of the Twentieth Century. Walt said: "So Dear was especially close to me. Why, that's the life my brother and I grew up with as kids out in Missouri." Author, historian, and friend of The Walt Disney Family Museum shares some stories of the interesting influences of our Film of the Month.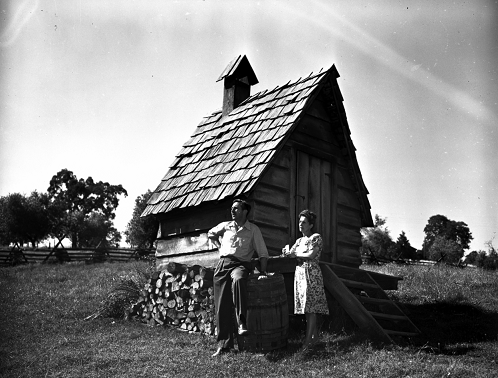 So Dear To My Heart was a movie that was truly dear to the heart of Walt Disney, since it re-created on film one of the most memorable times of his life, growing up on a small farm in Marceline, Missouri at the turn of the Twentieth Century.
"So Dear was especially close to me. Why, that's the life my brother and I grew up with as kids out in Missouri. The great racehorse, Dan Patch, was a hero to us. We had Dan Patch's grandson on my father's farm," claimed Walt Disney when the film was first released in January 1949.
While the film itself was not as profitable in its initial release or re-releases as some other Disney films, it was indirectly responsible for many memorable moments in Disney history:
The Red Barn. John Cowles Jr. was responsible for designing the authentic red barn in So Dear To My Heart that was reportedly inspired by Walt's memory of the one from his own childhood on a farm in Marceline, Missouri. Walt had Cowles adapt that same structure for Walt's backyard workshop of his Holmby Hills home. (One of the few variations was a small room housing the central track control board for Walt's railroad, the Carolwood Pacific.) So a piece of So Dear To My Heart remained close to Walt until his death and it was one of his favorite locations to get away from the burdens of work and just have fun. The Red Barn is now on display in Los Angeles' Griffith Park.
The Train Station. A long time railroad buff, Ward Kimball designed the railroad depot in So Dear To My Heart based upon one at Pottsville, Pennsylvania. After the filming, Walt (perhaps in a good mood after accompanying Kimball to the Chicago Railroad Fair) decided that Kimball's backyard Grizzly Flats railroad needed a train station, and a Disney Studio truck delivered the disassembled train station building from the film to Ward's home in San Gabriel. It was an unexpected and appreciated gift—until Kimball tried to re-assemble it.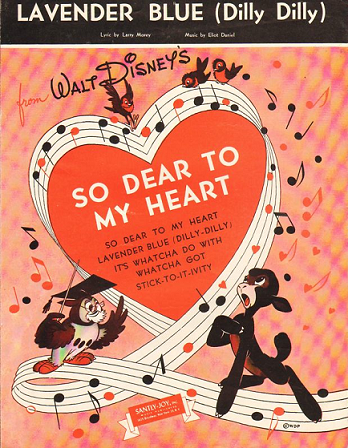 Kimball claimed it was like a jigsaw puzzle, trying to put the unmarked pieces back together on a concrete foundation. However, he was even more frustrated when he had a big crane put the roof on the final structure—and the whole thing collapsed. It was just a movie set, so it only had three sides, and there was not enough framing to support the roof. Kimball had to start over from scratch, but was able to salvage the roof, the windows and the doors. Kimball never revealed to Walt at the time how much extra effort and expense it took to rebuild the depot.
Years later, Walt decided that the depot would be perfect for the railroad stop in Frontierland in the new Disneyland theme park he was building, and it would save some money to have Kimball simply return the train station. Kimball refused, but finally revealed how he had to completely rebuild the building. Walt ordered a station built in Frontierland according to the same blueprints as the film set, but with the addition of double doors, covered loading platforms on both ends, and a separate freight office. Decades later, it was used as one of the sets for the "Two Brothers" film run at the Disney theme parks, as a segment in the American Adventure film at Epcot and Great Moments With Mr. Lincoln at Disneyland.
Disneylandia. Walt was quite skilled at making miniatures. Working from plans that Imagineer Ken Anderson adapted from So Dear To My Heart, Walt personally built a 1/8thscale model of Granny Kincaid's cabin from the film. Walt displayed his hand-built model at the Los Angeles Pan Pacific Auditorium in November 1952 as part of the "Festival of Living" show. "This little cabin is part of a project I am working on (Disneylandia), and it was exhibited as a test to obtain the public's reaction to my plans for a complete village," Walt explained in a 1953 interview. Walt was later convinced that the Disneylandia project, planned to feature a selection of miniature turn-of-the-century tableaus and tour the country in train cars, would not be able to generate enough income to maintain the exhibits, and only a small handful of people at a time could enjoy the experience. The project soon evolved into the full-sized Disneyland in Anaheim, California instead.
Memorable Music. Burl Ives was a collector and performer of authentic American folk songs, and at the time of the film was perhaps best known for his appearances on radio and various concerts. He had been performing for well over a decade when he recorded songs for the film. Lavender Blue (Dilly Dilly) was an English folk song and nursery rhyme that dated from the seventeenth century. Disney songwriters Eliot Daniel and Larry Morey did an adaptation of the tune for the film, and it was sung by Ives.  It was nominated for an Academy Award® for Best Song. It was also Ives' first hit single.
Animation historian John Culhane has claimed that the phrase "It's what you do with what you've got" was something that Walt said frequently. It's not hard to imagine that it was a philosophy that Walt would agree with completely.
JIM KORKIS is an internationally-respected Disney Historian who has written hundreds of article and done hundreds of presentations on all things Disney for more than thirty years. He is the author of the acclaimed new book The Vault of Walt. His extensive expertise and knowledge, particularly in previously-unexplored areas of Disney history, has been utilized by many other researchers as well as The Walt Disney Company.
So Dear to My Heart screens daily through September at 1pm & 4pm (except Tuesdays, and September 17 and 24). Tickets are available at the Reception and Member Service Desk at The Walt Disney Family Museum, or online at www.waltdisney.org.
Images above: 1) Walt and Lilly on the set of "So Dear To My Heart" in the San Joaquin Valley, 1946. © Disney. 2) © Disney