Throughout March, The Walt Disney Family Museum is celebrating Women's History Month, which highlights contributions of women to events in history and contemporary society. Associate Registrar Brenda Litzinger offers this view of an often overlooked woman who played a small, yet important, role in in Walt's life.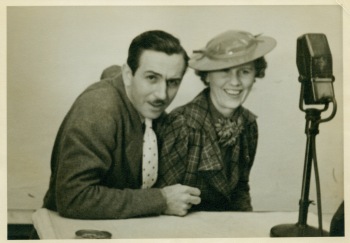 Historians and fans alike enjoy recounting the tale of Walt hiring Lillian Bounds and their resulting lifelong romance. Often overlooked is the story of Lilly's sister, Hazel Sewell, who made her own lasting impact on the Walt Disney Company. As the story goes, Lilly moved from Idaho in 1923 to join her older sister in California. At the time, Hazel lived on North Vermont Avenue in Los Angeles with her husband and young daughter, just two miles south of the Kingswell Studio. By 1924, Lilly had begun work at Walt Disney Studios on Kingswell Avenue with Hazel following suit not long after. Eventually, Walt appointed his talented sister-in-law to Head of the Ink-and-Paint Department after recognizing her technical skill, diligence and keen eye. 
 
According to legendary Disney animator Ward Kimball, precise inking was no small feat. He once recalled, "Those inkers had to be really good, they weren't just tracing animators' drawings, they had to get the feeling of the animators' pencil lines too." In original Snow White production notes – held by The Walt Disney Family Museum collection – Hazel's opinion is cited a number of times and clearly valued by her colleagues. For example, "Hazel likes older, darker colors on all [dwarfs]." Today she is remembered for her work on animated films such as Plane Crazy (1928) and Snow White and the Seven Dwarfs (1937)--the latter on which she served as an art director.
 
Did you know? In 1938, Hazel married Snow White sequence director and trusted Disney employee, Bill Cottrell. She accompanied her husband to Latin America in 1941 as a part of Walt's goodwill tour of the region. The traveling party aptly dubbed themselves "El Grupo."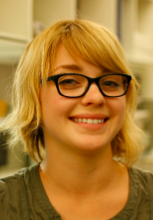 Brenda Litzinger 
Associate Registrar at The Walt Disney Family Museum
On Saturday March 17 at 3:00pm, you can join A Conversation with Nancy Olson, the delightful co-star of Pollyanna and Academy Award® nominee for Sunset Boulevard. Ms. Olson will share a personal view of her experiences in Hollywood, on Broadway, and with Walt Disney, illustrated with rare photographs and film clips from her many projects.
Walt Disney's Pollyanna screens daily through March at 1:00pm and 4:00pm (except Tuesdays, and March 17). Further program information and tickets are available at the Reception and Member Service Desk at the Museum, or online by clicking here.