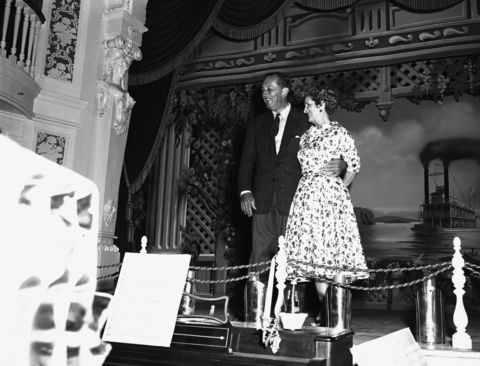 Walt and Lilly Disney's Wedding Celebration at the New Park
On July 13, 1955—four days before the grand opening of Disneyland—Walt and Lilly Disney were set to mark their 30th wedding anniversary. With showtime just around the corner, what better venue to host the celebrations than Walt's new Park?
Invitations were sent out to friends, family, and a host of celebrities from Cary Grant to Gary Cooper—the "Tempus fugit" ("Time flies") party was to be held at the Golden Horseshoe Saloon, a Western-themed cafe in Frontierland. Walt had always been charmed by the idea of the Old West, later describing Frontierland as a place where Disneyland guests would find themselves "back in the exciting days when the story of our country's past was being lived."
The Debut of the Golden Horseshoe Saloon
That evening, the couple's visitors took a leisurely cruise on the Mark Twain Riverboat, before being shown to their home for the evening—the Golden Horseshoe. Dancers, singers, and performers entertained the crowd, including Donald Novis, Judy Marsh—the original 'Slue-Foot Sue'—and Wally Boag, who would later voice José in Walt Disney's Enchanted Tiki Room attraction. "It was mostly a dress rehearsal, but it was our first show as far as I'm concerned," Boag recalled ("Wally and Walt").
The saloon itself—with its "gilded wallpaper, ornate light fixtures, and carved wooden accents"—made for a "luxurious setting," wrote Disney historian Jim Korkis. It was styled "more as a typical turn-of-the-century opera house than a rip-roaring Old West saloon." Disney Legend Harper Goff, who had worked closely with Walt throughout Disneyland's conception and build, was responsible for the saloon's interior, using a set design he had created for the 1953 Warner Bros. film, Calamity Jane.
Surrounded by those closest to him, and finally approaching the realization of his goal, Walt was happy. His daughter, Diane Disney Miller, later remembered his mood: "Dad had been out in the Park all day prior to this. It had been a dream for so long and here it was. Everything was almost done."
The Golden Horseshoe Saloon Becomes a Crowd Favorite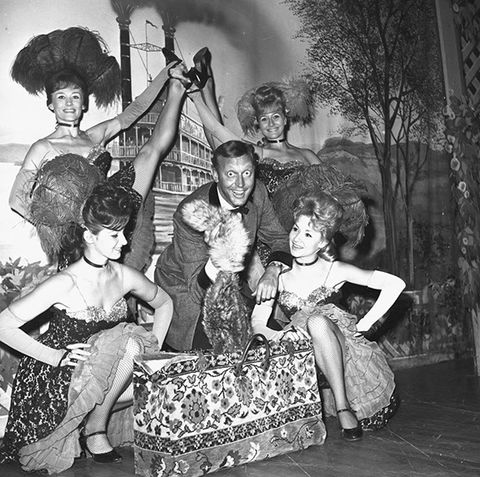 As crowds flocked to Disneyland in the 50s, the Golden Horseshoe Saloon became a favorite haunt. Disney's Davy Crockett series on the Disneyland television show had proved immensely popular—"Kids all over the country were wearing coonskin hats," wrote Christopher Finch in his 1978 book Walt Disney's America—and the theming of Frontierland appealed to this fascination.
The Saloon's Golden Horseshoe Revue opened along with the rest of the Park, on July 17, 1955, much to the delight of guests. Walt himself was a fan of the show—his daughter Diane remembered how "he took all of his guests there… It never got stale because Wally [Boag] was always fresh." The cast retained this ability to create new magic. Boag remained part of the team until 1982, and Betty Taylor—hired as 'Slue-Foot Sue' in 1956—became the longest-running member, continuing in her role until the show's final performance in 1986.
Boag later spoke highly of Walt, praising his ability to see potential in his employees. Boag had jumped at the opportunity to get involved in different roles within the company: "Walt took advantage of people's talents, tried combinations… knew what his people could do and gave them other chances."
The Revue came to a close in 1986, twenty years after Walt's death, following tens of thousands of performances. "It's not a sad day," remarked Disneyland's Head of Marketing and future President Jack Lindquist, "because you can't make a sad day out of this fantastic show that has played to more than 12 billion people." After 31 consecutive years of performances, the Revue also set the Guinness World Record for "greatest number of performances of any theatrical production."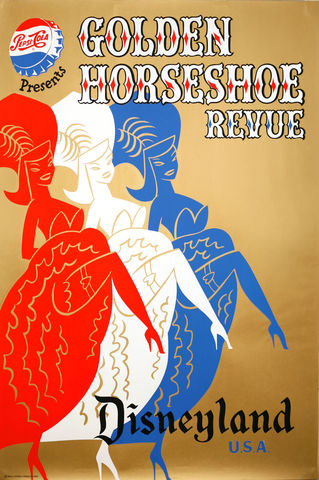 The Golden Horseshoe Saloon Today
Rooted at the heart of Frontierland and gazing out over the Rivers of America, the Golden Horseshoe Saloon continues to draw guests—whether as hungry first-timers, eager to try the chicken wings and sundaes, or as devoted fans, clamoring to experience the rich history of a place that meant so much to its inaugural visitor.
This mix of clientele may enjoy Disneyland's offerings for a range of different reasons, but one thing bonds them all: the experience that comes from a trip to Walt's original Park, still equally tangible and visceral 65 years later. The excitement of July 13, 1955—the buzz of what was to come—is far from over. "All of us there that night knew we were going to be part of something that was very special and wonderful," Wally Boag admitted, "and that the adventure was only just beginning."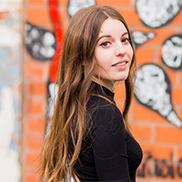 –Sophie Jo
Sophie Jo is a writer and long-time Disney fan from England. Find her tweeting @sophiejowrites or happy-crying over 'it's a small world.'
Image sources (in order of appearance)
Walt and Lillian Disney at the Golden Horseshoe Revue for their Tempus Fugit celebration, July 13, 1955; courtesy of the Walt Disney Archives Photo Library; © Disney

Wally Boag and dancers at the Golden Horseshoe Revue, 1965; courtesy of the Walt Disney Archives Photo Library; © Disney

Aronson, Bjorn, Disneyland attraction poster, Golden Horseshoe Revue, c. 1955; collection of the Walt Disney Family Foundation; © Disney
Visit Us and Learn More About Disney's Amazing History
Originally constructed in 1897 as an Army barracks, our iconic building transformed into The Walt Disney Family Museum more than a century later, and today houses some of the most interesting and fun museum exhibitions in the US. Explore the life story of the man behind the brand—Walt Disney. You'll love the iconic Golden Gate Bridge views and our interactive exhibitions here in San Francisco. You can learn more about visiting us here.