In honor of the recent addition of the beautiful Red Cars to Disney California Adventure's Buena Vista Street, we here at Storyboard would like to take a look back at the different forms of transportation that have been featured in Disneyland throughout the years. We'll leave "rides" out, because as much as we wanted to include icons like the Mark Twain Steamboat (or retired ones like the Peoplemover), they don't actually transport you anywhere. They just take you back from whence you came.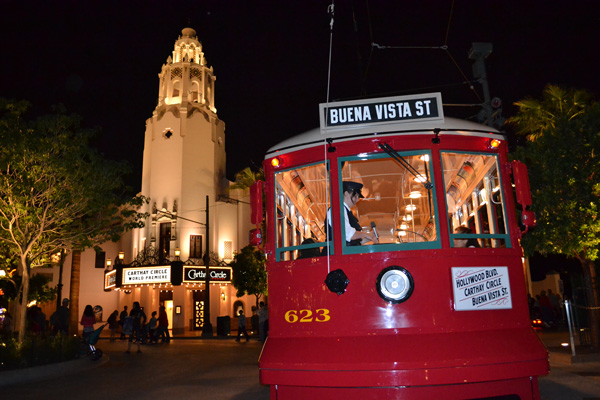 Image above: One of the Red Cars on the new Buena Vista Street in Disney California Adventure. Photo courtesy of Keith Gluck.
Lower on the beauty scale, but much higher on the silly scale than the new Red Cars, Toontown's Jolly Trolley debuted when Mickey's Toontown opened on January 24, 1993. Modeled after the cartoon architecture in Who Framed Roger Rabbit's Toontown, these Trolleys are devoid of hard edges, but come complete with: bright paint, a wind-up key, and 800 feet of track on which to wobble. The Jolly Trolleys were never meant to glide true like the elegant streetcars they were based upon. They would warble and bounce as they took you across Toontown, from one fountain to the other. For a variety of reasons the Jolly Trolley no longer operates, however a stationary one can still be spotted decorating the cartoon land.
Did you know that the fire wagon that currently resides in the Main Street Fire Station was once an operating vehicle? On Disneyland's opening day, it was one of three options to choose from if you wanted to take a slow but quaint trip from the beginning of Main Street to the Castle. Like the fire wagon, the other two, a surrey and a streetcar, were pulled by horses. The fire wagon carried its last guest in 1960, and the surrey (a small cart with large wooden wheels) took its final jaunt in 1971. The mainstay of horse-drawn conveyances, however, can still be ridden to this day. The stately streetcar, weighing a little less than two tons, can transport 30 passengers up to 4mph through its turn of the 20th century surroundings. In 1956, a few "newfangled" motorized vehicles made their way onto Main Street, U.S.A, and are still in operation today. First, a red vehicle, followed a few months later by a yellow one. Both cars were small, attractive, and capable of carrying about six passengers each. The Omnibus that showed up that year, however, was slightly larger. The green double-decker bus made its debut in the summer, and with its ability to provide a brand new vista of Main Street, as well as carry over seven times as many passengers as its little cousins, it was an instant hit. The last addition to the Main Street fleet was, like every other vehicle, designed by Disney Legend Bob Gurr. It was a vintage fire truck, assembled in the Disney Studios about 45 minutes north of Disneyland. And when Gurr finished creating the park's final Main Street vehicle, he didn't have it delivered on the back of a flatbed truck. He drove it to Disneyland himself.
In 1955, guests meandering through Frontierland could peer across the Rivers of America and see a small island. Tom Sawyer Island was there, in plain view, tantalizing guests who could only speculate as to what it contained. The fact is, the island wasn't ready for opening day. While it was personally designed by Walt Disney (from the confines of his Carolwood barn), its theme had yet to be determined. Deciding against Mickey Mouse Island, then Treasure Island, Imagineers began work on completing Tom Sawyer Island in early 1956. It would open on June 16 that same year, and the opening of an island meant the opening of new transportation. The rafts to Tom Sawyer Island ferried guests from the Frontierland dock to the island's dock, for the price of one D-ticket. A year later a second dock was added to meet guest demand (it closed in 1971). Like the Main Street vehicles, these rafts chug along at about 4mph. They can carry up to 40 passengers, and many people are surprised to find out that they are not on any kind of track (neither are the canoes, by the way). When they first premiered, each raft was named to correspond with the island's theme: Huck Finn, Injun Joe, Becky Thatcher, and Tom Sawyer. After the island's Pirate Lair redo in 2006, three of the rafts were renamed to: Anne Bonny, Captain Kidd, and Blackbeard. Only the Tom Sawyer was spared a new handle.
Look, up in the sky. It's a bird, it's a plane, it's a… bucket? On June 23, 1956, the Skyway to Tomorrowland and Fantasyland premiered, ready to provide guests with breathtaking views of Walt Disney's original Magic Kingdom. Costing one D-ticket, 44 "Skybuckets" (as they were affectionately called) ferried folks across 2,400 feet of cable from the modern Tomorrowland Station to the charming Fantasyland station. When the buckets first premiered, they were cylindrical. In 1965 they took on a more rectangular shape, which remained for the duration of their existence. Another major change the Skyway underwent was its path. In 1959, when Disneyland added a scaled down version of the mountain in Switzerland Walt fell in love with (and featured in a film), they constructed the Matterhorn around the central Skyway tower. Two large openings were created on the east and west side of the mountain, allowing the buckets to glide right through. The Skyway was touted by Disneyland as "the first aerial tramway of its kind in the United States," and it enjoyed an impressive run over (and through) an ever-changing landscape. In November of 1994, 38 years and 150 million passengers after its opening run, the Skyway took its two final riders, Mickey and Minnie Mouse, on one last trip through the skies of Disneyland.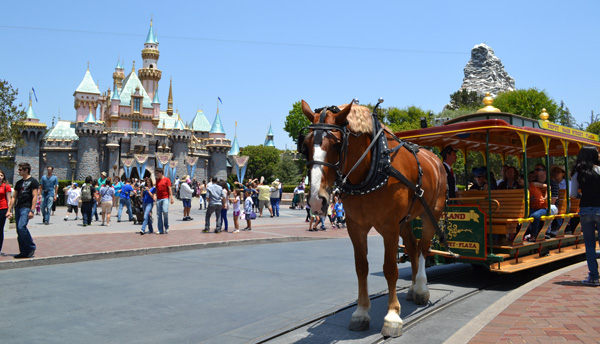 Image above: A streetcar on Main Street U.S.A. in Disneyland. Photo courtesy Keith Gluck.
What many consider Disneyland's most peculiar form of transportation made its debut on June 26, 1957, and was called the Viewliner. It was meant to be a smaller, more modern version of a locomotive. Modeled after GM's Aerotrain, Bob Gurr designed a virtual Frankenstein of railway travel. The front end was from a 1954 Oldsmobile 88, grafted to fit the more narrow locomotive body. It was powered by gasoline, thanks to a Chevy Corvette 327 V8 engine, fully capable of towing five cars full of passengers. For a B-ticket, you could board a train in Tomorrowland for a trip along a figure-8 track to (and from) Fantasyland. The Fantasyland Viewliner's passenger cars were named after Disney characters (Pinocchio, Alice, Bambi, Tinker Bell, Cinderella), and Tomorrowland's were named after planets (Mercury, Venus, Mars, Jupiter, Saturn). As a goof there was talk of creating a "Pluto" car that could be used as a spare for either train, but since the cars were permanently coupled together, switching them out was no easy feat. Walt himself helped man the controls during the Viewliner's maiden voyage, however this amalgam of machinery didn't get to enjoy a long life at Disneyland. Just 15 months after its debut, the ride closed for good in September of 1958. The Viewliner was retired to make room for the Matterhorn, the Submarine Voyage, and a train slightly more elevated, and slightly more futuristic.
If the Disneyland-Alweg Monorail System had remained on its original route when it debuted on June 14, 1959, it wouldn't have been mentioned in this article. When Walt first saw an early version of a monorail in Germany, it was far less aerodynamic (Bob Gurr described it as "A loaf of bread with a slot in the bottom, sitting on a stick"). Walt however saw the potential. He partnered with its designer, Dr. Axel Lennart Wenner-Gren (who put his own initials to good use) to bring Gurr's much more futuristic version to Disneyland. One of the original E-ticket attractions, at first the Disneyland-Alweg Monorail was just a ride. Up to 82 guests boarded in Tomorrowland on a platform above the Submarine Voyage for an 8/10th of a mile trip over both the Tomorrowland and Fantasyland Autopia, past the majestic peak of the Matterhorn (which debuted the same day as the Monorail), and even by a bit of the city of Anaheim. The Disneyland-Alweg Monorail transitioned from ride to transportation system on June 1, 1961. With an expanded track and the introduction of the Mark II model, 28 more passengers travelled on a 2.3 mile journey from Tomorrowland to the nearby Disneyland Hotel (and back, if they chose). In 1968 the Mark III Monorail debuted, with more room, bigger windows, and bucket seats. The next Monorail wouldn't come to Disneyland until 1987, but it brought more changes. The Mark V model had a new shape, air-conditioning, automatic sliding doors, and a shorter name (no more Alweg, it was simply known as the Disneyland Monorail). Like the Mark III, the Mark V also enjoyed a two decade-long run gliding passengers through the happiest place on earth. In 2008, however, the very cool Mark VII model came to town. These much sleeker models sported a new seating configuration (an inward-facing bench on each end, and back-to-back window-facing benches in the center), more vibrant colors, tinted windows, and soft neon lighting in the cars. 
During Walt's amazing life, there are few things he loved more than trains. In fact one of the first quotes Walt ever said about Disneyland was, "I just want it to look like nothing else in the world, and it should be surrounded by a train." Walt's passion for trains started when he was young, and showed no signs of slowing when Disneyland was built (he operated his Carolwood Pacific Railroad at his home from 1950-1954). The Santa Fe and Disneyland Railroad was built 5/8th scale, and traverses close to 7,000 feet of track around the park. On opening day, there were only two stops: Main Street and Frontierland. Fantasyland Station was added in 1956. The Fantasyland Station disappeared, reappeared, relocated, and was renamed over the years. In 1958, Tomorrowland received a station. That same year the Grand Canyon Diorama was added in the tunnel between Tomorrowland and Main Street. The diorama, inspired by the Academy Award®-winning documentary Grand Canyon, received a neighbor in 1966. The Primeval World Diorama was added in the same tunnel, and featured dinosaurs and other extinct species that had been part of the 1964 World's Fair attraction, Ford Magic Skyway. In 1974, Atchison, Topeka, and Santa Fe Railway decided to discontinue its sponsorship of the iconic attraction, so it became known as how we know it today, The Disneyland Railroad. Its fleet is comprised of five steam locomotives, four of which are named after past Santa Fe presidents: The C. K. Holliday, the E. P. Ripley, the Fred Gurley, and the Ernest S. Marsh. The fifth and newest locomotive is named after Disney Legend and railroad enthusiast, Ward Kimball. Many forms of transportation have come and gone throughout Disneyland's storied history, and many more will come and go. It's safe to say however that the first attraction you encounter upon entering the park, the one which was dearest to Walt, and the one that in itself was partially responsible for Disneyland's creation, will be around for a long, long time.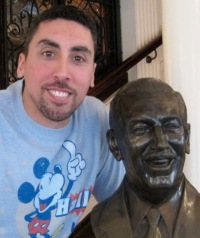 Keith Gluck is a WDFM volunteer, writer/editor for thedisneyproject.com, a Disney fan site. His Disney life started early, visiting Disneyland before turning one, and writing his very first book report on a Walt Disney biography for kids.