As Halloween is right around the corner, Storyboard will be sharing stories about Disneyland's The Haunted Mansion. Last Friday, WDFM volunteer and Disney historian Joseph Titizian told us about the history and Walt's involvement with this attraction. Today, we are so honored and pleased to have Disney Legend Harriet Burns's grandaughter, Chelsea Clair share with us this little known story about her grandmother and The Haunted Mansion's Madame Leota!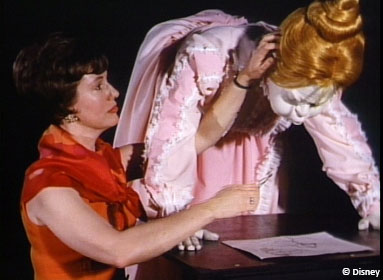 Harriet Burns, my grandmother and the first female Imagineer for Disney, is known by many Disney history enthusiasts for her contributions to some of the most beloved classic Disney attractions. In the early days of Disneyland she could be found meticulously feathering the Tiki Birds, adding hair to the legs of the Pirates, figure finishing the Small World dolls and, of course, using "Disney magic" to create the friendly ghosts of the Haunted Mansion. Disney Imagineers were always on the cutting edge of their industry. Since no one had created 'audio-animatronics;' the Imagineers had to be really creative with their techniques, often using their personal experiences as inspiration.
As a kid I always enjoyed hearing Grandma Harriet's memories of the "Model Shop." Grandma loved thrilling us grandkids with stories of how she modeled the famous pirate who sits on the bridge after their family milkman from the 1950s.  She would also tell me how they cleverly used the names of the Imagineers on some of the tombstones throughout the Haunted Mansion attraction.  I loved those "inside stories." It made visiting the park even more special!  I probably don't even know a fraction of the inside stories behind the creation of the park, but I learned one particularly exciting story about my grandmother as we went through the daunting but fascinating task of clearing out her house after she passed away in 2008. In one of her drawers we found boxes of Disney slides. Harriet's friend, Scott Wolf, converted them into digital files for us. Among them he discovered photos from a photo shoot that prompted a story he later shared in our tribute book, Walt Disney's First Lady of Imagineering, Harriet Burns, which can be found on page 73: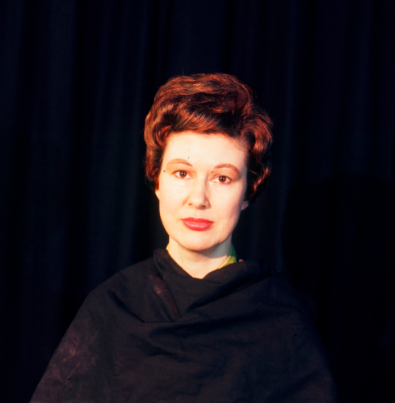 In 2007, I had interviewed Jay Meyer who was the last living person to physically appear on film in the Haunted Mansion attractions. He's one of the singing busts and has a solo, "Starts to Shriek!" Since more than four decades had passed since he recorded his ghostly appearance, he could not recall how his head was kept so still when they filmed him. Knowing that Harriet was involved in just about everything at the Disney parks at that time, I thought I'd ask her if she knew the answer. That was the thing with Harriet, not only did she know about anything you asked her, but she could remember in detail as if it happened yesterday! In true Harriet style, she not only knew about it, but had an answer better than I anticipated! "Well, they had me in a brace . . . I was going to be Madame Leota!" It turns out, they filmed her to appear in the crystal ball, but unfortunately her features were too small and so the apparitional duties were given to Leota, who worked for Harriet. But, that was Harriet . . . you always got a story better than you imagined!
So that was how I learned that Madame Leota could have been "Madame Harriet!" It was another fun, unknown piece of history to uncover, even after she was no longer with us. The photos from the would-be 'Madame Harriet' photo shoot brought the story to life and we marveled at her "ghostly" appearance.  It was surprising for us to see her like that, no scarf or makeup. Of course, we know they ended up using Leota Toombs because Harriet's features were too small. Harriet, being a true Disney devotee, willingly stepped into that role and then graciously passed the torch to 'Madame Leota,' her respected—and now, forever immemorialized--colleague.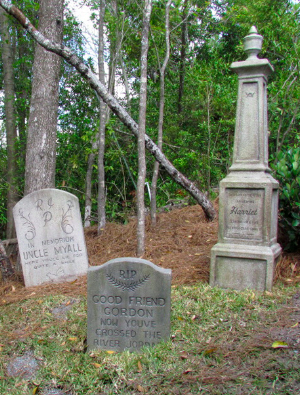 In 2011 Harriet got her "day in the sun" at Walt Disney World's Haunted Mansion. They expanded the queue for the attraction and added a graveyard with tributes to the original Imagineers. Harriet's new tombstone reads:
FIRST LADY OF THE OPERA
OUR HAUNTING 
HARRIET
SEARCHED FOR A TUNE
BUT NEVER COULD CARRY IT
We're sure she would be thoroughly amused at this new tribute to her and her fellow Imagineers!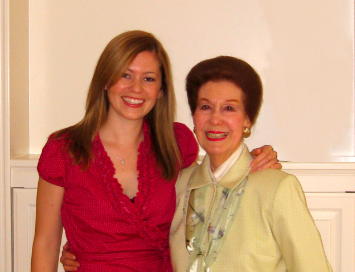 Chelsea Clair
(with her grandmother, Harriet Burns, in 2008)
Volunteer at The Walt Disney Family Museum
Walt Disney's First Lady of Imagineering: Harriet Burns — Authors Pam Burns-Clair and Don Peri assembled stories from Disney colleagues, friends and family to pay tribute to the first female Imagineer for Walt Disney: Harriet Burns. The book is full of stories and Disney history memories and of course inside jokes!
Click here to pick up a copy today--and don't forget to check them out on Facebook, too!
[All images, except for top image, courtesy Chelsea Clair. Video courtesy Scott Wolf and The Mouse Club House.]