I've been made the skinflint, but I really wasn't. … All I've been trying to do is help Walt do what he was trying to do.
—Roy O. Disney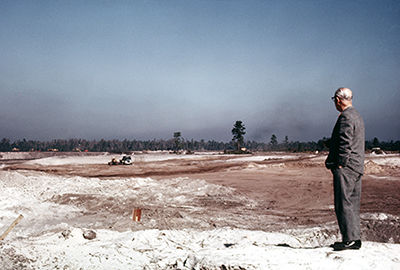 In fact, Roy Disney sometimes overspent on principle, which ended up being a bargain. He paid ABC 15 times its $500,000 investment in Disneyland to buy out its 34% interest. This gave Walt Disney Productions control of the park and the freedom to take elsewhere their television series that ABC cancelled, the "Mickey Mouse Club" and "Zorro." This figure, $7.5 million, led even Walt Disney to ask Roy before the negotiation, "Do you think it's necessary?"
Roy overspent for other reasons, too. During the late 1960s, Disney was buying up properties in Florida, for around $200 an acre. "There were a couple of hold ups," remembered Frank Thomas in an interview. "One lady had a little bit of property. She wasn't going to give up her home." Someone suspected she was told she could get as much as $5,000 for her little property. "[Roy] said, 'She's a poor old lady all by herself. Give her $12,000.' So they did. She was just overjoyed." Roy was, too. "It's nice when you can give someone something in their old age. It really meant something to her."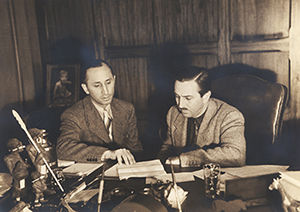 Roy Disney was a financial genius. But he was more than that in the same way that Walt Disney was more than a film producer. Roy could read personality and sum it up with a succinct mastery that paralleled Walt's determination to explore and assign a distinct character to each of the Seven Dwarfs, or his ability to discern talent from raiding artists' wastepaper baskets for drawings. Roy's gentle vision was supporting the creative aims of his younger brother. To that end, he advised him in ways other than financial. He had a knack for modest, clear languageand picking apt names for entities of Walt Disney Productions. Above all, there was one name he upheld and insisted on: Walt Disney. As he put it, "It is a name that is good—more than good—anywhere in the world."
Little has been written about this modest man besides a few articles and Bob Thomas' fine book Building a Company: Roy O. Disney and the Creation of an Entertainment Empire, published in 1998. Here is a chance to learn more about him through his own words and recollections of his contemporaries. Even a small sample of his correspondence to Walt shows the caliber of person that was Roy Oliver Disney.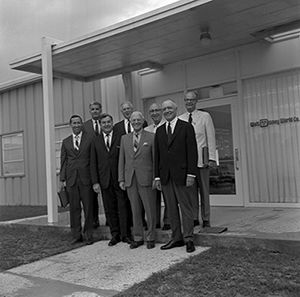 Roy O. Disney forsook banking work and a hospital bed, where he was recuperating from tuberculosis contracted during wartime, to start as the cameraman, bookkeeper, and even cel washer for a time at the little animation studio in 1923. This cofounder of the Disney Brothers Cartoon Studio bowed out of the title in 1926, when it became The Walt Disney Studio, Ltd. Roy proposed this change. By 1929, Roy was Executive Vice-President of Walt Disney Productions. He succeeded Walt as President in September 1945 to relieve him of administrative responsibilities. Roy, in turn, shed this title in 1968, becoming Chairman of the Board. He had assumed command of the unnamed "Florida project" after Walt's death in order to complete it in Walt's honor. To do so, Roy deferred his own retirement, at great personal cost.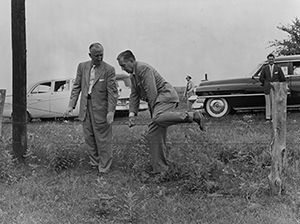 Even as children, Walt and Roy were business partners. They delivered newspapers together. They succeeded each other as a railroad newsbutch. Roy had worked for Fred Harvey. Years later, in 1917, Walt did the same for two months, for Van Noy Interstate News and Roy posted the required $30 bond for his brother. But pop bottles disappeared before deposits were collected, and the fruit sometimes was rotten and unsalable. Walt Disney later explained, "Too many people were eager to take advantage of a young businessman like myself." Roy lost his $30. After World War I, as a bank teller in Kansas City, Missouri, Roy heard about a position from a co-worker. Passing on this tip got Walt his first art job, an apprenticeship at Pesmen-Rubin, a commercial art studio. Roy encouraged and looked out for Walt his entire life.
Jennifer Hendrickson has worked for the Walt Disney Archives and in a former research office of The Walt Disney Family Museum.  In Boston, she researched and wrote some scripts on musical topics for WGBH Public Radio.
Acknowledgements: Gratitude to Rebecca Cline, David R. Smith, Steven Vagnini, Kevin M. Kern, Michael Buckhoff, Jenn Berger, and Jeff Golden of the Walt Disney Archives for their generous assistance and expertise. Thanks also to Brianne Bertolaccini of The Walt Disney Family Museum, to Margaret Adamic of The Walt Disney Company, and to Paula Sigman Lowery.
Sources
Note from Director Emeritus, Walt Disney Archives, David R. Smith.
Press release bio of Roy O. Disney dated Oct 11, 1971.
David R. Smith, "Disney Before Burbank: The Kingswell and Hyperion Studios," Funnyworld #20, Summer 1979, p. 34.
Michael Broggie, Walt Disney's Railroad Story, 2nd edition, Donning, c1998, pp. 35-40. [Neal Gabler's Walt Disney: The Triumph of the American Imagination, Knopf, 2006, p. 31, notes the bond was $15.] Note from Director, Walt Disney Archives, Rebecca Cline, states that the business title was Van Noy Interstate News.
Marty Sklar interview with Bob Thomas, audio, Sep 1, 1995, 11 minutes in.
Roy O. Disney interview with Hubler, transcript, Nov 17, 1967, p. 23.
Bob Thomas, Building a Company: Roy O. Disney and the Creation of an Entertainment Empire, paperback edition, New York, Hyperion, 1998, p. 204-207.
Thomas Murray, "The Men Who Followed Mickey Mouse," Dun's Review, Dec 1969, p. 38.
Frank Thomas and Ollie Johnston interview with Bob Thomas, audio, Jul 13, 1995, 26 minutes in.
"A Message From Roy," The Disney World, July 1967, Vol. 5, #1, p. 3.