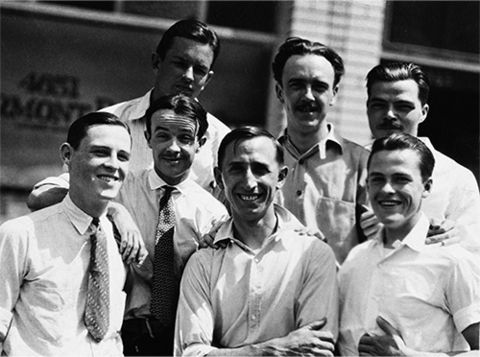 Which Disney led the studio? It was a partnership. Both Walt and Roy Disney have been described as the spirit of Walt Disney Productions. Walt had the curiosity and drive that led from putting a little girl in an animated cartoon to welcoming families into an entertainment world spanning past, future, sky and sea. Roy, Walt's 7½-year-older brother, took a protective attitude toward him, in finances and everything else.
Donn Tatum, who came to Disney from ABC after the deal for Disneyland and became Vice-President and eventually CEO, recalled in an interview how he loved Walt's sense of humor. "He was just the heart and soul of this organization." He admitted Walt had his bad moods, but he'd "pick you up, inspire you, encourage you."
When asked for his first impressions of Roy, Irving Ludwig, President of Disney's original distribution company, responded similarly. "He made me feel good all over: had something about him that you wanted to do everything you possibly could because of the manner in which you were treated. And it lasted all those years, all those years. To me, he was really the spirit of Walt Disney Productions—the guy who had the toughest job of them all…He had to keep everything together." He called Roy "the heart of the organization."
Roy's influence could be felt immediately. "Five minutes after meeting him you had the feeling you had known this man most of your life." This was how a writer for the Orlando Sentinel put it. Don Escen, former financial administrator and company treasurer, would bump into Roy around the world. "First thing Roy would do…instead of going and meeting the head of the operation—sales manager or administrator, he'd go in the office and he'd go back to the corner—somebody that he'd never seen before, probably the newest employee in the office, shake their hand and greet them. 'How do you like it here?' He was very personable in dealing with the lower echelon people in the foreign office. In fact, I've always said Roy and Jack Cutting [one of Walt's original animators and eventual manager of Foreign Relations] were the two emissaries for Disney in the foreign offices."
The lawyer who became general attorney for the corporate and finance divisions, Dick Morrow, said, "The world was a better place for that man [Walt] having been—and certainly also a better place because of Roy, who complemented him so beautifully."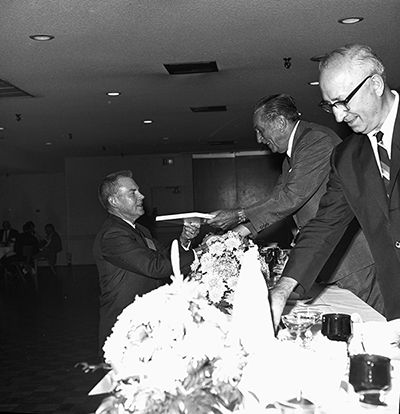 Beyond praises, Roy O. Disney's generosity of spirit might best be illustrated by his ability to joke for a good 10 to 15 years afterwards about something that scarred The Walt Disney Studios in terms of money and morale. "Roy felt so bitterly about the [1941 animators'] strike," recalled animator Frank Thomas. "Every time he saw two or three of us standing together talking in the hall or in the parking lot, he'd say, 'Oh, what are you guys drumming up now? What are you going to sue us about?'…Milt [Kahl] used to get really riled about it. 'Come on, Roy!'" But it was "just a gag."
At a retirement party for sound director Bob Cook in 1971, Roy spoke. He opened softly with "You're a grand bunch," admitted to being "a little embarrassed to follow Sam" (C.O. Slyfield, who had just summarized the history of the studio's sound division), and recounted a bit of the early days when they were "living on hamburgers."
Slyfield rose again after Roy's tale to put a point on it. "If it hadn't been for Roy Disney, there might not have been a nice studio here for you nice people to work at. He did a nice job of financing this studio during the depression days. Things were not easy. I don't know how Roy did it. He must have done some magic tricks of some kind." And he did it when "money was really hard to get. Thanks to you, Roy."
Morrow characterized Roy, saying, "He didn't have a lot of outside interests. The studio and supporting Walt: that was what he thought about and talked about. A marvelous man."
May these memoranda and memories call back those years of Roy O. Disney to you. The next time you see his initials next to Walt's in a fancywork balustrade high in New Orleans Square, or his name on a locomotive at the Walt Disney World Resort, you may thank him, too.
Jennifer Hendrickson has worked for the Walt Disney Archives and in a former research office of The Walt Disney Family Museum.  In Boston, she researched and wrote some scripts on musical topics for WGBH Public Radio.
Acknowledgements: Gratitude to Rebecca Cline, David R. Smith, Steven Vagnini, Kevin M. Kern, Michael Buckhoff, Jenn Berger, and Jeff Golden of the Walt Disney Archives for their generous assistance and expertise. Thanks also to Brianne Bertolaccini of The Walt Disney Family Museum, to Margaret Adamic of The Walt Disney Company, and to Paula Sigman Lowery.