"I hear you've got the best scene in the picture," Walt remarked dryly.
Walt characteristically never gave praise, and key animator Frank Thomas knew that that statement may be the best he would ever get. The sequence in question, which Frank had revived after Walt had cut after seeing the storyboards, was the iconic scene in Lady and the Tramp (1955) where the two title characters shared a plate of spaghetti.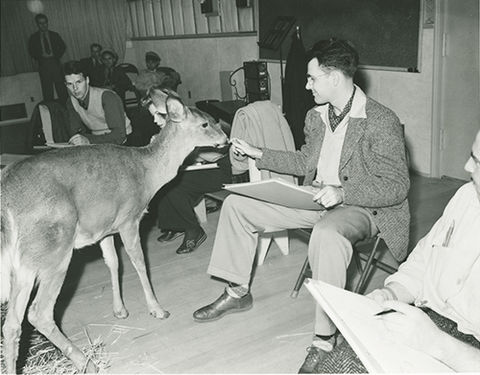 Franklin Thomas was born on September 5, 1912 in Fresno, CA. Like Walt, Frank had interests in drawing that started during his childhood and filmmaking in his teenage years. Academic excellence ran in the family, as Frank's father was President of Fresno State College—now California State University, Fresno—and Frank continued in the tradition, graduating from Stanford University before attending the Chouinard Art Institute in Los Angeles. Walt Disney had already arranged with the school's founder, Mrs. Nelbert Chouinard, to provide art classes for Disney artists, with the understanding that Walt would pay her back when he was able. (Walt would pay back in a major way when he facilitated the merger of Chouinard and the Los Angeles Conservatory of Music in 1961 into what's known today as California Institute of the Arts.) While at Stanford University, Frank would make a very important lifelong friend—another future Disney artist, Ollie Johnston.
Frank was employed by The Walt Disney Studios on September 24, 1934—he was employee #224. Animating complex characters and sequences throughout his illustrious career, he had an essential role in nearly every animated feature produced during Walt's lifetime. His philosophy on the importance of personality in animated characters is considered gospel. He once recalled, "I wanted believable characters that the audience would care about."
Frank's big break came with Snow White and the Seven Dwarfs (1937) when he was given the assignment of animating the dwarfs as they mourned the death of Snow White. Walt's approval on this sequence—and its universal acclaim from critics and audiences alike—catapulted Frank into Walt's inner circle, his "Nine Old Men," who would take a greater lead in the animation and artistic direction of films following the 1941 strike. While the strike was being settled, Walt was persuaded by his brother Roy and the federal government to go on a goodwill tour of South America to make films. Norm Ferguson, the Pluto specialist, and Frank share the distinction of being the only animators invited to Walt's South American "El Grupo," whose work resulted in 1943's Saludos Amigos and 1945's The Three Caballeros. Gallery 6 on the second floor is home to facsimiles of the passport applications and photos taken for the group, featuring a young Walt and an even younger Frank.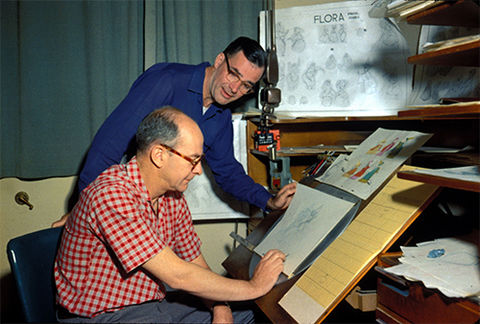 Frank supervised animation for important Disney villains like Lady Tremaine (Cinderella, 1950), Queen of Hearts (Alice in Wonderland, 1951), and Captain Hook (Peter Pan, 1953). In addition to the Lady and the Tramp spaghetti scene, other iconic Frank Thomas scenes include Pinocchio during the marionette show (Pinocchio, 1940), Bambi and Thumper on the ice (Bambi, 1942), the penguins dancing with Bert the chimney sweep in Mary Poppins (1964), and King Louie in The Jungle Book's "I Wan'na Be Like You" (The Jungle Book, 1967). Frank forever recalled a lesson that Walt once imparted to his Story Department about the importance of warmth in Disney pictures: "You guys all think that the world is made up of gags! There isn't one of you who left who could write a lullaby or a love-affair romance in a picture, you all want gags, gags, gags!"
Frank was not just a star behind the camera. In his leisure time, Frank played the piano for the Studios' lunchtime Dixieland jazz band, "The Firehouse Five Plus Two," which gained national and  international success. His acting debut was playing piano with his bandmates for Walt's first television special, One Hour in Wonderland (1950). Frank's piano playing was later featured in a 1955 Disneyland television episode ("Cavalcade of Songs") about the creation of the song "Who's Afraid of the Big Bad Wolf" for the Academy Award®-winning Silly Symphony Three Little Pigs (1933)—despite that Frank did not join The Walt Disney Studios until the year after that particular short was released. The Walt Disney Family Museum exhibits clips from both programs in Galleries 9 and 3 on the second floor, respectively.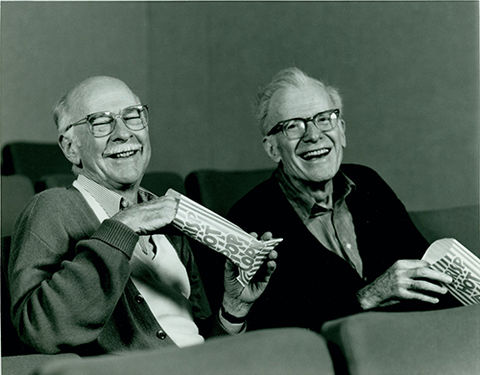 Frank retired from Disney in 1978, but not before joining other grizzled Studios' veterans in mentoring and supervising a new crop of animators who would oversee the animation division from its greatest challenges in the early to mid –'80s to its triumph in the late '80s and early '90s. Frank would also co-author four books on animation with his best friend, collaborator, and next-door neighbor, Ollie Johnston. The story of Frank and Ollie's careers and friendship is profiled in the documentary Frank and Ollie (1995), which is available in the Museum Store. Frank—along with the other Nine Old Men—was given the ultimate Disney honor and inducted as a Disney Legend in 1989.
Frank's assessment of Walt played into his own philosophy of attributing emotion to his characters: "The most important thing in your life was pleasing Walt. Now that wasn't because he was the boss or because you had any special relationship with him. He just had an air about him that you wanted to please this man! The other thing which I think was even more important was that he drew out of you what he thought—what he believed you could do. And he made you believe it." Frank needed the audience to believe in his characters and for Walt to believe in him. Clearly he did, and was right to. He had the best scene in the picture, after all.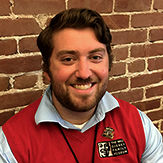 Chris Mullen
Guest Experience Associate at The Walt Disney Family Museum