This year marks the 55th anniversary of Walt Disney's Sleeping Beauty. One of the most artistically distinct animated features ever produced; it proved one of the last great achievements of Walt Disney's life in the realm of animation. The artist who gave Sleeping Beauty its unmistakable style was Eyvind Earle.

By the time he arrived at Disney's in 1951, he was already a well-established fine artist. But he was eager to prove himself in animation. Early on in his time at the studios, Earle found a breath of inspiration. As he recalled in his book, Horizon Bound on a Bicycle: Autobiography of Eyvind Earle, "I remember the first day I came to work…up on the wall…were about 100 exquisite little paintings by Mary Blair…In my mind, I said to myself, 'That's the job I want at Disney.'"
Earle worked as a background artist and would eventually be chosen by Walt Disney to style and paint all the key backgrounds for Sleeping Beauty. Earle also had the decision in the case of character designs and color schemes. In essence, Earle had been granted control over the film's visual appearance. Walt envisioned a film with a consistent visual style from beginning to end, and he knew that having one artist responsible for the style would achieve the goal.
Earle pulled on a variety of artistic styles in his research for Sleeping Beauty. These included pre-Renaissance Gothic works, Persian miniature paintings, and Asian art. He specifically would cite "Van Eyck and Peter Bruegel and Albrect Durer and Botticelli" as inspirations. And lastly, "on top of all that I injected a little piece of Eyvind Earle." Sleeping Beauty's style was a fusion of old and new, of the traditional and the cutting edge, and was most certainly distinct.

Production on the film took far longer to complete than other Disney animated features. The film was in full production for over six years, throughout most of the 1950s. As The Walt Disney Studios expanded on a rapid pace into new fields, the Animation Department chugged along on Sleeping Beauty. Part of the reason for the film's long production time was the level of artistic devotion, the incessant attention to detail. Whereas a normal background on a Disney feature may have taken a day to complete, an Earle background could have taken as many as 10 days. Assistant animators were lucky to finish only a handful of drawings each day.
In an email interivew, animator Floyd Norman, who began his career on the film, commented, "The work was demanding and the expectation was the highest of any animated film ever produced… Drawings that would ordinarily be considered insignificant in any other film would be given the highest attention. No detail was too small to be considered."
It was unprecedented to place one artist in control of a film's visual style, but Walt stood firm in his conviction to a distinguished look for the film. At one point a group was said to have even rebelled. They went up to the boss' office and appealed to Walt. But Walt remained steadfast in his commitment to Earle and his single style. Floyd Norman commented, "It was no secret that the animators, particularly the directing animators, were not pleased with Eyvind Earle's background style and felt it took away from the animation." Animators were used to seeing their work stand out as the focal point in a scene.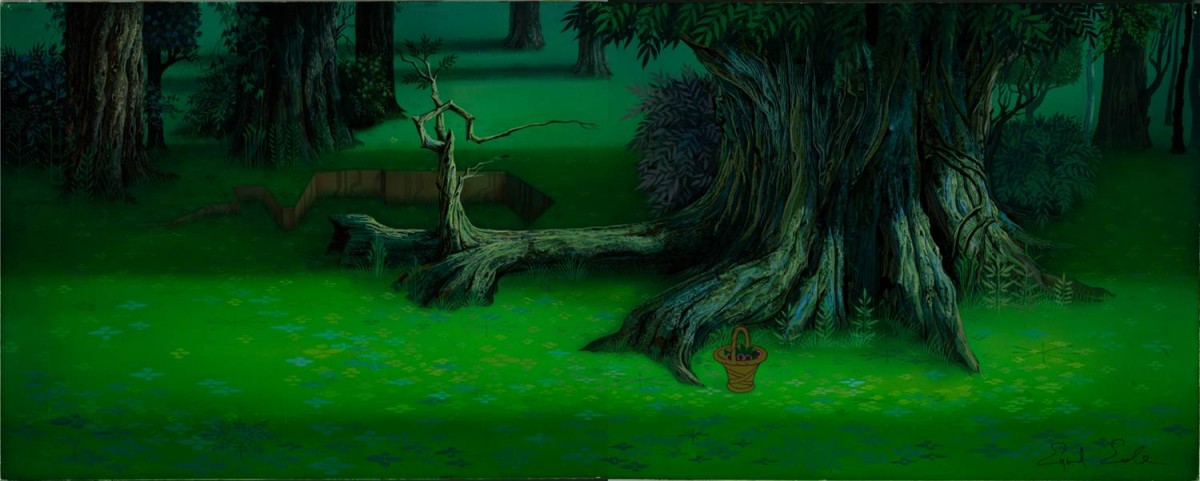 With Earle's designs, the layout was more a single canvas, a panorama in the new widescreen format. A viewer's attention was not necessarily directed at first towards a character, but towards a background detail of some sort. To an animator, this was a loss. But Sleeping Beauty had been dedicated to a different vision than its predecessors. And animators would have to compromise with Earle.
Many at The Walt Disney Studios would soon recognize the immense beauty of Earle's work. Artists would frequently stop by Earle's office to peek at what he was doing. "I think everybody that worked at the Disney Studio came to see what I was painting," Earle remembered. "The extraordinary thing about working at Disney's was the fact that I was suddenly surrounded by hundreds of artists and hundreds of them were good artists." Throughout his years at the studios, Earle was both pushed to paint a menagerie of subjects and exposed to a multitude of styles and artistic approaches. In a way, Earle became the artist he would be for the rest of his life while working at Disney's.
A full 55 years after its release, Sleeping Beauty remains as distinct as when it was released. We have many artists to thank for that, most of all Eyvind Earle for infusing a style so unforgettable.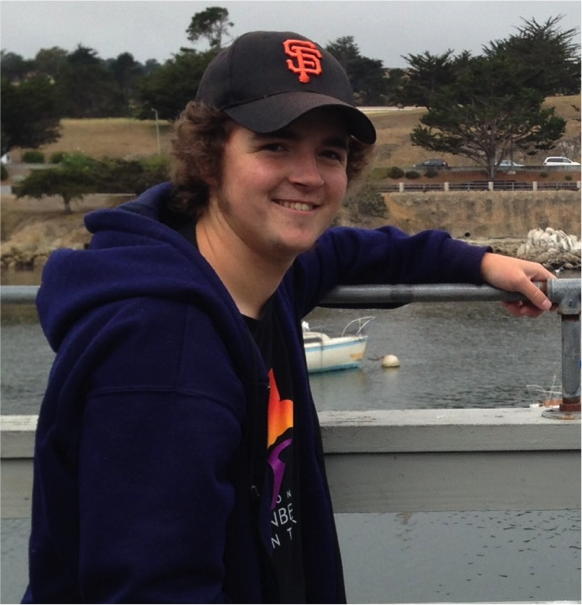 Lucas O. Seastrom
Volunteer at The Walt Disney Family Museum
To read more of Lucas' work, visit his blog, University of Walt Disney.