As part of our month-long salute to Donald Duck, we asked Disney historian, Paul Anderson, to tell us about Donald's golden era of the 1940s.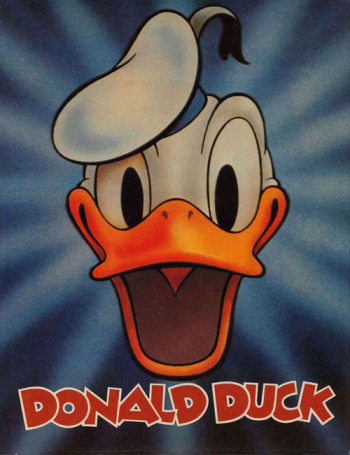 In my esteemed colleague's essay on Don ald Duck, we had an insightful look at the inception and evolution of the quarrelsome quacker throughout the thirties. As the story unfolds we are witness to Donald's meteoric rise in popularity with the eventual eclipsing of Walt's much beloved Mickey Mouse. It is in the decade of the forties where Donald Duck finds stardom beyond what he knew in the thirties, and also cements himself as Walt Disney's most popular cartoon star ... of all time. So that latter statement, at least to fans of Mr. Mickey Mouse, might be a bit controversial (that is if one can actually create a debate such as this). Far be it from me to start the feathers flying in a Donald-esque rage of temper over the most popular Disney character of all time; as emotionally everybody has their favorite and ultimately it is a bit farcical (in keeping with the subject of this essay). However, let me state that what Donald Duck achieved in the 1940s has never been equaled by any cartoon character in any decade!
If Mickey's decade was the 1930s, then Donald's was the 1940s. Each character's popularity has more to say about what was going on in America, than about the mouse and the duck. As such, it is probably an unfair comparison; suffice it to say, Mickey was the "everyman" of the Depression era, while Donald was the "fighting spirit" of the War era. Each character, in their own way, offered a beacon of hope and light to their respective decade–Mickey to show us that with tenacity and good spirits we could overcome the adversity and obstacles of an economically beleaguered nation; and Donald to show us that with a fighting spirit we could get the job done in a world that was devastated by war.
As J.B. pointed out in his essay, to which I whole-heartedly agree, Donald's peak in his acting career was 1937 to 1941. His peak in popularity, however, was 1941 to 1945, and while his star power declined a bit after the War, he was still at the top of his game ... he did not suffer the typical Hollywood star decline following the war. Indeed, his popularity continued well into the 1950s.
I mentioned Donald's achievements in the forties and how I believe it set him on the path of becoming the greatest cartoon star of all-time. Before a lot of you start exhibiting Donald's bad temper and belligerent traits, please give me a chance to explain. Hopefully by simply presenting the facts, I can forestall any emotional controversy. The decade was the duck's busiest–by a long shot–and easily his most successful. As such, I have decided to title my defense "The Donald Duck Decade."
Consider just a few milestones from Donald's career in the 1940s (and believe me, this is an abbreviated list).
1.  He made a film about charity work
The Volunteer Worker (1940)
This short commercial film made for the Community Chest showcases Donald serving as a charity collector, and as with all tasks he undertakes, he is having some difficulty. His discouragement gives way to success as a kindly ditch digger lifts Donald's spirits by telling him how much the Community Chest helped him and his family when he was down. It was an uplifting performance to begin the decade with, and an important lesson.
 2.  He volunteered his services to sell War Bonds for Canada
Donald's Decision (1941) 
In August of 1941 Walt reached an agreement with the Canadian Government to produce four war bond films. As a member of the Commonwealth, Canada had been at war since September of 1939, and was in dire need of raising funds to weather the Nazi storm. The Disney characters would help with this task by participating in short, animated cartoons to help sell War Savings Certificates. Donald, of course, got his own starring role, in the bond film titled Donald's Decision. In the film Donald engages in a battle with the Devil and an Angel over how to spend his salary. The Devil wanted Donald to spend the money on himself, while the Angel wanted Donald to reinvest his savings in war bonds. Donald did the right thing (and sold a lot of war bonds while doing it).                                   
 3.  He Joined the United States Army
Donald Gets Drafted (1942) 
Doing his part like every good American, Donald finds himself in the Army. But with his habitual personality defaults, he soon discovers that military service is not everything he had hoped for. The cartoon ends with Donald exhibiting one of the less glamorous aspects of Army Life: KP Duty! Despite his rocky start, Donald did eventually receive an honorable discharge in 1984 (for his 50th Birthday Celebration).
 4.  He made two films for the U.S. Treasury Department                                                           
The New Spirit (1942) and The Spirit of '43 (1943)
After the Japanese surprise attack on Pearl Harbor on December 7, 1941, the U.S. Treasury Department approached Walt for help on a problem they were having—getting citizens to understand the importance of timely payment of their income tax to aid the war effort. The patriotic Walt immediately immersed himself into the project. Walt knew that for the message to get across, humor would be important, so he selected the number one star in his stable: Donald Duck. It worked. The New York Times heralded the result as "the most effective of the morale films yet released by the Government." A Gallup poll reported that 37% of filmgoers said that Donald's performance affected their willingness to pay their taxes. It was such a success in 1942 that Donald reprised the role the following year in The Spirit of '43.           
5.  He appeared in two feature films
Saludos Amigos (1942) and The Three Caballeros (1945)
Donald's appearance in these two feature films during the decade was also designed towards the war effort. This time it was to strengthen ties and understanding between the nations of the Western Hemisphere. While in Central and South America Donald illustrated what a good neighbor Uncle Sam could be (previous Hollywood stars before Donald had made a mess out of this concept). And to North Americans he offered an artistic and captivating introduction to a little-known continent. Famed New York Times and Time magazine critic, John T. McManus,  commented at the time that Donald had done "a job in hemisphere relations that no one before had managed to achieve."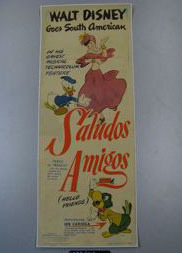 6.  He surpassed Mickey Mouse in the number of cartoon shorts
With Donald's popularity as a Hollywood star, the movie going public demanded more pictures with their favorite Disney star. Walt obliged, and by the end of the 1940s the number of Donald Duck films eclipsed that of even Mickey Mouse. As I'm sure Donald would point out, when it comes to the most Disney film appearances, the irascible duck ranks number one. (And who can argue, he was easily one of Hollywood's biggest box office draws during the decade.)
 7.  He won an Academy Award® for Best Short Subject Cartoon
Der Fuerher's Face (1943) 
Not only did Donald win an Academy Award during the decade, but he also had seven Academy Award nominated short cartoons. Just to give you an idea, Mickey won one Academy Award and had three nominations during the decade. The total count for their career is Mickey Mouse with seven nominations and one win versus Donald Duck with eleven nominations and one win. In case you feel sorry for Mickey, please don't, as Donald Duck trounced every actor in Hollywood across alldecades. Donald's eleven nominations place him atop all actors; tied for second are Spencer Tracy and Laurence Olivier, each with nine nominations to their credit. Donald was certainly making a name for himself!
8.  He was symbolized in over 200 military insignia for America's fighting men and women
In one of the unsung contributions to the war effort, Disney artists, at the direction of Walt, designed combat insignia for all branches of the United States armed forces, as well as combat units from numerous other Allied countries. Of course, as I'm sure Donald would point out, he was the most requested character, accounting for roughly 20% of all insignia created by the Disney Studio. Moreover, Walt and Donald donated their services. "Never mind what the job is costing us. That isn't important," reflected Walt in an interview. "In the case of the boys who are doing their share in the nation's defense program, we are only too happy to try to please them."  I'm sure Donald felt the same way, and so did his "official" biographer. In the book Donald Duck (1979) author Marcia Blitz declared: "Let it be remembered that in the 1940s, Donald Duck was a bona fide American Hero."
9.  He got his own Disney comic book
The forties saw the emergence of the Disney comic book line, and at the forefront of this success was Donald Duck. Not only did he receive his own comic book title, starting in 1942 with Four Color #9 "Donald Duck Finds Pirate Gold" but he became the key piece to Walt Disney Comics & Stories, which went on to become the best selling comic book of the late 1940s and into the 1950s. But most of all, what he will probably be remembered for in the world of comic books is helping to jump start the career of his good friend and pal, Carl Barks (aka the "good duck" artist). 
Yes, Donald Duck was having a successful decade. A very successful decade!