Calling all collectors, enthusiasts, and dreamers! Select single, mint-condition issues of The "E" Ticket magazine are now available for purchase in the museum's webstore. A magazine devoted to "collecting theme park memories," The "E" Ticket—named after the coveted "E ticket" at Disneyland Park that admitted the bearer to the most popular rides and attractions—was started by brothers Leon and Jack Janzen in 1986. The fanzine's intent was to not only provide a detailed history of the brothers' favorite park, but also give readers knowledge about the artists, Imagineers®, and other creative individuals responsible for the magic of Disneyland.
Each volume features a different ride or attraction, complete with quality stories, in-depth interviews, and never seen before photographs. The "E" Ticket ran for 17 years before the last issue, issue #46, was published in the summer of 2009. In addition to the magazines, the Janzen brothers also created CD-ROMs containing coveted back issues of the magazines, issues 1-8, 9-16, and 17-24, which are also located at—and exclusive to—the museum. The E ticket still lives on today through The Walt Disney Family Museum, as the Walt Disney Family Foundation acquired all of the assets of the magazine after it ceased publication. Revisit your favorite rides and relive the magic of "The Happiest Place on Earth" by scrolling through our "E" Ticket selection on the webstore or visiting it in person at the museum store.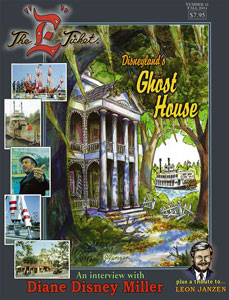 Issue number 41 from Fall 2004 is very special to the museum as it features an exclusive interview with our founder and Walt's daughter, Diane Disney Miller. Here, readers get a special preview and detailed glimpse at the Walt Disney Family Foundation's treasures along with enriched content about her father's life. Diane takes The "E" Ticket on a tour around the warehouse on Gorgas Ave, which was where the museum's collections were once stored and displayed—these treasures, the stories, and Diane's tenacious spirit would, five years later, become The Walt Disney Family Museum.
Browse our first edition The "E" Ticket offerings here.