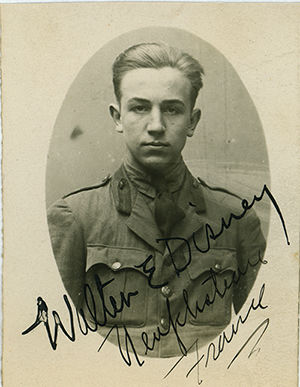 On December 5, 1918, Walt Disney celebrated his 17th birthday hungry and tired, huddled in blankets in a freezing chateau in St. Cyr, France. "I couldn't get warm enough. We would roll ourselves in newspaper."
Despite the relief felt by many at the end of World War One in November of that year, Walt had been disappointed that his time spent as a driver with the Red Cross Ambulance Corps was so short-lived. America's involvement in the war had been minimal until 1917—so while "everybody else was celebrating" the end of it, "we were so darned naïve we didn't know what it mean. We just knew we'd missed out on something," Walt later recalled.
But Walt's dream of seeing Europe was still to come true. When he was awoken at 3am a week after the ceasefire with news that he had been selected as one of fifty Red Cross drivers to travel to France, an excited Walt was raring to go. As someone who had never travelled far, he treated his time in France as an adventure and used his experiences to learn, explore, and inspire his drawings, which were proving popular among his comrades —they would request caricatures to send home to their families and friends.
Gradually, these sketches and cartoons became a way for Walt to express his homesickness – he jotted "I wanna go home, I do" on one letter filled with doodles that he sent to his former high school. He requested to be discharged from the Red Cross, and in the fall of 1919, he travelled back to Kansas City, Missouri.
But although his desire to return to the United States had overtaken his excitement about exploring France, Walt spoke only positively of his time spent in France—he later told his daughter Diane that his short stint overseas "added up to a lifetime of experience."
Walt returned to Europe on several occasions later on in his life and drew inspiration from the places he visited. In Copenhagen, Denmark, it was the Tivoli Gardens amusement park that impressed him—he had plans to design and build his own park for both adults and children to enjoy, and felt that Tivoli had succeeded in this balance. As he later recalled, "It was spotless and brightly colored and priced within the reach of everyone…The gaiety of the music, the excellence of the food and drink, the warm courtesy of the employees—everything combined for a pleasurable experience."
During a 1935 European holiday with Lillian and Roy and Edna Disney, the famous astronomical clock in Strasbourg, France caught Walt's eye. He was "intrigued" by the clock, Roy recalled: "[He] made sketches of it and went to quite a bit of effort to try to get up in the tower to try to see how it worked. He wasn't successful in that. But things like that intrigued him very much." The clock stayed in Walt's mind, and later served as inspiration for Disneyland's much-loved it's a small world façade.
In the mid-1980s, almost 20 years after Walt's death, plans began to be put into place for a European park to add to the existing success of Disneyland and Walt Disney World. And, although several locations across France and Spain were originally considered, it was eventually the rural town of Marne-la-Vallée, just outside Paris, that was selected for the new resort. Disneyland Paris opened as Euro Disneyland in 1992.

The park's lead designer, Imagineer Tony Baxter, had his work cut out for him when it came to creating Disneyland Paris' central 'hub' Sleeping Beautycastle. The team drew inspiration for the castle from the original artwork from Sleeping Beauty from art director Eyvind Earle, envisaging rockwork and beautiful square-shaped trees on the raised grass to the sides of Le Château de la Belle au Bois Dormant which appeared to have been lifted directly from Walt's 1959 film. But a problem still remained in designing an authentic-looking castle.
"Neuschwanstein [in Bavaria] had been a key factor in Disneyland's castle," Tony later explained – it hadn't been a problem to take inspiration from real-life European castles when it came to both U.S. parks, but "the fact that castles exist just down the road from Disneyland Paris challenged us to think twice about our design."
Wanting to distinguish this latest Disney castle from any other that guests might visit in Europe or France, the team opted for a new approach – embracing the fairytale. The Imagineers delivered "on the dream of dragons living down in the bowels of these castles" and La Tanière Du Dragon was born. This walk-through attraction, buried deep under Le Château de la Belle au Bois Dormant, features an Audio-Animatronics® dragon who is awoken from slumber. "He was totally a surprise [to guests] and to this day, I think it's what makes that park different from all the others," Baxter explained.
When Walt celebrated his 17th birthday near Paris during the first World War, he had no idea what would one day stand just one hour's drive away. But after his own experiences in Europe, it seems only fitting that Walt's vision for a place where a child and a grown-up could have fun together was able to find a new home, in a continent where he had lived as both.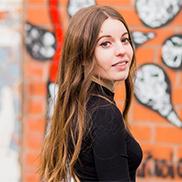 Sophie Jo is a writer and long-time Disney fan from England. Find her tweeting @sophiejowrites or happy-crying over it's a small world.