On Sunday, May 22nd, The Walt Disney Family Museum will present a rare screening of Walt Disney's 1943 Technicolor® animated feature film, Victory Through Air Power, based on the 1942 book by Alexander P. de Seversky. Prior to the screening, our consulting historian Paul F. Anderson will offer a visual presentation on the making of the film, and the resulting impact the film had on Allied war strategy. The following overview of this unusual film was written by Dr. Richard Shale.

Alexander Prokofieff de Seversky was a Russian-American aviation pioneer, inventor, and influential advocate of strategic air power.
In the early months of the war [World War II], however, American military thinking was still battleship oriented. As a result, the United States had given aircraft production only third-place priority in manufacturing, and Seversky, critical of this mentality, developed a reputation as a troublemaker and a crackpot.
To enlist public support, Seversky condensed his theories into a book, which was published in the spring of 1942. Victory Through Air Power proved to be an instant success and went on to become one of the bestsellers of the year.
Walt Disney had for some time been interested in making an aviation picture, and his staff had already begun research on the subject when Walt discovered Victory Through Air Power. The book, Walt explained, "helped to clarify and crystallize my convictions, and I felt that the facts of air power contained in this book should reach far beyond the limited audience of the book-reading public."1
There can be little doubt that Disney's chief motivation here was patriotism. The subject matter was not really of a commercial nature, but, more significantly, Walt, who always preached timelessness in his pictures, was with Victory Through Air Power violating one of his firmest principles. After the war the film would be virtually useless. Moreover, as one Disney scholar pointed out, "For a man whose financial standing was rather shaky, and whose studio was thriving on military assignments, it was a bold move."2
Seversky, no stranger to Disney's public appeal, was receptive to the offer, and by the summer of 1942 Disney owned the screen rights to Victory Through Air Power.  Seversky was signed as technical advisor, but before long his role had expanded considerably. Because of his talent as a designer, he developed a close working relationship with the artists, and many of his rough sketches served as a basis for the animation.
A lengthy story conference held on July 29, 1942, established the rough form of the picture, and it was decided that two-thirds of the film would be animation and one-third live action in which Seversky himself would appear. Walt had originally hoped to release Victory Through Air Power before the end of the year, but this schedule was soon pushed back. Jack Kinney, Jim Algar, and Gerry Geronimi were assigned as animation sequence directors, and H.C. Potter was signed to do the live action sequences with Seversky, largely because, as Leonard Maltin claims in The Disney Films, "Potter was a flyer himself (then working for the Air Transport Command), and he already knew Seversky."3 Ray Rennehan was hired as Director of Photography, and his presence at the studio was proof of Disney's intention to make a high quality picture.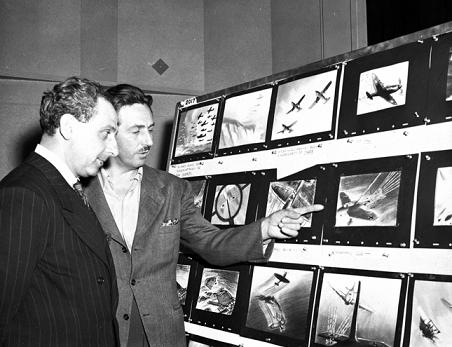 The live action scenes of Seversky were all filmed at night. Because the soundproofing at the studio was inadequate to keep out the sound of noisy aircraft taking off and landing at the busy Lockheed plant nearby, shooting began at 10 p.m. and ran until dawn.
When the film was released on July 17, 1943 the critical response ran the gamut from Lee Mortimer in the New York Mirror who called it "Disney's greatest film," to Ivor Montagu, whose Daily Worker review began: "I have just seen the wickedest film in the world."4
Not all the critics objected to the film. Parents Magazine named it "Outstanding Picture of the Month for Family Audiences," and Thomas M. Pryor concluded his positive New York Times review by saying, "If Victory Through Air Power is propaganda, it is at least the most encouraging and inspiring propaganda the screen has afforded us in a long time. Mr. Disney and staff can be proud of their accomplishment."5
Barbara Demming, who evaluated Victory Through Air Power for the Library of Congress, perceptively noted that the film "demonstrates a great kinship with the advertising art," so it was hardly surprising that one of Disney and de Seversky's most ardent supporters was the man called by many the father of modern advertising, Albert Lasker, philanthropist and retired chief of Lord and Thomas advertising agency.
Lasker tried several times to arrange a meeting between Seversky and Roosevelt or to have the film screened at the White House, but these attempts failed, perhaps because FDR's chief of staff, Admiral William Leahy, did not number himself among those converted to the Seversky line of reasoning.
Lasker's British contacts had succeeded in getting a print to Winston Churchill who was reportedly quite impressed with it. In August of 1943 the first Quebec Conference was held in order to solidify plans for the D-Day invasion of France. Churchill reportedly asked Roosevelt if he had ever seen Victory Through Air Power. When FDR replied that he hadn't, a print was rushed to Quebec by fighter plane. Roosevelt and Churchill screened it privately and then again the following day. According to Lasker's biographer, the president was greatly excited by Disney's film and ordered it screened for the Joint Chiefs of Staff. Though neither Lasker nor Seversky had a direct hand in this, the film may have influenced the air strategy used on June 6, 1944. It was for such reasons, of course, that Disney had gambled and made the film.
NOTES: 1. Disney-Seversky Interview, Walt Disney Archives; 2. Leonard Maltin, The Disney Films (New York: Crown, 1973), p. 61; 3. Maltin,The Disney Films, p. 63; 4. Lee Mortimer. New York Mirror, July 19, 1943; Ivor Montagu, The Daily Worker, September 9, 1943; 5. Thomas Pryor's New York Times review was published on July 19, 1943.
Excerpted and adapted from Donald Duck Joins Up: The Walt Disney Studio During World War II by Richard Shale. © 1982, 1976 by Richard Shale. All rights reserved. Used with permission.
Dr. Richard Shale is a professor of English at Youngstown State University, where he has taught in different capacities for more than thirty years. His areas of interest include film study, popular culture, and local history. He earned a B.A. in Humanities from Ohio Wesleyan University and an M.A. and Ph.D. in American Culture from the University of Michigan.
Images above: 1) © Disney 2) Alexander de Seversky (left) and Walt review storyboards for Victory Through Air Power. © Disney