Meticulous, theme-enhancing horticulture played a starring role in the transformation of flat Anaheim farmland into Walt's rich, immersive vision for Disneyland.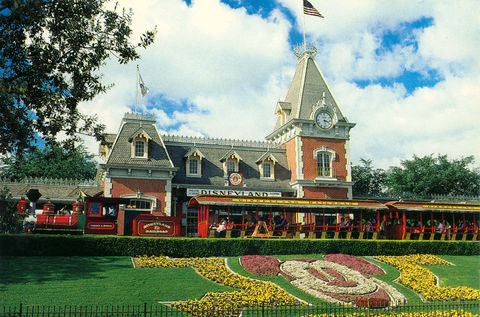 Reshaping the orange groves
"Yesterday it was a peaceful 160 acres of orange groves; today castles and rocket ships and part of the old West itself are rising in front of your eyes," wrote journalist Hedda Hopper in a pre-opening-day review of Disneyland for the Chicago Tribune. But it wasn't just the emerging castle and rocket ships that impressed Hopper—it was the intricate vegetation that surrounded them, turning Walt's project from a newly-built amusement park into a living, breathing, authentic space.
"Walt bought $400,000 worth of trees and shrubs," Hopper told her Chicago Tribune readers. "He depleted all our nurseries and is now importing trees from Santa Barbara and San Diego. One hill is covered with pines… cactus from Arizona already dots Disney's painted desert."
With only a 12-month construction period set aside to complete Disneyland, these pre-grown trees and shrubs had been sourced with painstaking attention-to-detail. Walt had plans to create a convincingly leafy environment, ready and waiting for his guests to explore. "...Walt wanted his trees to be as big as possible," reported LIFE. "He even rejected one tree for being 'out of character.'"
Seamless transitions
One of the team members responsible for supporting Walt with this laborious project was Ruth Shellhorn, a contracted landscape architect who created detailed planting designs, including the now-iconic Mickey Mouse floral planter in front of the Main Street U.S.A. train station.
Shellhorn's job was to take visitors from one contrasting, unique land to another—in a visual sense—without jarring contrasts. "She assumed responsibility for designing the planting palettes that would enable visitors to transition seamlessly from the Plaza Hub to the major 'lands' that made up the rest of the park," explains Kelly Comras, principal landscape architect of KCLA Landscape Architecture in Pacific Palisades, California. "Pine trees, for example, made up the forest around Sleeping Beauty's [sic] Castle, and Shellhorn used the same trees in planting compositions in other areas to weave a botanical thread throughout the park."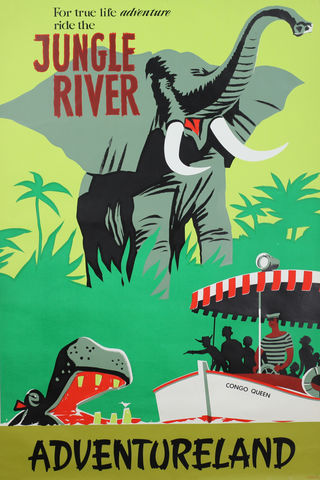 Planting Disneyland's jungle
Walt's band of Imagineers and landscapers were tasked with filling each different land with appropriate plant-life—and Adventureland, with its exotic and mysterious theming, required impressive, fully-grown greenery to match. Disney Legend Harper Goff recalled Walt taking a test-ride on the Jungle Cruise attraction before Disneyland's official opening and raising concern at the lack of screening: "Walt said, 'I went in the [Jungle Cruise] river ride and saw a bunch of little buckets along the bank with little saplings about this high in there. I want trees in there!' Walt wanted real trees."
Luckily, there were at least some real trees readily available. A host of mature eucalyptuses on the west side of the park had previously been used by farmers as a windbreak and still stood proudly. In fact, Walt had been so eager to make use of these trees that he had even reshuffled his plans for the placement of each land, to ensure the eucalyptuses could stay put and take on a brand-new role as part of Jungle Cruise's lush, hidden look.
But the team would need more than eucalyptus trees to fully flesh out the greenery of Jungle Cruise, so Harper Goff and horticulturist brothers Bill and Jack Evans made it their mission to procure the perfect plants. They started off thriftily: "We would call cities to see if they were tearing out trees for improvements and go buy them—we got many that way," remembered Goff. And when that technique dried up? "We drove all around in places like Pasadena, seeing great, big, nice trees. We'd go up to people and ask them: 'Any chance you're tired of that tree? We'll give you $200 and carry it away.'"
A family connection
One of the trees Walt arranged to be rehomed in Adventureland had not traveled as far as the trees picked up from Pasadena; in fact, it had grown up on the Anaheim farmland Walt had purchased for Disneyland. Its owner, Mr. Dominguez, made a special request that it be kept on-site. "It was a stalwart and revered resident of his front lawn, admired by three generations of children and adults. One member of his family married beneath it," explained Bill Evans. "When the owner of the land sold his acreage [where Pirates of the Caribbean is now] to Walt Disney in 1954, he requested that this venerable palm be lifted tenderly from its old home and trundled—all fifteen tons of it—to Adventureland." Ron Dominguez, a member of this "first family" of Disneyland, went on to become executive vice president of Walt Disney Attractions and inducted as a Disney Legend in 2000.
Walt was happy to oblige and used the established tree to add to Disneyland's flourishing foliage. "The original location for the relocated palm was near the queue for the Jungle Cruise," wrote author and Disney historian Marcy Carriker Smothers. "Architectural changes around the tree—which hasn't moved—now have it standing front and center near the Indiana Jones Adventure [Lightning Lane] entrance."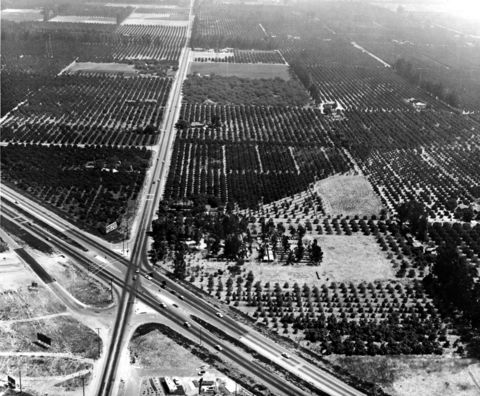 Landscaping in Walt's memory
In the 1960s, eager to add to Disneyland's ever-growing collection of trees, Bill Evans suggested purchasing a reclinata—a large, multi-trunk palm that could grow up to 35 feet in height. "Walt kept putting him off, saying, 'Yeah, yeah, yeah. We'll do that one of these days, I promise,'" recalled Disney Legend Rolly Crump.
Walt died before he was able to give a reclinata palm the green light, so in tribute to his former leader, Evans traveled to Santa Barbara solo, paid $3,000 for the tree, and arranged for it to be delivered to Anaheim. One night in early 1967, he met with Crump to plant it, next to Carousel of Progress and Autopia. Like the Dominguez palm, it still stands unmoved in the exact same spot today.
Disneyland, Disneylandscaping
As far back as Disney Legend Herb Ryman's 1953 sketch of what a potential Disneyland might look like, trees, plants, and green spaces have always been a key element of the park's overall make-up. So much so, in fact, that leading amusement park operators of the time believed Walt's vision incorporated "too much wasteful landscaping." They dismissed the concept, encouraging Walt to backtrack on his detailed ideas. "He will lose his shirt by overspending on things the customers never really notice," said one.
But almost 70 years later, there is little doubt about it: Disneyland's customers did notice, and still do. From the pine forests of Frontierland to the intriguing bamboos that adorn Adventureland, the plants and trees of Disneyland enhance the environment, as though they have always belonged there, and in many ways are as much a character as Mickey Mouse himself. Walt's love of nature lives on—quite literally—in his creation.
–Sophie Jo
Sophie Jo is a writer and long-time Disney fan from England. Find her tweeting @sophiejowrites or happy-crying over 'it's a small world.'
Image Sources*: 
Postcard of Mickey Mouse floral display in front of Main Street U.S.A. train station at Disneyland park, Disneyland Resort; collection of Walt Disney Family Foundation; © Disney

Jungle Cruise attraction poster, 1955; collection of the Walt Disney Family Foundation, Ollie Johnston Collection; © Disney

Anaheim aerial photograph, c. early 1950s; Courtesy of the Anaheim Public Library, photograph collection on Anaheim local history