Continuing with our countdown to Disneyland's anniversary, today we'd like to share an excerpt from an interview between Disney Historian Jim Korkis and Disney Legend Bill Justice, conducted in March 1997. Bill Justice—who worked for The Walt Disney Company from 1937 to 1979, first as an animator, and then as an Imagineer—reflects back on Disneyland's first costumed characters.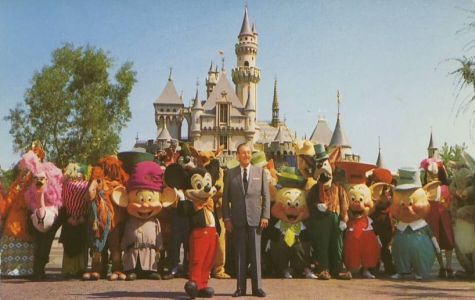 Jim Korkis: The first character costumes at Disneyland were borrowed from John Harris's Ice Capades. You were the one who designed the first true Disney costume characters: 
Bill Justice: Walt told me, "Other places can have thrill rides and bands and trains. Only we have our characters." The costumed characters were very important to Walt. He said, "Bill, always remember we don't want to torture the people who are wearing them. Keep in mind they've got to be as comfortable as possible." The first concern was always safety, and the second was accuracy. If Donald Duck can kick like a Rockette, I've done something wrong in terms of proportion and being true to the character. 
It's not too easy because to make them look like the animator's drawings is almost impossible. For instance, Donald Duck: everyone wanted a good Donald Duck costume. I looked all over Los Angeles and everywhere, and I couldn't find anybody with a three-inch neck, and three webbed toes on his feet. 
I did find a little guy who was about four feet six. He wasn't a dwarf or a midget. He was just very small. I brought him up to WED and I had him photographed front view, side vide, back view, etc. I had the photographs blown up to four feet six and put tissue paper over them and drew what would fit him. It was supposed to look like Donald Duck. But this guy we photographed sort of hung around and found out what we were spending on this costume, and he said, "I want $200 every time I put it on." So we didn't hire him. We found another guy who was bowlegged and he looked better in it, and we've had a Donald Duck ever since. 
One of the characters you wouldn't think would be so popular is Eeyore. Winnie the Pooh characters became popular quickly. The children just seem to relate to Eeyore. I learned that not every character can or should be funny. I ended up designing over 130 character costumes and I am very proud of that. 
There are a couple of generations of kids out there who think of Mickey and Minnie and those characters as just the costumed characters who walk around Disneyland and Walt Disney World. Some of them have never even seen a Mickey Mouse animated cartoon. There was a long interval where we didn't make any short subjects except for specials like Ben and Me or things like that. Mickey's Christmas Carol was the first in years to use the classic characters in a cartoon. All through these years, these characters like Mickey and Minnie and Donald are just as popular or more popular than when those characters first came out in the old days. 
This interview can be found in "Walt's People — Volume 3: Talking Disney with the Artists Who Knew Him"—a collection of some of the best interviews ever conducted with Disney artists, edited by Disney historian and author Didier Ghez. (There are currently eleven amazing books in the "Walt's People" series, and can all be purchased on Amazon.com by clicking the HERE).
[Image above: Walt with some of the earliest costumed Disney characters at Disneyland in Anaheim, ca. 1955. Photo courtesy The Walt Disney Company, ©Disney].