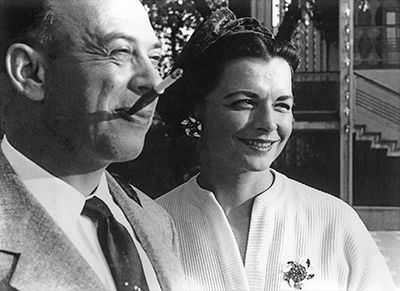 They may never have been referred to as the President and "First Lady" of Imagineering during Walt's time—that would be Bill Cottrell and Harriet Burns, respectively—but you'd be hard-pressed to find a more dynamic duo than Marc and Alice Davis. Marc conceptualized characters, while Alice dressed them. To date, they are the only married couple to be dedicated Main Street, U.S.A. windows for their contributions to Disneyland.
Marc's earliest artistic endeavors are reminiscent of Walt's own childhood. While Walt learned to draw in the company of animals on the Disney family farm in Marceline, Marc spent his formative years drawing the animals that inhabited his local zoos. His legendary humor shines through his popular quip that he "spent more time at the zoos than the animals!" During his grade school years, he drew for his classmates to avoid getting hazed as the new student—a constant fear due to moving between more than 20 schools in his youth. Walt could certainly sympathize with that, considering how many times his own family moved while he was growing up.
Marc's formal art training also intersected with Walt's. Marc attended the Kansas City Art Institute, where Walt also once took art classes. Later, Marc attended our city's own San Francisco Art Institute, which was known then as California School of Fine Arts until it changed its name in 1961. The same year that the California School of Fine Arts changed its name to reflect its San Francisco roots, a new artistic institution was established in Southern California which had a similar name and a deeper Disney connection. This school was the California Institute of the Arts, one of Walt's final projects, which merged the Los Angeles Conservatory of Music and the Chouinard Art Institute, a school whose instructors were responsible for raising the sophistication of the Walt's films of the 1930s. Chouinard's impact on Disney history, as well as the story of Marc and Alice Davis, is invaluable.
After watching the Silly Symphony, Who Killed Cock Robin? (1935), one of the many Disney films that benefited from Chouinard training, Marc was inspired to apply to work at The Walt Disney Studios. The practice of countless hours drawing animals at zoos resulted in a clear proficiency in anatomy and structure that caught their eye. He was immediately placed as an apprentice animator under Grim Natwick, who ran the secondary unit for the title character on Snow White and the Seven Dwarfs (1937). Marc got an early taste of office politics when he had to satisfy both opposing viewpoints for the design of Snow White between lead animator Natwick and supervising animator/head of the primary Snow White character unit, Ham Luske. Marc's raw skill as a draftsman bridged the gap.
Marc truly came into his own during the oft-delayed production of Bambi (1942). As he recalled, he had been on the story team for three years when Walt saw potential in his drawings and assigned him to the company of two of his trusted inner circle of key animators, Milt Kahl and Frank Thomas, to become an animator himself. While blending realism and humanity into the principal animal characters, he found himself as the newest member of that inner circle, which came to be known as Walt's "Nine Old Men," a play on President Franklin Delano Roosevelt's derisive nickname for the Supreme Court.
Five years following the eventual release of Bambi, Marc got a job teaching Animation Drawing at Chouinard—Chouinard's generous support of The Walt Disney Studios was beginning to come full circle. In the first class he ever taught was a Costume Design student who had fought her way into the male-dominated animation class, with the added responsibility of supplying the chalk he would need during his lectures. This student's name was Alice Estes.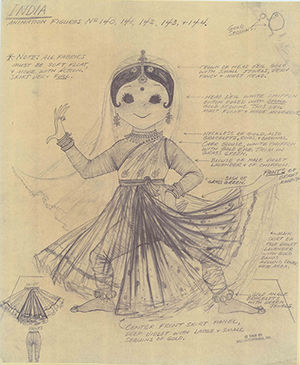 Following graduation, Estes ascended to prominence as an accomplished lingerie designer, with a reputation for her command of fabrics and patterns. By this time, both Marc Davis and his mentor Milt Kahl—who famously redesigned Pinocchio into his current look—had ascended to their reputation as the best draftsmen at the Studios and masters of the human form. As Marc explained, they regarded these abilities as "both a blessing and hellish curse," because, as a result, the major character assignments typically fell on their shoulders. For Marc, this included Mr. Toad, Cinderella, Alice (of Wonderland fame), Tinker Bell, Princess Aurora, and Maleficent. As displayed in our 2014 special exhibition, Leading Ladies and Femmes Fatales: The Art of Marc Davis, Marc also did some early character design for an adaptation of Hans Christen Andersen's Snow Queen fairy tale, which eventually coalesced into Walt Disney Animation Studios' 2013 hit film, Frozen.
Estes' reputation as a fashion designer preceded her, and, to her surprise, she received a call one day from her former animation instructor, Marc Davis, asking her to design a dress for the live-action model of Princess Aurora for Sleeping Beauty (1959). The rest, as they say, is history. Tom Staggs, President of Walt Disney Parks and Resorts in 2012 when Alice received her Main Street, U.S.A.  window dedication, spoke on the spark between the two during the production of  Sleeping Beauty: "That [Sleeping Beauty] costume was exactly what [Marc] was looking for— and so was Alice." The two artists married in 1956.

Following the release of Sleeping Beauty, the Davises continued their Disney work in film, with Marc designing Cruella De Vil and Anita in One Hundred and One Dalmatians (1961) while Alice designed costumes for the live-action film Toby Tyler (1960). The next frontier that the two would take on is WED Enterprises, now known as Walt Disney Imagineering. Walt tapped Marc to insert more humor and memorable characters into existing attractions, such as the addition of new scenes in the Jungle Cruise. About the early 1960s expansions to the Jungle Cruise, Marc warmly recalled: "I think that trapped safari was probably the first laugh that Disneyland had in an attraction."
As Alice tells it, she and Marc were out to dinner one night and happened upon none other than Walt Disney himself. Marc introduced him to Alice, then his new wife, and Walt asked very intently what she did for a living:
"He was very curious. When he heard me say 'elastic,' he wanted to know all about elastic fabric. He stayed for at least a half hour, asking me all kinds of questions. Marc was sitting there wondering what was up his sleeve. Eventually, [Walt] said, 'Well, I'd better get going.' He started to walk away, then turned and said, 'You know, you're going to work for me someday.'"
By this point, Alice had already worked for Walt on Sleeping Beauty, but she found it endearing all the same.
Years later, after Marc had made the full transition to WED Enterprises, Alice got another very important phone call.
"Alice, Walt wants to know if you'd like to do the costumes for 'small world.'"
Alice leapt at the chance to work with a favorite artist of hers from her youth, Mary Blair, celebrating the children and cultures of the world on a project that would combine all three of their strengths: Marc's humor, Mary Blair's whimsical and vibrant styling, and Alice's pattern and fabric expertise. In Gallery 9 of the main galleries, where we talk about Walt's projects for the 1964/65 New York World's Fair, our newest case rotation includes "it's a small world" character sketches and cut-out models done by Marc, joining our collection of costume design drawings by Alice and concept art by Mary Blair.
This wouldn't be the only project Marc and Alice would work on together either. Also for the 1964/65 New York World's Fair, the Davises would also collaborate in a similar fashion on General Electric's Carousel of Progress, an attraction that rotated the audience in a carousel theater around a stage divided into different eras of the 20th century leading up to the present day (1964) that demonstrated how advancements in electrical energy had improved family life. While working on the Disneyland version of "it's a small world," Alice recalls transitioning to work on another timeless Disneyland project—Pirates of the Caribbean: "I went from sweet little children to dirty old men over night."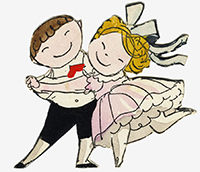 The sheer volume of work alone between the two accomplished artists could probably be housed in a museum of their own. Marc was a right-hand man for Walt, creating iconic film and theme park characters. Alice was Marc's right-hand woman, creating brilliant period-specific and culturally-aware costumes to adorn Marc's characters. And to think, Marc and Alice would not have met were it not for the Chouinard Art Institute's many influences on Disney history. Chouinard allowed Walt flexibility in payment to secure art classes for his animators, which resulted in a higher level of sophistication and quality of artistry during a fragile financial time at the Studios, which inspired Marc to apply and design some of the most popular Disney characters of all time. Years before his highest profile character assignments of the '50s and '60s, becoming a Chouinard instructor facilitated Marc meeting Alice, who went on to have an esteemed career of her own, which Marc took notice of and brought her in to work on Sleeping Beauty. It really is a small world after all.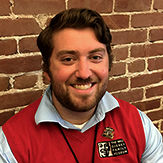 Chris Mullen
Guest Experience Associate at The Walt Disney Family Museum
Sources
"Exhibition | Leading Ladies and Femmes Fatales: The Art of Marc Davis." The Walt Disney Family Museum. 2014. http://waltdisney.org/exhibitions/leading-ladies-and-femmes-fatales-art-marc-davis.
Canemaker, John, Bob Kurtz, Andreas Deja, Glen Keane, Pete Docter, Charles Solomon, Marty Sklar, Don Hahn, Paula Sigman Lowery, Mindy Johnson, and Randy Haberkamp. Marc Davis: Walt Disney's Renaissance Man. Glendale, CA: Disney Editions, 2014. p. 63.
"Alice Davis." D23. https://d23.com/walt-disney-legend/alice-davis/.
"Marc Davis." D23. https://d23.com/walt-disney-legend/marc-davis/.
"23 Questions With Alice Davis." D23. https://d23.com/23-questions-with-alice-davis/.
"This Day In Disney: Disney Legend Marc Davis is Born." D23. https://d23.com/this-day/disney-legend-marc-davis-is-born/.
Storbeck, Jon. "Windows on Main Street, U.S.A.: Marc and Alice Davis." Disney Parks Blog. February 14, 2014. http://disneyparks.disney.go.com/blog/2014/02/windows-on-main-street-u-s-a-at-disneyland-park-marc-and-alice-davis/.
Thomas, Bob. Walt Disney: An American Original. New York: Simon and Schuster, 1976. p. 39, 123, 329-330, 331-32.
"Disney Family Album: #17 - Marc Davis." Produced by Cardon Walker and Michael Bonifer. Directed by Michael Bonifer and Larry Smoot. By Thor Challgren. Performed by Marc Davis and Buddy Ebsen. United States: Buena Vista Television, 1985. Television. https://www.youtube.com/watch?v=pVf6DdqkpjU.
Korkis, Jim. Cartoon Research. November 12, 2014. http://cartoonresearch.com/index.php/in-his-own-words-marc-davis/.
"History." Kansas City Art Institute. http://kcai.edu/about/history/.
"SFAI History." San Francisco Art Institute. http://www.sfai.edu/about-sfai/sfai-history.
"1901-1923 – Gallery 1: Early Beginnings." The Walt Disney Family Museum. 2016. http://www.waltdisney.org/galleries#gallery01. Text, video.
"1928-1940 – Gallery 3: Exploring New Horizons." The Walt Disney Family Museum. 2016. http://www.waltdisney.org/galleries#gallery03. Video.
"1936-1938 – Gallery 4: The Transition Into Features." The Walt Disney Family Museum. 2016. http://www.waltdisney.org/galleries#gallery04. Text.
"1939-1940 – Gallery 5: New Success & Greater Ambitions." The Walt Disney Family Museum. 2016. http://www.waltdisney.org/galleries#gallery05. Text, video.
"1950-1965 – Gallery 9: Disneyland & Beyond." The Walt Disney Family Museum. 2016. http://www.waltdisney.org/galleries#gallery09. Text, video.
"Exhibition | Wish Upon a Star: The Art of Pinocchio." The Walt Disney Family Museum. 2016. http://waltdisney.org/exhibitions/wish-upon-star-art-pinocchio/.