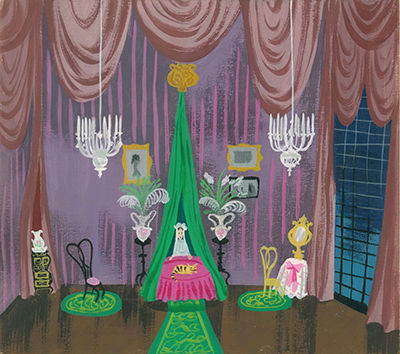 In the newest addition to our galleries at The Walt Disney Family Museum, we reintroduce the iconic work of the concept artist and designer Mary Blair. Always considered to be one of Walt's favorite artists (he proudly had a few of her paintings displayed in his own home), Mary continues to inspire artists and moviemakers alike, and her bold, unique style shaped the look of many of the most revered Disney films. With the recent rotation of Blair's artwork in gallery 7, guests view a selection of Mary's unique visual development work for the memorable films Alice in Wonderland and Cinderella.
Mary was in many ways an anomaly at The Walt Disney Studios—her style completely contrasted the look of the films that preceded her involvement. She was first hired in 1940 to develop concept art and designs but decided she'd rather be an illustrator and left in the summer of 1941. Two months later her husband Lee Blair was invited to join Walt and a group of other artists (fondly referred to as El Grupo) for his "goodwill" tour of Central and South America. This intrigued her, and she asked Walt if she could go as well. It was on this trip that she famously had an artistic awakening, inspired by the colors, art, sights, and sounds of South America for that remained with her for the rest of her artistic career. Walt's daughter and museum founder, Diane Disney Miller, once shared with filmmaker Don Hahn her father's opinion of Mary's transformation while in South America: "Her watercolors…her art she did down there, the color palette just really amazed Dad. He used to say 'I think she's color blind because she has a strange way of putting colors together.'" There are beautiful examples of her watercolor work from this trip on view in gallery 6.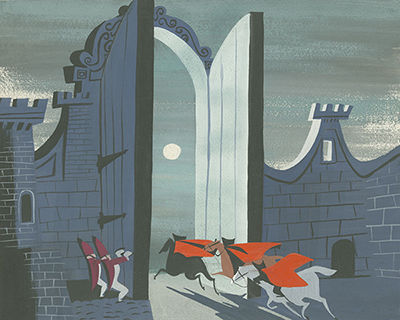 After the "goodwill tour" Mary quickly became one of Walt's leading concept artists. She was a quiet, reserved woman in a male-dominated workplace who was given an enormous amount of creative authority, inciting resentment from some of the men who questioned the amount of control that was given to a female, often over their own work. Walt Disney placed a vast amount of faith in her, despite the fact that many of her designs never quite translated into the final cut of the films. She was always happy to churn out many different variations of a subject, giving Walt options to choose from. "Walt said I knew about colors he had never heard of before," Mary once stated proudly. It is often forgotten how avidly Walt pursued modern art and unique art forms, and Mary's work was no exception; he embraced her modern and distinctive style wholeheartedly, resolutely deaf to the grumblings of some of his more narrow-minded artists. Contrary to these naysayers, Marc Davis, one of Walt's famed Nine Old Men, once observed, "This woman was an extraordinary artist who spent most of her life being misunderstood. All the men that were there at Disney, their design was based on perspective. Mary did things on marvelous flat planes. Walt appreciated this and wanted to see this, but he, not being an artist himself, was never able to instruct the men on how to use this…." While it was rare that any of her final designs made their way into the films, her work was used as a creative leaping point for the many artists working at the Studios, and Mary Blair admirers can easily spot her touch in many Disney films, including Cinderella and Alice in Wonderland.
Mary managed to translate not only the visuals around her, but the rhythm, music, smells, and overall feeling of her unique environments onto a flat, two-dimensional plane in a way that few artists can. She pulled inspiration from European advertisements, fashion illustrations, folk art, pottery, Eames chairs, quilts, and murals. She managed to juxtapose organic shapes with bold, graphic design into a seemingly effortless harmony, creating a distinctive style that no one had ever seen before. For Cinderella, Mary was called upon to do a large amount of color-keys and staging for nearly every important sequence in the film. Her beautiful concepts included designs for the characters, costumes, backgrounds, and a particularly unique dream sequence in which Cinderella commands an army of her own housemaids. Cinderella was slated to be the Studios' big comeback feature after the tumultuous and sparse war years, and Walt returned to his original animated storytelling style. As a result, while many of Mary's beautiful, bold designs and sequences influenced the film, the typical Disney style was placed at the forefront. However, her signature use of patterns can be spotted in the French chateau's tapestries, furniture, and wallpaper, and the film itself undeniably retains the romantic color palette and mood seen in Mary's art.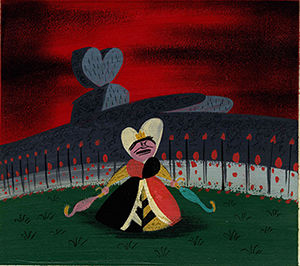 In Alice in Wonderland, we are fortunate enough to see much more of Mary's distinctive style shining through. We see it in the patterns on the leaves when Alice shrinks into the flower bed, in the whimsicality of the Mad Hatter's tea party, the designs on the tea pots and cups, the organic shapes of the props, and perhaps most obviously during the graphically bold march of the cards. Walt famously struggled with Alice for many years, and despite being beloved by many to this day, he always considered it one of his bigger failures, often blaming it on the unsympathetic heroine. Mary, however, seemed to really connect with the story of Alice, and also perhaps with the character. The whimsical and ethereal nature of the bizarre and dream-like story was very much in line with Mary's unique sensibility, and it really gave her the room she needed to flex her creative muscles and conceptualize the strange yet beautiful world of Wonderland.
Despite the fact that we rarely get to see true Mary on the screen, her concepts were profound enough that today she continues to be one of the most remembered and respected artists that came out of The Walt Disney Studios. The selection of her work on the two iconic films Cinderellaand Alice in Wonderland preserved here in our galleries give guests the rare chance to view the genius of her color choices, the bold strokes of her paintbrush, and care and love she put in to each of her pieces. The Walt Disney Studios would not have been the same without her influence, and her style continues to be aspired to and immortalized by artists and filmmakers to this day. And for that, we humbly pay tribute to "our lady of Flair."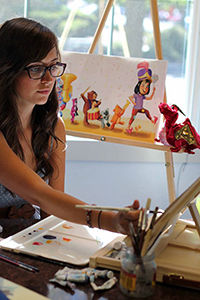 Tracie Timmer
Education Associate at The Walt Disney Family Museum