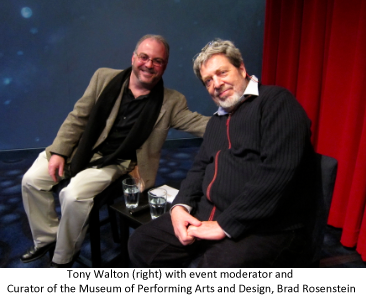 Throughout the month of March, The Walt Disney Family Museum is showing Walt Disney's classic film Mary Poppins. In celebration of this beloved movie, the Museum hosted an extraordinary afternoon with the film's costume and design consultant, Tony Walton. Brad Rosenstein, curator of the San Francisco Museum of Performance and Design, moderated the discussion on Tony's life and work. The conversation focused on Tony's designs for Mary Poppins, his firsthand experiences working with Walt, and a few behind-the-scenes secrets of the film.
As I sat in the audience before the program began, I could feel the excitement and eagerness of the other audience members around me. This was the designer of Bert's tangerine, cherry, and raspberry-striped "Jolly Holiday" jacket, as well as Mary's iconic black hat with the daisies and cherries. The designs in Mary Poppins are filled with magic and charm—and we couldn't wait to hear Tony's experiences!
Tony's involvement with the film began in the early 1960s while he was designing costumes and sets for numerous theater productions in New York and London. At that time, he was married to his childhood sweetheart, the actress and singer Julie Andrews. While visiting New York, Walt attended one of Julie's performances of Camelot, and decided he had found the actress to play Mary Poppins. He enthusiastically described the new film he was working on to Tony and Julie, and invited them out to California to see the storyboards for themselves.
Walt wanted an English designer on the staff for Mary Poppins, and offered Tony the job when he realized that he was an accomplished costume and set designer. Tony and Julie were expecting their first child, and according to Tony, Walt kept pointing out if he worked on the film he would be close to his newborn baby.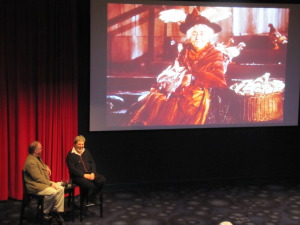 Tony explained to us that Walt owned the rights to P.L. Travers's book Mary Poppins—but not the rights to the illustrations. As a result, Tony was not allowed to use any details from the original 1934 book's contemporary illustrations in his designs. At the suggestion of the Sherman Brothers, the time of the story was changed from the 1930s to 1910, since the filmmakers saw more rich visual and musical opportunities there. Now Walt's team could use the styles of late Edwardian 1910 England—and Tony would avoid any accusations of copying the original illustrations from the book.
Walt allowed Tony to keep all of his original sketches and illustrations from the movie, and so Tony was able to bring numerous slides of his original work to the event. We watched the character sketches evolve while he described his designs. Tony wanted Bert's "jack of all trades" costume to look "worn to the bone." He chose heavy fabrics and added leather patches over the elbows of the jacket to achieve this feeling. Tony also described Mary's nanny costume as "a mix of somber seriousness and playfulness." He added her bright bow tie, and colored linings of her costume as a way to hint at her secret magical life.
The design of Cherry Tree Lane was another contribution by Tony. As a young boy, he had seen the film An American in Paris, and the film's perfect flat cobblestone streets aggravated him. Remembering this, Tony insisted to Walt that Cherry Tree Lane be more realistic. He designed a curved street that went slightly uphill. Not only did this make the street more realistic, but it added to the character and visual interest of Cherry Tree Lane.
One of the fun secrets that Tony revealed about the film was that most of the nannies being blown away in the beginning of the movie weren't women, but stunt men dressed as old English nannies. He also shared that Bert's "Jolly Holiday" jacket was created by sewing different widths of ribbon onto a white jacket. And that Tony's own daughter Bridget and son-in-law were married wearing Bert's and Mary's "Jolly Holiday" costumes!
Mary Poppins began Tony's film career, and earned him an Academy Award® nomination for his costume designs in 1964. Since then he has won an Oscar®, as well as multiple Tonys® and Emmys® for his design work. Tony is still designing costumes and sets today. Hiring Tony was just another example of Walt Disney's famed ability to recognize talent, and assemble the right team to create something remarkable. Whether you're revisiting the film or watching it for the first time, viewing Mary Poppins and Tony Walton's designs on the big screen of The Walt Disney Family Museum's Theater is an experience that shouldn't be missed.
All photos courtesy The Walt Disney Family Museum.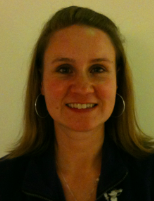 Julie Stewart
Volunteer at The Walt Disney Family Museum