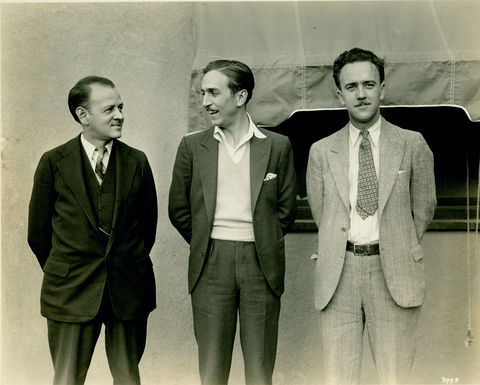 The 1930s were not only a key period of important artistic and technical advances in filmmaking in general, but in the developing art of animation at The Walt Disney Studios as well. Such innovations as sound and color in Hollywood films were reflected in Disney animation through the prolific output of shorts beginning in 1929 and beyond the Studios' first animated feature, Snow White and the Seven Dwarfs, released in 1937.
Prior to Snow White, Disney animation developed through a dual series of cartoon shorts, the popular Mickey Mouse series and the music-oriented Silly Symphonies. While the Mickey series relied on the popularity of its central characters, each Silly Symphony introduced new characters and stories in a variety of musically-inspired and often fantastic settings.
The idea for the Silly Symphonies came from Disney's first in-house composer, Carl Stalling, who suggested Disney launch a series in which music could be applied more cohesively than in the Mickey shorts in which scores were subject to the demands of plot and gags. 
Disney's first sound cartoon was the Mickey Mouse short, Steamboat Willie (1928), which used a series of public domain tunes for its score. In the wake of Steamboat,it was Stalling who created the scores for about fifteen successive short films. The composer scored the first Silly Symphony, The Skeleton Dance (1929), though the idea was originally inspired by a classical composition, the Danse Macabre by French composer, Camille Saint-Saëns.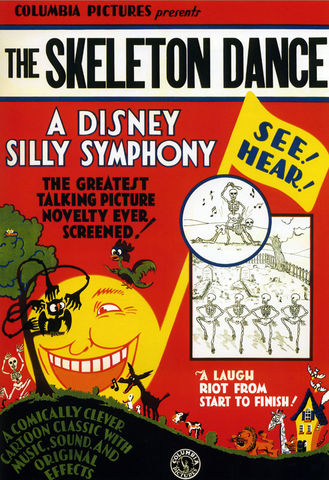 None of the Saint-Saëns tone poem was used in the final film, but Stalling did integrate a classical piano piece, March of the Dwarfs by Edward Grieg, along with his own original themes. The integration of classical music was a common practice in early Hollywood scoring and would continue to be used in the Disney shorts even as the Studios hired more exclusive composers through the 1930s. 
Stalling's other Silly Symphony scores include El Terrible Toreador (1929, with music adapted from Bizet's Carmen), Hell's Bells (1929), The Merry Dwarfs (1929), and three "seasonal-inspired" shorts—Springtime (1929), Summer (1930), & Autumn (1930). In addition to original compositions, most of these shorts also used other classical arrangements, a practice Disney composers would continue in the early 1930s. 
In January 1930, Stalling left The Walt Disney Studios and eventually found a home at Warner Bros. within their celebrated animation unit. While he only worked on the Silly Symphonies from 1929–1930, his impact on the use of classical score in animation is undeniable and set the stage not only for the future Disney composers, but for the entire animation industry going forward.
–Ross Care
Ross Care is a Disney historian, musician, and composer.
Photo credits (in order of appearance):
Walt and staff singing "Minnie's Yoo Hoo," c. 1930; left to right: Johnny Cannon, Walt Disney, Burt Gillett, Ub Iwerks, Wilfred Jackson, Les Clark, (seated) Jack King, and Ben Sharpsteen around Carl Stalling; collection of the Walt Disney Family Foundation; © Disney

Carl Stalling, Walt Disney, and Ub Iwerks, c. 1929; collection of the Walt Disney Family Foundation; © Disney

The Skeleton Dance poster, 1929; courtesy of the Walt Disney Archives Photo Library; © Disney