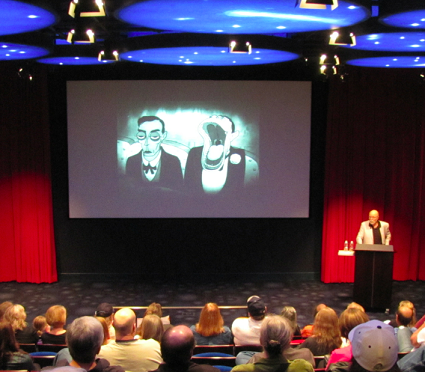 On Saturday afternoon, Disney historians J.B. Kaufman and Russell Merritt presented a program in our state-of-the-art digital theater on the subject of Comedic Influences and Walt Disney.
Director of Visitor Experience and Interpretation Donna Tuggle welcomed the audience and introduced the speakers, with J. B. Kaufman taking the stage first. "We have one hour to cover a subject that could cover weeks," he joked.
He went on to explain that Walt had grown up in a golden age of silent film comedy, seeing the works of such luminaries as Charlie Chaplin, Buster Keaton, Harold Lloyd, Harry Langdon, and other great silent comedy stars who were so popular during Walt's youth.
He further talked about Chaplin's international impact, and his influence on a young Walt Disney, and the "Little Tramp" chahacter as "a little fellow trying to do the best he could."
We got to see clips from Chaplin's The Bank (1915), the scene where the Tramp leaves flowers and a note for the woman he has a crush on, and then watches as she tears the note up.
When Walt made The Barn Dance (1929) he remembered that movie, and had Mickey cry at the fade-out in an homage to Chaplin.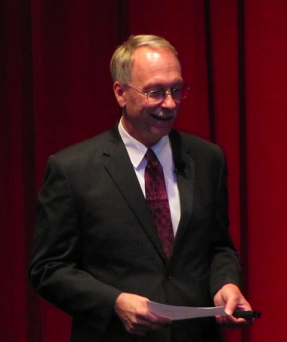 Chaplin's Little Tramp character was immensely popular all over the world.  A little guy with a mischievous side (and often a sense of pathos), but who tried to do right by himself and others, a through line can be drawn from Chaplin, to Walt, to Mickey Mouse.
J.B. showed examples of the comedic traditions of "mayhem in the fire house" and, though a serious subject, burning buildings, the silent film comedians often found humor in such grim subjects.
The Fireman (1916) with Chaplin and His First Flame (1925) with Harry Langdon, saving a mannequin before he realizes he has not saved the girl, had an impact on Walt when he madeThe Fire Fighter (1930) and Mickey's Fire Brigade (1935).
In The Fire Fighter, "they came up with something that hadn't been done," J.B. explained, as we watched a clip of Mickey saving Minnie—and being chivalrous enough to be sure she got back into bloomers after using them as a parachute.
Much too soon, J.B. had finished his talk on Chaplin's influence on Walt and, in turn, introduced Russell Merritt, calling him "one of the best film historians in the world."
Merritt started his turn at the podium by saying of the silent comedians and Walt Disney, "the debt may have started as an act of pillage, but by the end of the 1920s his relationship with the classics had flourished."
Buster Keaton, probably best known for his granite face and his stunts, was another major comedic influence on Walt. Keaton was often a practitioner of the "comedic contraption," the Rube Goldberg-style "overly elaborate machine designed to do something very easy."
Merritt showed a comic strip of a mouse trap that Goldberg had drawn when a cartoonist for a Berkeley newspaper. Both Keaton and another silent comedian, Charlie Bowers, used these contraptions throughout their careers, and "Walt fell in love with these gags and you can see them from his very earliest cartoons including Goldie Locks and the Three Bears (1922) when Pete and the dog make breakfast for the bear family."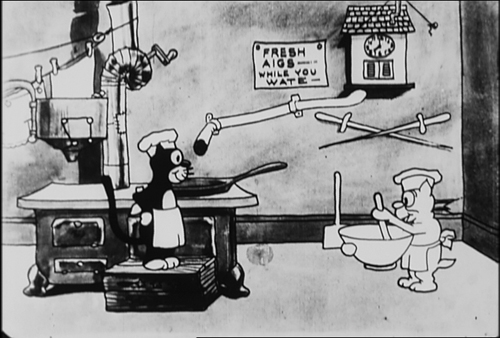 As the Great Depression deepened, Merritt illustrated how Walt turned those economic grim times into symbols such as a storm, or a tyrant that had to be overcome. In Bugs in Love (1932), June Bug's apartment has "been overcome by a crow that threatens to take it over and devour her."  In yet another homage to the comedic contraption, June's friends gather everyday items and come "to her rescue with ingenuity and save the day." Merritt drew the comparison between June's friends overcoming a frightening foe and Americans weathering the darkest days of the Depression.
This idea "reaches its zenith" in the sequel to Three Little Pigs, Three Little Wolves (1936) when the contraption becomes a faceless machine with no soul. The cartoon played on a double bill with the similarly-themed Chaplin classic, Modern Times.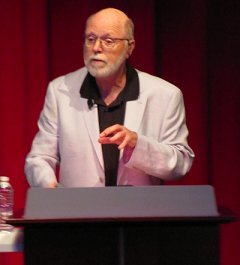 "No longer allies, the contraption can be used against man," Merritt told the audience with images of the jail cell in Music Land (1935).
The Old Mill (1937) is the "apex of this idea, as the mill turns into a monster during a storm threatening to kill a mother and her eggs. "It's not that Disney has turned them into machines, he makes them demonic and pathetic. He makes them uniquely his." In the silent era, "many of that era's big comedic stars did take-offs on cartoon characters.  But as silent films gave way to sound, the silent comedians themselves were replaced by cartoons," Merritt concluded.
All too soon the session was over. Afterwards, the two gentlemen graciously signed copies of their books for audience members.
J.B. Kaufman is a Disney author and film historian on the staff of the Walt Disney Family Foundation, and he has published extensively on topics including Disney animation and American silent film. He is coauthor, with Russell Merritt, of two essential reference works on Disney animation history: Walt in Wonderland: The Silent Films of Walt Disney and Walt Disney's Silly Symphonies: A Companion to the Classic Cartoon Series.
Russell Merritt teaches courses at University of California Berkeley in national cinemas, animation, and film styles and genre. He specializes in topics that cross disciplinary lines, and his current research interests include silent film, Japanese film (particularly Ozu Yasajiro), D.W. Griffith, animation, film and children's lore, French Film, German Film, and Disney's 1930s work. He co-wrote and was senior historical advisor for the Emmy-nominated series D.W. Griffith: Father of Film (directed by Kevin Brownlow and David Gill).
Lynn Zook, Digital Archivist at The Walt Disney Family Museum
Images above: 1) Photo by Hillary Lyden. Courtesy The Walt Disney Family Museum. 2) J.B. Kaufman. Photo by Hillary Lyden. Courtesy The Walt Disney Family Museum. 3) Peter and friend fixing breakfast. 4) Russell Merritt. Photo by Hillary Lyden. Courtesy The Walt Disney Family Museum