In the spirit of the season, the museum has in its collection a string of lights featuring delightful Disney Christmas artwork.
The lights were produced by NOMA Electric Corporation, a holiday light manufacturer founded in 1925. The bulbs were produced by General Electric's Mazda brand sometime around 1936. Not to be confused with the Japanese automaker, the name "Mazda" was trademarked by General Electric for their line of incandescent light bulbs.
There are eight lights on a red cloth-covered electrical cord. Each of the white Mazda light bulbs on this string has a different colored plastic bell-shaped lampshade featuring decals of Disney characters including Mickey, Minnie, Donald, and Clarabelle in holiday scenes.
The collection received this set in 2006, a generous gift from museum co-founder Walter E.D. Miller. As with many objects of its age—almost 90 years old!—that have been used and handled over the years, this set needed some conservation before it could be safely added to the collection.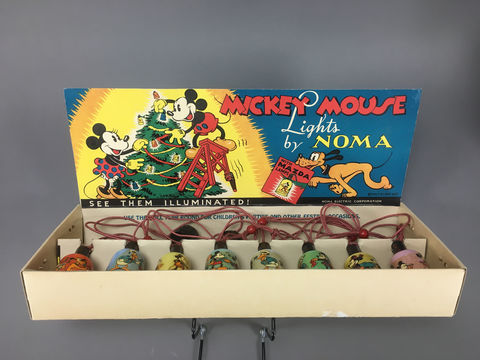 When Conservator Tonja Morris thoroughly inspected the set, she found that that the glass Mazda bulbs had been covered with a white coating that was actively flaking. The cloth-covered electrical cords were frayed and the original box was torn and had become soft and unstable in places. The metal staples on the box were actively corroding and staining the cardboard.
Morris gently cleaned the plastic lampshades with a swab dampened with deionized water. Using a stereomicroscope and a small brush, she then stabilized the flaky white coating on the glass bulbs by applying an adhesive commonly used in professional conservation.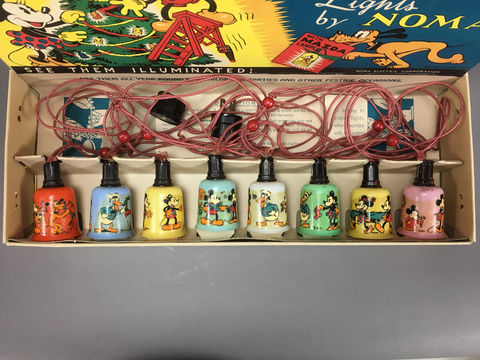 To stabilize the fraying electrical cords and to prevent unraveling and snagging, she sewed lightweight polyester fabric, colored to match the color of the cord, around the damaged areas.
For the box and its lid, Morris used Japanese paper and wheat starch paste to stabilize spots that were delaminating and in need of mending. She then carefully scraped corrosion off the staples with a scalpel and coated the metal surface with a thin layer of wax to prevent further corrosion.
Though we do not know if the lights still work—and it is unsafe to test them—we do know that this set is now safe, stable, and ready for future display.
–Jamie O'Keefe and Tonja Morris
Senior Registrar and Senior Conservator of 3D Objects, respectively
The Walt Disney Family Museum
Image Credits:
NOMA Electric Corporation Mickey Mouse lights in box, c. 1936; Collection of the Walt Disney Family Foundation, Gift of Walter E.D. Miller; © Disney

NOMA Electric Corporation Mickey Mouse lights in box, c. 1936; Collection of the Walt Disney Family Foundation, Gift of Walter E.D. Miller; © Disney

NOMA Electric Corporation Mickey Mouse lights in box, c. 1936; Collection of the Walt Disney Family Foundation, Gift of Walter E.D. Miller; © Disney