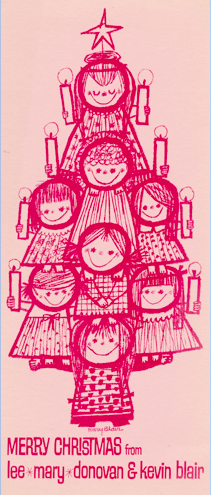 "Disney Artists' Holiday Wishes," a special collection of personal Holiday Greeting Cards—created by Disney Studio animators, comic strip artists, story men, a "Mooseketeer," and even the creator of the voice of Donald Duck—opened this past week, and will run through December 31 this year. The delightful holiday exhibit features more than 50 hand-drawn cards, created from 1937-1970, by some of the most famous Disney talent.
The exhibit features cards from Edwin Aardal Lee Blair, Mary Blair, Claude Coats, Nick George, Fanklin Grundeen, Richard Huemer, Bill Justice, John Lounsbery, Hamilton Luske, Clarence "Ducky" Nash, Ted Osborne, Bill Peet, Charles Philippi, John Reed, Roy Williams, and Retta Scott Worcester.
The cards—part of the Museum's permanent collection, but never previously displayed—were a gift to the Museum from one of Walt Disney's grandsons, Walter E. Disney Miller. He acquired them from a private collection that was started more than 60 years ago.
In celebration of this, our STORYBOARD blog team will be creating our own Christmas card to share with all of you, and we'd like to invite to join in on the holiday fun: Design, draw, sketch, paint, or create YOUR very own holiday card and send it to us at storyboard@wdfmuseum.org (subject: "MY Holiday Card"), no later than Friday, December 16, and you might see your holiday greeting displayed right here on our blog! (Snail mail can be sent to: The Walt Disney Family Museum, c/o STORYBOARD, 104 Montgomery Street, The Presidio, San Francisco, CA 94129).
Please note that all the holiday cards in our special exhibition can be seen as a reflection of each artist's distinct creative and artistic style that made them a Disney Studio great—and not even one includes a Disney character or theme, which makes the the creators' humor, style, and attention to detail more apparent. We encourage you to use your imagination and creativity to do the same! Thank you—and we look forward to seeing your holiday creations!
Image courtesy of the Mary Blair Family.