Our Movie of the Month for November is actually a collection of chapters from the beloved Mickey Mouse Club serial, "The Adventures of Spin and Marty," showing daily at 1:00 & 4:00pm (except Tuesdays, and November 24). Disney Historian, Author, and Friend of the Museum Jim Fanning wrote this story about Walt Disney and his famous child stars, including "Spin and Marty," exclusively for Storyboard.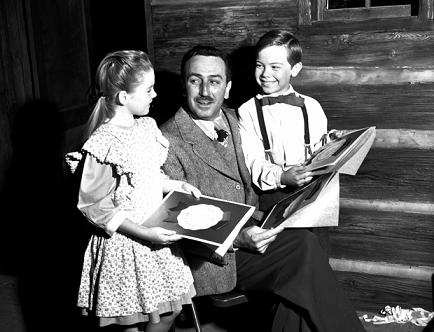 Walt Disney, artist Salvador Dali told Time magazine in 1954, "is innocence in action. He has the innocence and unselfconsciousness of a child. He still looks at the world with uncontaminated wonder." This wondrously childlike outlook helps illuminate both Walt's interest in spinning filmic tales centering on children, as well as his uncanny knack for finding young actors who became stars. Many of his productions, silver screen and small screen alike, featured children as main characters. In filling these films with handpicked young talent, Walt gathered a group of youthful performers many of whom made good acting, on-camera charisma, and audience appeal look like child's play. 
Of course, young-at-heart Walt loved children: even as a boy, he had a close relationship with his younger sister Ruth (two years and one day his junior), which endured throughout his life; and as an adult he doted on his daughters and grandchildren. But when it came to his screen children, the young actors who populated his live-action movies with disarming smiles, ingratiating playfulness and—last but not least—some powerful performances, had something besides affection for young people. Walt also possessed an innate ability to recognize talent; he instinctively knew how these young performers would resonate not only before the camera and on the screen, but also within the tales he chose to tell, so that they captured the hearts of audiences young and not-so-young. "The American child," Walt once said, "is a highly intelligent human being—characteristically sensitive, humorous, open-minded, eager to learn, and has a strong sense of excitement, energy, and healthy curiosity about the world in which he lives." The galaxy of young talent Walt showcased in his motion pictures over the years winningly exemplified his vision of childhood.
Walt's perceptive selection of charismatic young stars goes farther back than one might think. His first headlining star was not a cartoon character at all (sorry, Mickey), but a real little girl who appeared in the live-action/animation short films, the Alice Comedies. Virginia Davis was a Kansas City, Missouri, four-year-old when the fledgling filmmaker cast her as the live-action title character in Alice's Wonderland (1923). Also featuring an on-camera appearance by Walt Disney himself, this short was the very basis of the Disney entertainment empire for, on October 16, 1923, Walt and his brother founded their Hollywood studio in order to produce the Alice Comedies. Little Virginia relocated to California to perform as Alice among the animated characters. "It was a great time—full of fun, adventure, and 'let's pretend,'" Virginia recalled decades later. "I adored and idolized Walt, as any child would. He would direct me in a large manner with great sweeping gestures." "My Uncle Walt certainly found the right personality and talent when he cast Gini to be his very first star, and she did an outstanding job holding her own against her scene-stealing animated co-stars," Roy E. Disney, then-director emeritus and consultant for The Walt Disney Company, noted about Virginia at the time of her death in 2009 at the age of 90. 
Walt discovered another pretty little thing, named Luana Patten, on the cover of Woman's Home Companion magazine, and signed her for Song of the South (1946), his first film to incorporate a substantial amount of live action. After several more films for Walt, Luana went on to appear in motion pictures produced by other studios before returning to Disney to appear in Johnny Tremain (1957) as young Master Tremain's teenage love interest. "During my first few days on Johnny Tremain," Luana later reported, "[Studio staffers] kept coming up to me, shaking my hand and telling me about incidents that happened to me as a youngster. It really gave me a warm feeling to know that so many remembered me." Interestingly, Walt's younger daughter, Sharon, is one of Luana's youthful Johnny Tremain co-stars, and according to Luana, was friends with Miss Patten when both girls were young children playing together at the Disney Studios.
An even more significant child star in the Disney stable, Bobby Driscoll was a gifted actor who ably portrayed Johnny, the little boy at the heart of Song of the South. As with his little leading lady Luana Patten, Walt signed Bobby to a continuing contract. The producer showcased his young thespian as Jeremiah "Jerry" Kincaid, the lead character in So Dear to My Heart (1949) "So Dear was especially close to me," said Walt. "Why, that's the life my brother and I grew up with as kids out in Missouri." It's in this charming and richly detailed motion picture that we see how Driscoll closely reflects Disney. Walt reportedly referred to Bobby as the embodiment of his own childhood, and the boy can be seen as a personification of the way Disney may indeed have seen himself as a youngster: bright, curious, active, polite but with a healthy streak of independent thinking and even mischief. The Academy of Motion Picture of Arts and Sciences affirmed Walt's confidence in the diminutive movie star, honoring him with a special Oscar® as the outstanding juvenile actor of 1949. At this same time, Walt entrusted Bobby with the challenging lead role of Jim Hawkins in the producer's first all-live-action film, Treasure Island (1950). True to his reputation and fulfilling Walt's faith in him, Driscoll delivers a sterling performance that can aptly be described as a treasure.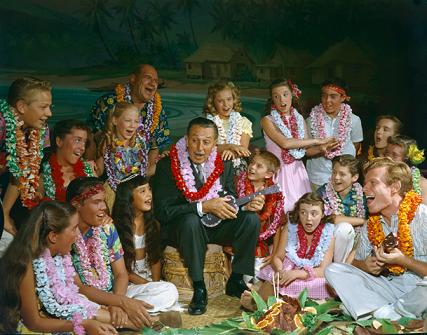 It was with the creation of TV's The Mickey Mouse Club in the 1950s that the roster of Walt's child repertoire company burst at the seams. Never satisfied with the status quo, the innovative producer revolutionized children's programming by making children themselves the stars of The Mickey Mouse Club, whereas on other kiddie shows such as Howdy Doody, the kids were passive spectators. "Audience not necessary — just kids,' Walt wrote in early development of the show. Such a plan meant the ambitious series—an hour-long variety show that would air five days a week—would need a cast of young singers and dancers—"Mouseketeers," as they would be known. Mickey Mouse Club producer Bill Walsh recalled getting a glimpse of Walt's insight into casting children when the master showman instructed, "I don't want to go to any of those professional schools [to find the kids]. I don't want those kids that…blow trumpets while they're tap-dancing or skip rope or have curly hair like Shirley Temple…. I just want ordinary kids."  Instead, Walt encouraged Bill to watch children at play. "You'll notice that you're watching one kid. Not any of the other kids, but sooner or later your gaze will always go back to this one kid. That kid has star quality…that's the kid we want to get in The Mickey Mouse Club. "The majority of the kids were not professionals," emphasized Mouseketeer Lonnie Burr (my own personal favorite of the Mickey Mouse Club members). "The audience would see that the Mouseketeers were not perfect kids, and they can do what the Mouseketeers could do. We weren't kids playing a role, we were kids playing ourselves, and there were no others like that on television."
Walt himself cast the show's overnight sensation, Annette Funicello. By her own admission, this most popular of the Mouseketeers was not the most talented singer or dancer or actor on the show—but she had that one overriding intangible that, to the master maker of youthful screen idols, was very tangible indeed: star quality. The popularity of this charming young lady would have been enough to make the show a hit, but there were, from among the cast members who came and went over the years, eight other Mouseketeers who also radiated Disney's trademark likeability and on-camera charisma. The Mouseketeers were, as Walt himself put it, "likeable youngsters of whom we are very proud." 
Incredibly, there were even more child performers on the trailblazing series than the Mouseketeers. When it came to rounding up talent for what would become the most popular Mickey Mouse Club segment, Walt was pretty handy with a lasso (figuratively speaking) when he roped in Tim Considine and David Stollery as the captivating stars of "The Adventures of Spin and Marty." "Mr. Disney was very good at working with children," observed David many years after the serial debuted in 1955. "He was very good at bringing you in so you felt you had a say and got a piece of the action." The master's touch is evident in the sure-footed casting of Considine and Stollery as the cowpoke kids.
Tim Considine may insist he was bashful when "Spin and Marty" first flashed across the TV screen, but he projected self-confidence. This self-assured buckaroo was a regular fellow right down to the glint of his braces sometimes visible when he smiled onscreen. "A lot of parents told me," Tim revealed, "that their kids could handle getting braces because I had braces. [The Disney Studio] had wanted to know if I'd take them off, and I said no." David Stollery, a veteran of the best of Broadway (a revival of On Bowered Time, adapted from the book by one of Walt's favorite writers, Lawrence Edward Watkin, who had also written the book on which "Spin and Marty" was based) and television (he appeared on I Love Lucy), had acting talent to burn, and was able to let his likeability shine through Marty's initially snooty behavior. 
This dude-ranch duo became instant tween and teen idols, particularly Considine: Tim was the male counterpart of the wildly popular Annette (who along with everyone else, was smitten with the effortlessly cool guy who played Spin), and as the most popular Mickey Mouse Clubboy, he also starred in "The Hardy Boys." And both Tim and David were paired with Annette in the two "Spin and Marty" sequels and the "Annette" serial.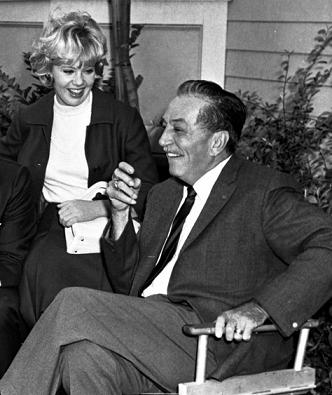 As if to confirm Walt's wisdom in his choice of dynamic child stars, Considine, Stollery and Funicello all starred in big-screen Disney features (as did Tommy Kirk, who was introduced to Disney audiences as Considine's "Hardy Boys" co-star). But no other child star in Disney's juvenile galaxy came close to eclipsing Hayley Mills. Walt spotted this lovely girl Tiger Bay (1959), a British film the producer was screening to see Hayley's dad John Mills, whom he was considering for Swiss Family Robinson (1960). Walt instantly saw that Miss Mills bubbled over with camera-friendly expressiveness, engaging emoting, and an inborn flair for comedy. He immediately cast her as the lead in Pollyanna (1960), a large, demanding role in which young Hayley triumphed. Like Bobby Driscoll before her, Hayley was awarded an honorary Oscar® as the outstanding juvenile actor of 1960 for Pollyanna.
While it's true that Walt saw something exceptional in his carefully selected child stars, its equally true his young thespians saw something special in their mentor. Hayley's remarks as she reminisced about making her second Disney film, The Parent Trap (1961) echo the sentiments of many a Disney child star: "It was always so special when [Walt] turned up on the set. And he was always so sweet, and modest and gentle. I wasn't overwhelmed by the fact that it was Walt Disney, this great legend standing in front of me, because he was so cozy."
Walt's knack for picking appealing kids who became silver screen superstars spanned his entire career. As many Disney fans know, one of the last things Walt wrote was a notation regarding Kurt Russell on a list of upcoming productions left on his office desk—and though Walt inadvertently misspelled Kurt's name as "Kirt," it clearly demonstrated the visionary producer saw something extraordinary in this Disney newcomer. In fact, in one of the last on-camera appearances Walt ever made —a promotional piece filmed on October 27, 1966, Walt introduced Follow Me, Boys (a 1966 feature which incidentally featured a grown-up Luana Patten), and spoke about the youth making his Disney debut, "a fifteen-year-old boy for whom I predict a great acting future, His name is Kurt Russell." 
Walt's assurance about Russell's talent was certainly borne out, as the clean-cut actor went on to become the most important Disney star of the late 1960s-'70s, most famously as Dexter Riley in a series of films starting with The Computer Wore Tennis Shoes (1969). In interviews given during Dexter's heyday, Kurt proved himself Walt-worthy: "Everything is for the good and nothing is negative at Disney. Your mind thinks a lot clearer and straighter. You look at the brighter side of things instead of the ugly side." Even in his late teens, Kurt never scorned the boy-next-door image that being a movie actor signed up by Walt Disney had given him, but he did ponder it, expressing wonder that even something as seemingly inconsequential as ordering hot chocolate instead of coffee at breakfast drew attention. "Strange that makes you an "all-American boy,'" he said with a shrug, "but it does."
Walt Disney was a man very much in touch with his inner child, and as such he gravitated toward youngsters who, through both personality and talent, reflected his values, his ideals, his vision of what a young person should be—and in the process, he created many a youthful star. Who else could have sent so many child stars shooting into the Hollywood stratosphere but Walt, the insightful creator who songwriters Richard and Robert Sherman incisively called "the youngest man we've ever known."
An author, historian, editor and researcher, Jim Fanning specializes in Disney. In a career dedicated to celebrating and exploring the work and life of Walt Disney, as well as his collaborators and those who carry on his legacy, Jim has recounted the history of many areas of the wide world of Disney. Co-editor and staff writer of Sketches, the Official Magazine of the Walt Disney Collectors Society and a contributor to Disney twenty-three Magazine and the D23 website, Jim has written books, articles, comics and a variety of other works, in addition to officially commissioned projects for many departments of The Walt Disney Company, as well as lending his expertise to many Disney licensees, including Enesco, Technicolor, Dixie, NBC, and Mattel. He also wrote many episodes of the groundbreaking documentary TV series,Disney Family Album, and has contributed writing and research to The Walt Disney Family Museum. Jim's philosophy is historical accuracy, dedication to uncovering new and little-known behind-the scenes stories, and lively and engaging storytelling that illuminates authentic Disney "magic." 
Images above: 1) Walt and his contract kids Luana Patten and Bobby Driscoll, 1946. © Disney 2) Walt and the Mickey Mouse Club go Hawaiian, 1957. © Disney 3) A great child star grows up: Hayley Mills with Walt on the set of That Darn Cat! 1965 © Disney