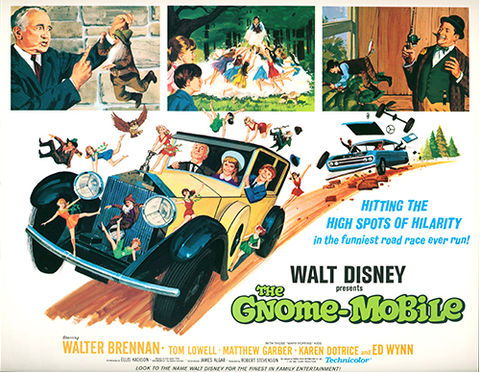 In celebration of the 50th anniversary of San Francisco's summer of love The Walt Disney Family Museum has rotated on view Disney film posters from the 1960s in the lower lobby. As part of the occasion, we are screening some classic 1960s Disney films all summer long, including The Gnome-Mobile, which is celebrating its 50th anniversary this year.
Based on the book of the same title by Pulitzer Prize-winning author Upton Sinclair, who was perhaps better known for books such as The Jungle and Dragon's Teeth, The Gnome-Mobile was one of the last films produced by Walt Disney in his lifetime, released about seven months after his death in July of 1967. It was a story that closed a circle for Walt and Sinclair, who passed away a year after the film's release: the author himself had approached Walt with this story in 1937, perhaps thinking it might be a good fantasy with which to follow up Snow White and the Seven Dwarfs.
The Gnome-Mobile reunited back many Disney favorites. Acclaimed character actor and Oscar®-winner Walter Brennan, who had appeared in 1965's Those Calloways, played not one but two grandfathers:  tycoon D. J. Mulrooney, who owns the eponymous car, and Knobby, the 943-year-old grandpa gnome. Brennan lost most of his teeth in an accident years earlier and was often known for playing toothless roles. For this film he was able to do both! Teeth in for Mulrooney, teeth out for Knobby.
It was also the final film for Brennan's Those Calloways co-star, Disney favorite Ed Wynn, most famous for voicing the Mad Hatter in Alice in Wonderland and playing Uncle Albert in Mary Poppins, among many other memorable roles. More Disney favorites of the 1960s included Karen Dotrice and Matthew Garber—the Mary Poppins kids—and the Sherman brothers, who won Best Score and Best Song Academy Awards® for Mary Poppins as well. The Gnome-Mobile was directed by Robert Stevenson, who also directed Mary Poppins, along with many other Disney classics such as Old Yeller, The Love Bug, and Bedknobs and Broomsticks.
During production, Robert Stevenson spoke with Walt about one of Mulrooney's lines, wondering "whether a grandfather would say such a thing to his grandchildren." He recalled Walt's answer: "I'm a granddad, and if my 11-year-old grandson drove my prize Rolls Royce, I'd congratulate him for not cracking it up, too."
The Gnome-Mobile contains a host of impressive special effects, especially considering that in the 1960s camera effects were still a relatively experimental art. The two-foot gnomes look incredibly believable standing next to their regular sized human counterparts (or "doodeens" as the gnomes call them). They used the same special effects devised for 1959's Darby O'Gill and the Little People to achieve the sizable height difference between the two, which was that of forced perspective. They achieved this effect by having the average-sized humans positioned closer to the camera, and the gnomes further away, and would then line them up on the same horizontal plane through the camera lens so that the distance could not be seen. This effect is still used today in films such as The Lord of the Rings series. They also used oversized prop pieces to help the gnomes appear tiny in the human-sized world, such as an oversized seat in the back of D.J. Mulrooney's 1930s Rolls Royce, which later earns the title of the Gnome-mobile as it transports its tiny passengers around the forests.
Residents and visitors to Northern California will notice some familiar sights in this movie, such as the Golden Gate Bridge and our famous California redwoods. While most of the film was shot at The Walt Disney Studios in Burbank, some of the rich forest scenes were shot on-site at Big Basin State Park in Santa Cruz County, in Guerneville in Sonoma County, and in Humboldt County.
To learn more about Walt Disney and his live-action films, visit our main galleries located on our first floor and our posters exhibition located in the lower lobby. Keep an eye out for some other rarely-seen 1960s Disney films that will be playing in our theater through June.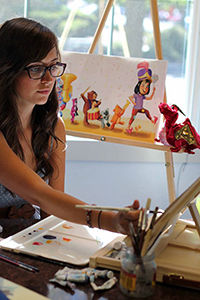 Tracie Timmer
Education Coordinator at The Walt Disney Family Museum