Tennessee Loveless is an artist currently based in Chicago, Illinois. Being colorblind, Loveless understands hues in a conceptual way, often making choices based on the fundamentals of color theory, word association, and color psychology, instead of considering the color itself. He has created officially licensed art for both The Walt Disney Company and Warner Bros. Perhaps most notably, his 10x10x10 series, which is based on 100 silhouettes of Mickey Mouse, explores the history of the iconic character and brings added global, societal, and personal context to the imagery. His works, Monochrome Throne (2013), Mickey Modified Mondrian (2016), Stay Calm and Scribble On (2018) are on display in our latest exhibition, Mickey Mouse: From Walt to the World.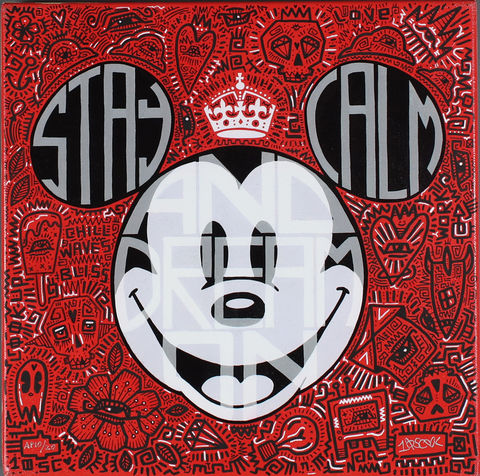 Mickey Mouse has always stood out to me as a hero of sorts. As a kid growing up in the doldrums of the suburban south, I often was misunderstood for my hyperactive imagination and obsessive compulsive need to draw and paint everything I was thinking. Mickey Mouse taught me that being a dreamer was a good thing, and having an imagination and desire to create was not a hindrance. 
Later on in life when I decided to pursue my career as a painter, I would find myself struggling greatly because of my color blindness. Where a large portion of the art world saw a handicap, Disney saw a potential in my unconventional use of color and wild ideas. My project "10 x 10 x 10" was in honor of Mickey, not just as an icon in the world of Disney, but as an icon in our every day lives. He was the reason why I kept on painting, kept on dreaming, and kept on painting everyday.
It is an honor to be showcasing my Mickey Mouse portraits with The Walt Disney Family Museum for this collection.
It is here where I can showcase my work with my 'family' of wild dreamers, out of the box thinkers, and fellow artists.