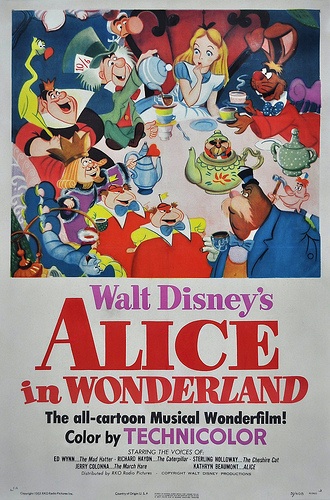 This month's featured film at The Walt Disney Family Museum has a unique and lengthy history in Walt Disney's life and career.
Like most children of his age, Walt had become familiar with the adventures of Alice through their famous literary origins, Alice's Adventures in Wonderland(1865), and Through the Looking‐Glass and What Alice Found There (1871), by Lewis Carroll.
Walt's first cartoon series in Hollywood, "The Alice Comedies," was a loose adaptation of the literary principle: a young girl finds herself transported into another world, in this case, a live-action girl into a cartoon world.
Walt set about adapting the original book for motion pictures several times, including a 1933 version intended as a vehicle for a live-action Mary Pickford in a Technicolor® animated Wonderland, and a full-length feature developed five years later, with extensive artwork created by British illustrator David Hall.
Mary Blair visually developed the idea in the late 1940s, and provided the artistic foundation for the full-length animated feature that finally premiered in England on July 26, 1951.
This Alice had a more "modern" look and feel than preceding Disney animated heroines, and took advantage of the new medium of television to promote the film in unique ways. Walt's first effort in producing original programming for television, "One Hour in Wonderland," aired on Christmas Day 1950, and was a 60-minute visit to the Studio Christmas Party focused on the making of Alice in Wonderland.
At the same time, a 10-minute short on the making of the film, Operation: Wonderland, was produced. This film was sent to theatre exhibitors and independent television stations across the country. They got a free entertainment program, and Walt got an ingenious promotion for his upcoming film.
On March 18, 1951, the popular "Fred Waring Show" highlighted the song score of Alice in Wonderland, and co-starred cast members Kathryn Beaumont and Sterling Holloway. Walt hosted a short segment about the origins of the movie, and Mary Blair even designed the sets used on the TV show.
Alice in Wonderland was the first of Walt's animated features to be shown on television, airing on the original "Disneyland" TV show on November 3, 1954, and airing four more times on the anthology show during Walt's lifetime.
On Christmas Day, 1959, Walt introduced the fourth TV airing of Alice in Wonderland this way:   http://www.youtube.com/watch?feature=player_embedded&v=9h3OsPHUz6Q
Walt Disney's Alice in Wonderland screens daily (except on Tuesdays, and April 9th and 16th) at 1pm & 4pm in our state-of-the-art digital theatre.