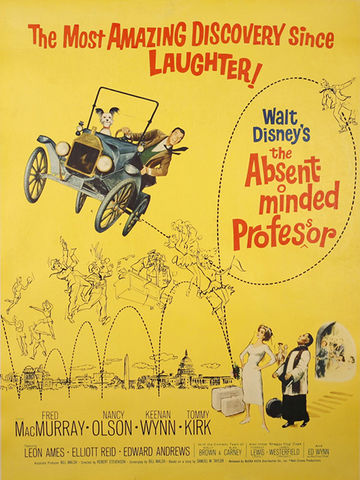 After the success of the 1959 release The Shaggy Dog, Walt Disney aspired to make more comedies for the whole family to enjoy and began a search for stories with unusual, family-friendly plots. He acquired the rights to two of Samuel Taylor's short stories which featured a professor who creates loads of new inventions. One story was about rubber and another was about a flying car; inspired by these stories the writers at The Walt Disney Studios created The Absent-Minded Professor.
The 1961 film stars Fred MacMurray in his amusing performance as Ned Brainard, a passionate physical chemistry professor. Brainard, (or, as Alonzo Hawk calls him,"Neddy the Nut") is known for being scatter-brained, and has a reputation for obsessively tinkering with his scientific experiments. As a result of one of his routine explosions he accidentally creates flying rubber, or "Flubber," a substance which sends Brainard and others soaring.
To believably depict Flubber's airborne capabilities, the technicians at The Walt Disney Studios utilized a variety of visual effects. These techniques include miniatures, matte paintings, and wire-supported props, including the skeleton of a model T with its engine removed. To lend a kind hand to the effects, Walt and his production team filmed The Absent-Minded Professor in black and white. The Walt Disney Studios would surpass this level of special effects with more complex color effects in the 1964 film, Mary Poppins.
With a fun story, imaginative camera shots, believable effects, and witty humor, The Absent-Minded Professor was a hit with audiences of all ages. The film played at Radio City Music Hall in New York City for seven consecutive weeks, became one of the top five films of 1961, and was nominated for three Academy Awards. The success of the film led to the release of Son of Flubber in 1963, which would be the only feature-length Disney sequel produced by Walt.
To learn more about the career of Walt Disney visit The Walt Disney Family Museum, and be sure to see our collection of 1960s Disney film posters on view in celebration of San Francisco's 50th anniversary of the summer of love.
Fun Facts
"The Absent-Minded Professor March" or "Medfield Fight Song" marks the first Sherman Brothers' song heard in a Disney feature film. Richard M. and Robert B. Sherman would have a successful career with The Walt Disney Studios writing many memorable scores and songs for projects, including The Jungle Book, Mary Poppins, the iconic theme to "it's a small world" and more.
Medfield college, the fictitious school featured in The Absent-Minded Professor, was the backdrop for several other Disney films including: Son of Flubber; Now You See Him, Now You Don't; The Computer Wore Tennis Shoes; and The Strongest Man in the World.
The extremely limber comedic actor, Wally Boag, served as MacMurray's stunt-double and provided many of Professor Brainard's high-flying stunts, and also makes an appearance as the news reporter. Boag is best known as the long time performer in the Golden Horseshoe Revue in Disneyland.
The EPCOT ride Journey into Imagination with Figment features several nods to The Absent-Minded Professor including a glimpse at a Medfield college jacket through a window.
Actress Nancy Olson, who plays Brainard's fiancé, Betsy, made a cameo appearance as an executive secretary in the 1997 Absent-Minded Professor remake, Flubber.
One of Walt's favorite comedians, Ed Wynn, plays the Medfield town fire chief. Wynn's son Keenan portrays Brainard's nemesis Alonzo Hawk. His grandson, Ned, also makes an appearance in the film.
TIME magazine published the following "recipe" for readers to concoct their own Flubber: "To one pound of salt water taffy add one heaping tablespoon polyurethane foam, one cake crumbled yeast. Mix till smooth, allow to rise. Then pour into a saucepan over one cup cracked rice mixed with one cup water. Add topping of molasses. Boil till it lifts and says 'Qurlp.'"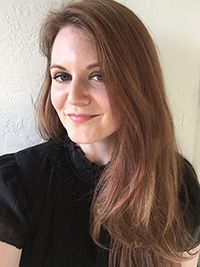 Jenna Benton
Guest Experience Associate at The Walt Disney Family Museum