The Penthouse Club at The Walt Disney Studios was a private, member's only club on the fourth and top floor of the Animation building. The higher paid artists and animators, who could afford the membership fee, could enjoy a restaurant, gym, lounge, and other amenities. It was commonly known as "the roof." And on July 4, 1955, members of the club, along with their wives and children, were invited to a special preview of Walt Disney's latest and most exciting new venture: Disneyland. 
It was a foggy Monday morning when nearly two hundred people made their way to Anaheim. Soon a breeze would clear the skies as Walt's new Magic Kingdom welcomed its first families through the gates. As historian Todd James Pierce points out, "Walt, specifically, wanted to see how children would engage his park, as until then, its few visitors had mainly been adults."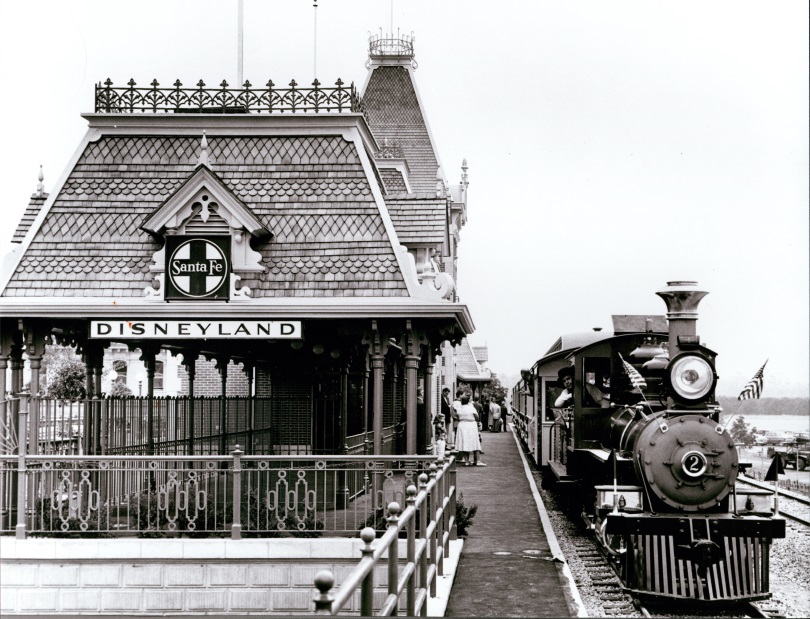 Though opening day was mere weeks away, the park still had a long way to go towards readiness. Only the west side of the park was open to attendees, with Fantasyland and Tomorrowland closed. Main Street, U.S.A.  was open to pedestrians, but the shops and businesses remained closed. The only access to the west side was via Adventureland as the Frontierland bridge was unfinished. As far as rides went, none of the attractions featuring mechanical ride systems were ready. Only the pack mules, Conestoga wagons, and stagecoaches were up and running. Three now classic attractions were ready enough to welcome guests. The Mark Twain Riverboat, not yet officially christened, steamed up the Rivers of America. The Jungle Cruise boats were operational, still without their colored and striped canopies. The jungle itself was sparsely inhabited with mechanical critters, though not yet the beloved elephants. 
Probably the most exciting event of the day was the running of the locomotives of the Santa Fe & Disneyland Railroad. Walt Disney, along with animator and fellow railroad enthusiast Ward Kimball, had the honor of pulling the first passengers along Disneyland's yet to be completed track. Ward and his family arrived that day complete in costume, much to the amusement of the other attendees. Ward's profile sitting at the controls of a locomotive, complete with bowler cap and overalls, is unmistakable. 
The Disneyland Railroad was one of the first operational attractions at Disneyland. Walt would use the railroad as a vantage point to view construction progress. In the park's early years, the two original locomotives, No. 1 C. K. Holiday and No. 2 E. P. Ripley took on passengers from only one station each, the Ripley at Main Street, USA and the Holiday at Frontierland. This reflected each train's theming, as the Ripley pulled more ornate yellow coach cars, and the Holiday pulled stock cars and gondolas. Either station featured a siding of track, where the one train could safely pass by the station as the other took on passengers.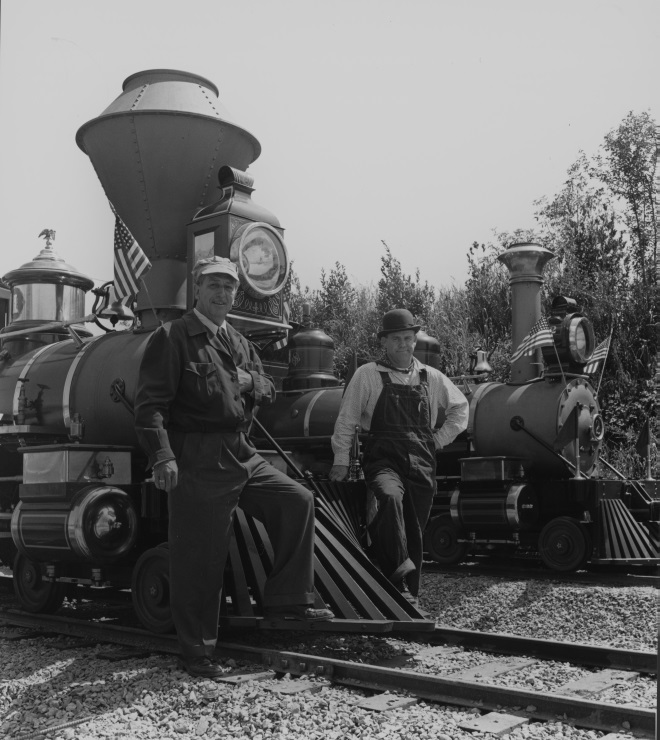 On July 4, with Walt and Ward at the helm of each train, the runs would have been similar to those Walt made on his park inspections. Ward engineered theRipley leaving Main Street, U.S.A. as Walt took the C.K. Holiday at Frontierland. The two engineers probably hadn't had so much fun since their trip to the Chicago Railroad Fair in 1948. As Ward himself would remember, "[Walt] had seen the engines steam tested at the studio, but theywere only run a few yards. Here they were ready…and he wanted me to be there because he knew I had locomotives, and I'd had a little say in what they looked like…we were like kids, playing trains." Legend says that even as the guests had leftlater in the day, Walt and Ward continued running the trains into the evening hours, their own little Independence Day celebration.
As guests looked out from the train for a view of the park, they still would've had to use much of their imagination to fill in the color and detail. As Pierce comments, "There would be absolutely no landscaping of any kind yet in Frontierland. The Frontierland station was there, un-landscaped [the depot was modeled after Ward Kimball's Grizzly Flats Depot used in So Dear to My Heart (1948)].  It had a wooden deck out back. But there was no hardscape around it (cement), no pathways, etc. The park still looked a lot like a construction site." 
 The families in attendance on July 4 were all those of Disney employees, including many Disney Legends. Alan Coats was just one of those lucky youngsters who made it to the park that day. His father, Claude Coats, had been a background painter and stylist at The Walt Disney Studios since 1935, and had recently started his first work for Disneyland with Mr. Toad's Wild Ride. That attraction would not be his last contribution to the park, far from it in fact. 
Young Alan, 11 years old, and his younger brother, accompanied their parents down to Anaheim from the family home in Burbank (their mother had been an Ink and Paint artist at the Studios). Coats would remember, "It took a long time to get to Disneyland from the studio because the freeway wasn't finished… So we got off in Buena Park somewhere and wandered through the orange groves. It was a very rural experience."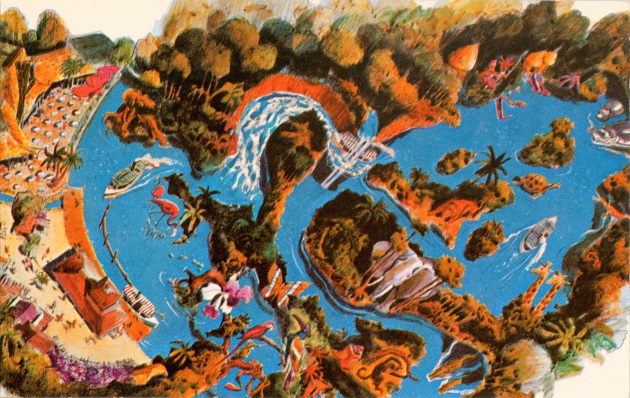 Arriving at the park, Coats noticed a lot of construction left to be finished. "Even as a kid, I thought, 'I don't see how they're going to get this open in two weeks!' The only operational element on Main Street was the Main Street Cinema! […] I could look into Tomorrowland, and the [ Clock of the World] and the TWA rocket were erected in there. And Fantasyland was just totally boarded off. They wouldn't let us in through the castle. So most of the day was spent in Frontierland, which was very active, and in Adventureland." 
Aboard The Jungle Cruise (where in later years Coats would be the skipper, "Alligator Al,") they were gifted with a special treat. "It was so great because Walt got into our boat! He just got in to say, 'Well, thank you for coming! And I hope you have good time! Welcome to Disneyland!' This was really exciting!"
Coats continues, "But most of our day was spent in Frontierland. And it just seemed so huge. And it was dusty and it was hot. And I felt like I was out in the Wild West… I was impressed… There were so many animals there…The other big event of the day as I recall was lunch. We crossed the railroad tracks between Adventureland and the Chicken Plantation house and down into what would become Holidayland. And out there was a grassy field with a big tent. And it was filled with benches and tables serving all kinds of great things, you know, hot dogs and barbecue and things you'd expect on 4th of July. We had a wonderful time and stuffed ourselves with ice cream!"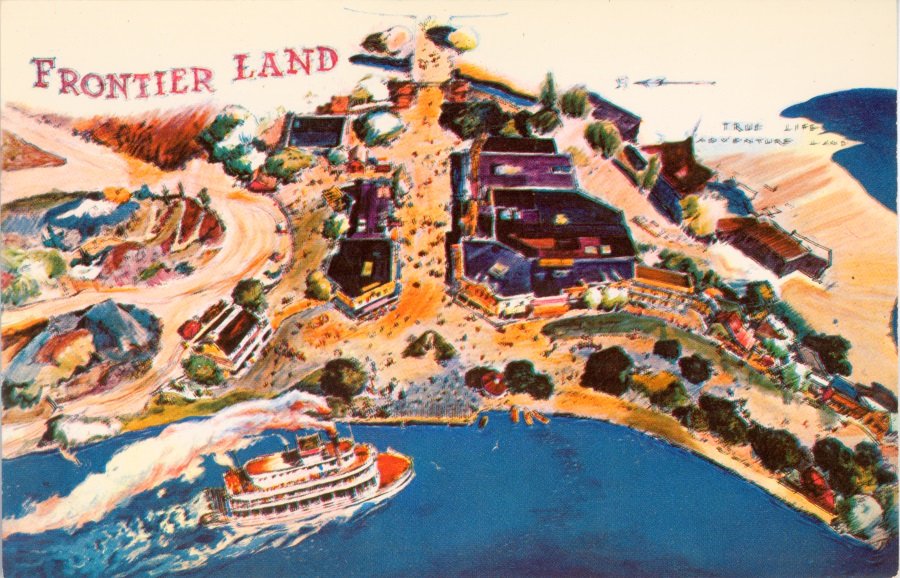 Even though Disneyland was not yet the jewel it would become, those in attendance recognized the grandeur of Walt's new kingdom. As Coats would say, "Out there in Frontierland…it was so big, and I felt that if somebody had just left me there I don't how I would've found my way back. It sounds silly now. I oriented myself to the hub when we came in, but I couldn't see the castle out there. It just seemed so big… Within the two weeks so much happened that it was just incredible. Walt was able to motivate these people to get it done so everything was working on opening day."
The Fourth of July party is a special moment in Disneyland history, a last deep breath before the gates opened to the whole world. And Walt chose to share this moment with those who had been closest to him for so many years before, those who had helped him realize his animation dreams, and some of whom he'd take along for this new dream. 60 years later, the memory still burns strong for those who were there. 
A last word from Alan Coats: "When we left we walked past the firehouse. And Dad said, 'Up there above the firehouse, that's Walt's apartment!' And my brother and I said, 'Oh, wouldn't it be the greatest thing in the world to actually live at Disneyland!'"
Lucas O. Seastrom
Museum Educator and Content Developer at The Walt Disney Family Museum
---
Sources
Broggie, Michael. "Workin' On the Railroad." Walt Disney's Railroad Story: The Small-scale Fascination That Led to a Full-scale Kingdom. Virginia Beach, VA: Donning, 2006. 227-32. Print.
DeGaetano, Steve. "The Penthouse Party." Welcome aboard the Disneyland Railroad!: The Complete Disneyland Railroad Reference Guide. Winnetka, CA: Steam Passages Publications, 2004. 117-18. Print.
"Interview with Alan Coats." Telephone interview. 22 June 2015.
"Interview with Todd James Pierce." E-mail interview. 11 June 2015.
"Interview with Tom Nance." Personal interview. 15 June 2015.
Janzen, Leon, and Jack Janzen. "Santa Fe and Disneyland Railroad." E Ticket Summer 1994: 16-31. Print.
Pierce, Todd James. "The Penthouse Club at the Disney Studio - Disney History Institute." Disney History Institute. N.p., 18 Mar. 2014. Web. 15 June 2015. <http://www.disneyhistoryinstitute.com/2014/03/the-penthouse-club-at-disn....
Special thanks to Alan Coats for granting us an interview!