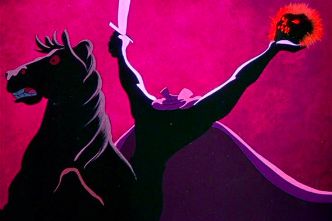 SPECIAL EXHIBITIONS
Between Frames: The Magic Behind Stop Motion Animation
September 27, 2012–April 28, 2013 | Theater Gallery
Free with Museum admission
This special exhibition explores the evolution of stop motion animation in the United States in special effects, television, and film. Between Frames tells the story of a 100-year-old art form that launched Walt Disney's career in animation. The exhibition features behind-the-scenes photographs, rare armatures and puppets, and original storyboards from cult favorite films and television including King Kong, Gumby, Star Wars, Jurassic Park, Robot Chicken, and The Nightmare Before Christmas and showcases stop motion innovators like Ray Harryhausen, Phil Tippett, Will Vinton, Tim Burton, Henry Selick, and others.
Christian Louboutin's Modern-Day Cinderella Inspired Slipper
September 26–October 15 | Gallery 7
Free with Museum admission
The fabled Cinderella slipper which has captured the hearts and imagination of generations of women around the world, comes to life as The Walt Disney Studios and world-renowned shoe designer Christian Louboutin present the ultimate, modern-day Cinderella inspired slipper in Paris, on view for a limited time at the Walt Disney Family Museum.
"Cinderella is not only an iconic character when it comes to beauty, grace and fairytale love, but also shoes," explains designer Christian Louboutin. For Louboutin, the worlds of fantasy and shoe-making collided in perfect harmony when he was invited by Disney to re-imagine Cinderella's famous slipper in honor of Disney's global release of the classic masterpiece Cinderella Diamond Edition on Blu-ray™ this Fall, available in early October in the Museum store.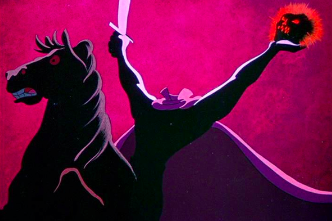 SCREENINGS + DISCUSSIONS
Film of the Month: HallowScreen!
Screens daily October 1-25, at 11am, 1, 3, and 5pm (except Tuesdays and October 20, 26-28) | Theater
Free with Museum admission | Without Museum admission: $7 adult; $5 youth
Celebrate Halloween with our special selection of Disney spooky cartoon shorts, featuring The Skeleton Dance, Pluto's Judgment Day, The Mad Doctor, and more. You'll have a "howling" good time!
Puppet Masters: Stop Motion Animation in Visual Effects Filmmaking
Saturday, October 20 | 3pm | Theater
General: $20 adult; $15 youth | Members: $18 adult; $14 youth
Visual effects legend Ray Harryhausen inspired a generation of visual effects artists with his pioneering work in stop motion animation. Four of Ray's "kids," all masters of this technique, will gather to discuss stop motion animation and its use in creating characters and creatures for movies.
Dennis Muren, Phil Tippett, Tom St. Amand, and Jon Berg have created visual effects using stop motion in some of the most famous films of the last three decades. The holographic chess pieces in the original Star Wars, the Hoth snow battle in The Empire Strikes Back, the dragon Vermithrax in Dragonslayer, the mine car chase in Indiana Jones and the Temple of Doom, the flying rocket man in Rocketeer, and the deadly ED 209 robot in Robocop are just a few examples of their amazing craft.
Join moderator Hal Hickel in a discussion of their work with stop motion, its history as a visual effects technique, and the transition into computer-generated animation. (This program is presented in conjunction with the special exhibition, Between Frames: The Magic Behind Stop Motion Animation.)
Tim Burton's The Nightmare Before Christmas
Friday, October 26 through Sunday, October 28
11am, 1:30, and 4pm | Theater
Free with Museum admission | Without Museum admission:  $7 adult; $5 youth
In celebration of our special exhibition Between Frames: The Magic Behind Stop Motion Animation, the Museum will be screening the 1993 Disney stop motion musical fantasy film by producer and co-writer Tim Burton.
SPECIAL PROGRAMMING
Animate Your Night: Halloweentown!
Friday, October 26 | 7–10pm | Museum-wide
Members: $5 | General: $10
Don your best costume and see our special exhibition Between Frames: The Magic Behind Stop Motion Animation, celebrating creepy characters such as Jack Skellington, Coraline, and Robot Chicken. Don't miss out on the screening of The Nightmare Before Christmas, tantalizing bites from Presidio restaurant Dixie, and a chillingly delightful cocktail.
Look Closer: Stop Motion Animation
Friday, October 26; Saturday, October 27; Sunday, October 28
11am, 1 and 3pm | Theater Lobby | Free with Museum admission
Join us for a brief gallery talk to learn more about our new special exhibition—Between Frames: The Magic Behind Stop Motion Animation.
CLASSES + ACTIVITIES
Master Class | 10am–Noon | Digital Media Studio and Art Studio
Adult: $50 | Student: $40
A hands-on master level class in stop motion animation conducted by Teresa Drilling—Animation Supervisor/Animator at Bent Image Lab—who will provide instruction, demonstrations, and stories of life on the front lines in the business. (Due to the subject matter, this class is open to participants 18 yrs. and older, who are currently students of animation or industry professionals.) 
Open Studio
Saturdays, October 6 and 13; Sundays, October 7 and 14
1–3pm (drop-in activity) | Learning Center Art Studio | Free with Museum admission
Come experience, explore, and experiment with us in Open Studio. Drop in the first weekend of every month for inspiring opportunities to learn and create, and to participate in innovative projects and activities. The possibilities are endless!