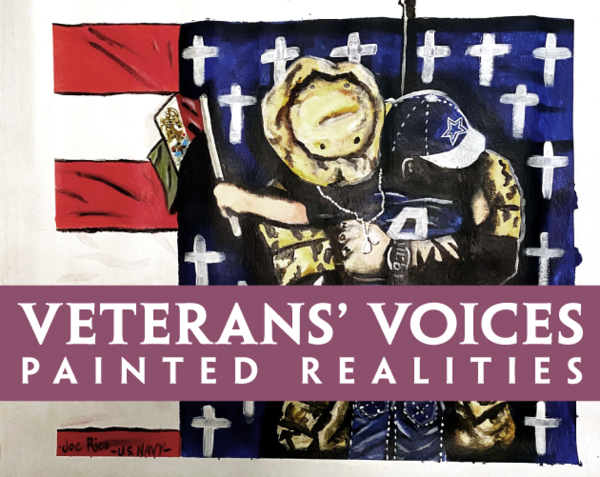 UPDATED FOR IMMEDIATE RELEASE
San Francisco, May 24, 2021—A new, 360-degree virtual recreation of The Walt Disney Family Museum's current community outreach exhibition, Veterans Voices: Painted Realities, will be available to view for free starting on Memorial Day, Monday, May 31.
"During San Francisco's shelter-in-place order, our Exhibitions team embraced technology to virtually open our doors to the global community," says museum Director of Exhibitions & Collections, Marina Villar-Delgado. "Our virtual exhibitions during this past year were a remarkable collaboration between the museum team and a group of volunteers, and the positive response we continue to receive from members and guests has been overwhelming. Virtual exhibition spaces have proven to be an invaluable tool, and we're excited to continue offering them in the future."
This completely self-navigational, 3D recreation of Veterans' Voices: Painted Realities is the first time the museum's Exhibitions team has utilized a 360-degree camera to create and build an experience allowing visitors to virtually walk through and explore museum galleries. It will serve as an alternative option to accommodate individuals who are unable to visit the exhibition in person.
Veterans' Voices is the museum's fifth annual Community Access Exhibition, inspired by the vision of the museum's co-founder, Diane Disney Miller, who championed arts access as a vital component of the museum's commitment to community engagement.
The physical Veterans' Voices: Painted Realities exhibition is on display now in the museum's Lower Lobby Gallery, and will be available to view virtually at waltdisney.org/veteransvoices starting Monday, May 31st at 11am PT. Special thanks to the Sharon D. Lund Foundation for their generous support of this exhibition.