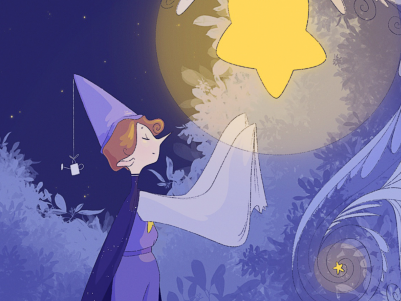 San Francisco, April 14, 2023—The Walt Disney Family Museum is proud to present Pencils and Passion: A Student Art Exhibition—a celebration of the museum's educational initiatives and the achievements of its students. Pencils and Passion is the 37th original exhibition produced by the museum. It highlights both past and current student artwork, recognizes the accomplishments of its alumni, and chronicles the development of The Walt Disney Family Museum Animation Academy.
This special exhibition will present student-created traditional and digital artworks, including animated short films, which have been produced over the past decade at both The Walt Disney Family Museum and on location at partner schools and organizations. With 121 artists and over 280 works featured, the wide range of traditional artwork media on view will include watercolor, acrylic, and oil paintings, pastels, charcoal, ink, clay, ceramic, needle felting, and paper art. Multi-media work produced as part of the student's creative process will also be showcased, such as storyboards, comics, maquettes, sculptures, character designs, concept art, background designs, costume designs, and film scripts.
Since opening in 2009, The Walt Disney Family Museum has been dedicated to the mission of the museum's co- founders, Diane Disney Miller and Walter Miller, to inspire and support future generations of artists, animators, and storytellers. Guided by Walt Disney's legacy of fostering self-growth and innovation, the museum continues to provide comprehensive animation training to students from many locations and backgrounds, with a variety of interests and career goals.
"A decade ago, the museum committed itself to offering focused and engaging educational opportunities based on the art of animation. Classes and workshops are available to students of all ages, with an emphasis on serving students from marginalized and under-resourced communities," says Kirsten Komoroske, Executive Director of The Walt Disney Family Museum. "We are honored to celebrate our students' work in this exhibition. I am profoundly moved by the impact that the artists who have studied at the museum have already had on the animation industry, and I look forward to following our students' progress for many years to come."
The Walt Disney Family Museum's Education Department has continued to grow and expand its reach over the past decade. The School and Outreach Department offers both virtual and in-person School Experiences that take students on a journey through Walt Disney's life, incorporating interpretive workshops that explore his story and innovations more deeply. Beyond the museum's walls, the team also visits elementary, middle, and high schools throughout the San Francisco Bay Area, teaching the key principles of story, character design, and animation.
The museum's Studio Department, which started with weekend workshops, has grown substantially, offering year-long courses, summer intensive programs, and distance learning initiatives with New Hampton School in New Hampshire. In 2021, the museum expanded its Studio programming to include the Animation Academy Certificate Program—a 6-hour per week intensive, in-person animation course for high school students at Eastside College Preparatory School in East Palo Alto, California. The Studio team further broadened its reach this year by partnering with EPACENTER, a new creative youth development organization also in East Palo Alto, which allows more students in the community to explore creative career paths.
Pencils and Passion celebrates the progress and success of the museum's Education Department, led by Director of Education, Travis Lacina, and Studio Manager, Anita Meza, through the work and talents of their students.