Date
May 23, 2012 – Jul 7, 2013
Location
Diane Disney Miller Exhibition Hall
From May 23 to July 7, 2013, The Walt Disney Family Museum presents the special exhibition Maurice Sendak: 50 Years, 50 Works, 50 Reasons. The exhibition features 50 works by the legendary author and illustrator, accompanied by 50 statements from celebrities, authors, and noted personalities on the influence of Sendak's work, all in celebration the 50th anniversary of his universally revered book, Where the Wild Things Are.
The exhibition includes 50 original works from Where the Wild Things Are in a variety of mediums including sketches, illustrations, and works on paper, and showcases highlights from Sendak's career and the diverse art forms in which he was renowned. Many of the works are from private collections and friends of the artist, offering a survey of his range as an artist and author. It is widely known that Sendak decided to become an illustrator at the young age of 12 after watching Disney's film Fantasia (1940). He also amassed a collection of Mickey Mouse and other Disney memorabilia throughout his lifetime.
From children's literature, animated films, and textbooks to Broadway and opera, Sendak garnered worldwide acclaim for his genius and insight. Among the contributing commentators to the exhibition are playwright and screenwriter Tony Kushner, comedian Stephan Colbert, artist Robert Crumb, director Spike Jonze, President Barack Obama, New York Mayor Michael Bloomberg, actor/director Tom Hanks, and author Lemony Snicket.
"Perhaps no one has done as much to show the power of the written word on children, not to mention on their parents, as Maurice Sendak."
―Former President Bill Clinton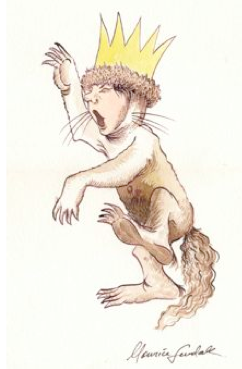 "Early collaborations on Sesame Street and a shared appreciation for the inventive possibilities of monsters launched a life-long relationship between Jim Henson and Maurice Sendak infused with imaginative thinking, daring creativity, and their mutual admiration for the expansive world view of children."
―Bonnie Erickson, Executive Director of The Jim Henson Legacy
"I was a huge fan, not just because [Maurice Sendak] could illustrate so beautifully, but because he wrote in a way that had never been presented before."
―Whoopi Goldberg, Actor
"Maurice Sendak helped raise my kids—all four of them heard 'The night Max wore his wolf suit…' many times."
―Tom Hanks, Actor/Producer
 "I would look at those pictures—where Max's bedroom turns into a forest—and there was something that felt like magic there."
―Spike Jonze, Director (Where the Wild Things Are Motion Picture, 2009
 "Where the Wild Things Are [is] one of my favorite classic books of all time."
―President Barack Obama
"Maurice Sendak captured childhood in brilliant stories and drawings that will live forever."
―Richard Robinson, Scholastic Chairman, President and CEO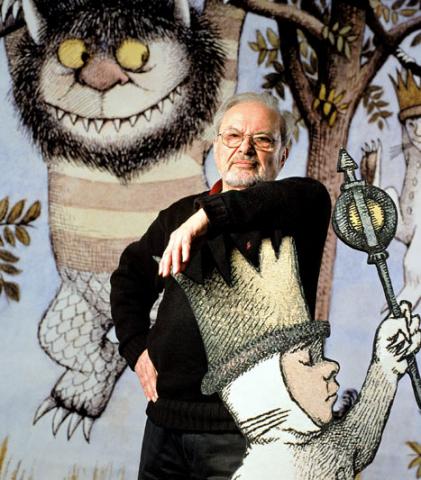 About Maurice Sendak
Maurice Sendak has illustrated more than one hundred picture books throughout his 60-year career. Some of his best known books include Chicken Soup with Rice, Where the Wild Things Are, and In the Night Kitchen. Born in Brooklyn in 1928 to Jewish immigrant parents from northern Poland, Sendak grew up idolizing the storytelling abilities of his father, Philip, and his big brother, Jack. As a child he illustrated his first stories on shirt cardboard provided by his tailor-father. Aside from a few night classes in art after graduating from high school, Sendak is largely a self-taught artist. Throughout his career, he has taken characters, stories, and inspirations from his among his own neighbors and family, pop culture, historical sources, and long-held childhood memories. Sendak began a second career as a costume and stage designer in the late 1970s, designing operas by Mozart, Prokofiev, Ravel, and Tchaikovsky, among others. He won numerous awards as both an artist and illustrator, including a Caldecott Award, a Newberry Medal, the international Hans Christian Andersen Award, a National Book Award, the Astrid Lindgren Memorial Award, and a National Medal of Arts. His books continue to be read by millions of children and adults and have been translated into dozens of languages to be enjoyed all over the world.
Maurice Sendak: 50 Years, 50 Works, 50 Reasons exhibition tour is managed by Opar Media, LLC. Content © MSME. Media sponsor: Juxtapoz. 
Check our calendar for related programming.