Date
Nov 13, 2014 – Mar 15, 2015
Location
Diane Disney Miller Exhibition Hall
This comprehensive exhibition explores the influence that railroading had on Walt Disney's life and work. It also tells the story of how his railroading legacy lives on to this day in Disney films and theme parks around the world. Including more than 200 artifacts, firsthand accounts, archival videos, images of Walt and his trains, and actual model trains running throughout the show, All Aboard highlights how Walt's passion for trains developed long before manifesting itself in Disney short cartoons, feature films, and in Walt's personal life at home.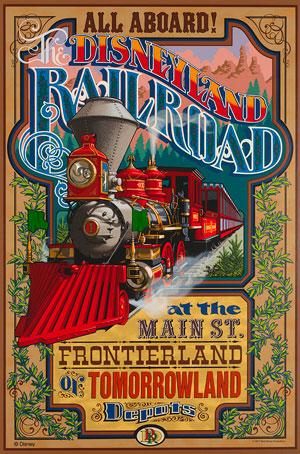 Guest curator Michael Campbell, president of the Carolwood Pacific Historical Society, constructed the exhibition to reflect Walt's railroad journey as told through multiple chapters: Lighting the Fire, Building Steam, Gaining Speed, Full Throttle, Switching Tracks, Branching Out, A Grand Circle Tour Around The World, and Coming Full Circle. The exhibition's conclusion reminds us that, even over a century later, Walt's railroading influence remains as a vibrant and relevant force.
In the early 1900s, trains weren't just a means of transportation; they were a lifeline and critical to the development of the United States. Walt's father Elias, along with his Uncle Mike, worked on the railroad. This instigated Walt's fascination of railroading. One of Walt's earliest jobs was as a news butcher for a few months in 1916, selling magazines and snacks on the Missouri Pacific, Kansas City Southern, and the Missouri-Kansas-Texas railroads. About this experience, Walt said: "My railroad career was brief, exciting, and unprofitable." Little did he know that a number of his later successes would involve railroading, in both his personal and professional lives.
During a cross-country rail trip to New York in early 1928, Walt not only lost his cartoon star Oswald the Lucky Rabbit, but also half of his animation staff to his film distributor. Before boarding the return train to California, Walt sent his brother Roy a telegram: "Don't worry, everything OK." On the train home, Walt contemplated a new character—a mouse, which he named Mortimer. His wife Lillian had a different idea, and, with their collaboration on a name, Mickey Mouse was born.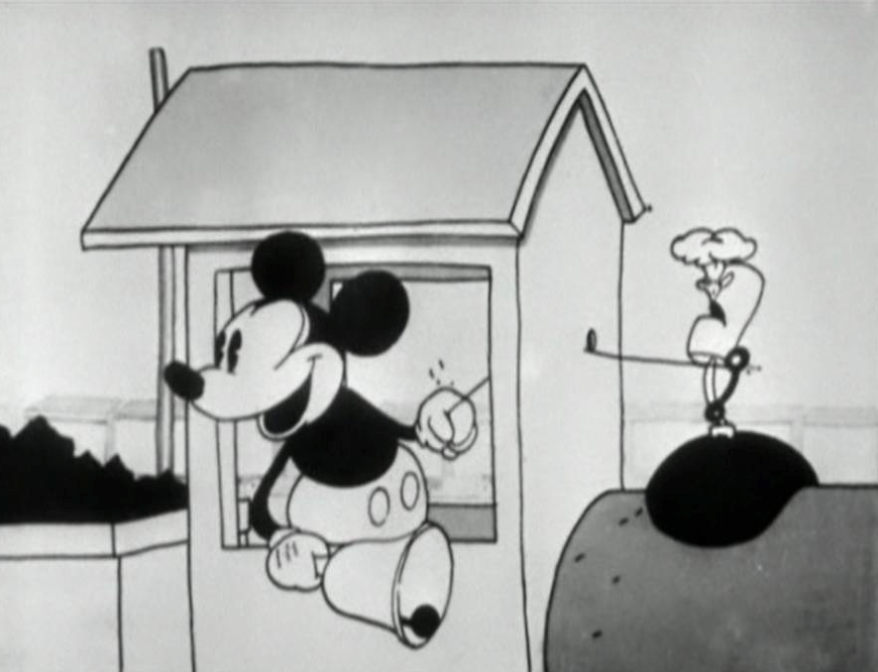 After Mickey's debut in Steamboat Willie on November 18, 1928, he would star with a train in the 1929 short Mickey's Choo-Choo. Trains would also make appearances in future Disney shorts and films, either as plot devices or as characters of their own—with The Brave Engineer (1950) and Casey Jr. from the 1941 classic Dumbo. In the move to live-action films, it was inevitable that the Studios began featuring more trains, including the ones seen in So Dear to My Heart and The Great Locomotive Chase. Around this time, Walt also fulfilled a long-time desire: he bought and built a tabletop model train layout in his office suite, running it whenever he had a spare moment. He enjoyed showing it off to visitors, including some of his own animators who were train buffs themselves.
In July of 1948, Walt boarded a train to attend the Chicago Railroad Fair. In addition to being invited to participate in the "Wheels-a-Rolling" pageant—where classic trains paraded by—Walt was deeply moved by the recreation of the funeral train for the president he most admired: Abraham Lincoln. Also, after visiting the Henry Ford Museum in Dearborn, Michigan on his way back to California, Walt was impressed and inspired by the attractions of this park, which included a 4-4-0 locomotive that pulled guests around the estate. When he returned home, Walt constructed his own steam engine—a 1/8th scale model, that he named the Lilly Belle in honor of his wife Lillian. This train circled on a half-mile track, looping around his home in Holmby Hills. Also at this time, he began documenting ideas for a "Mickey Mouse Park," a family park he would build that would include a railroad station.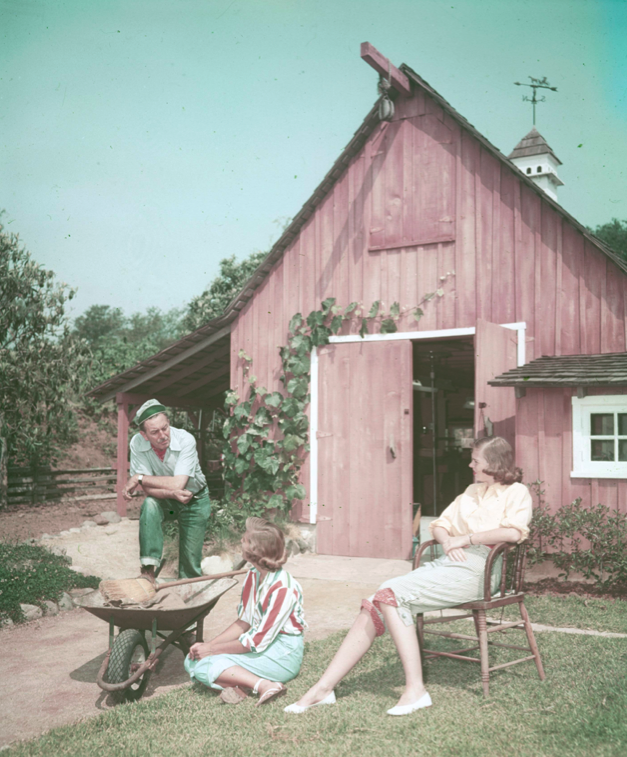 Walt was undeniably a great storyteller. So it came as no surprise when he used railroading as a tool to fully immerse his audience in stories planted throughout his Magic Kingdom: Disneyland. In all of the Park's lands, locomotives served a greater purpose than just transportation. They were also essential elements to the story, responsible for helping guests imagine themselves part of an American train voyage at the turn of the 20th Century.
The journey of this exhibition doesn't start and end with just Walt, though. All Aboard also explores the interest and passion for railroading of Walt's friends and staff, including two of Walt's "Nine Old Men," animators Ward Kimball and Ollie Johnston. Notably, Kimball was the first private owner of a full-sized steam locomotive, and Johnston's railroading hobby was latent until he stumbled upon the miniature train Walt was building in his office. Showcased alongside the animators are WED Enterprises' Imagineers - "Imagination Engineers" - Roger Broggie and Bob Gurr, whose creative locomotives helped Walt transport his guests throughout Disneyland, and later, the Magic Kingdom Park in the Walt Disney World Resort.
Finally, All Aboard will reveal how Walt's railroad legacy continues today. Guests will learn how Disney theme parks and films continue to honor trains and railroading, from recent creations to those that have yet to be imagined.
ABOUT THE CURATOR
Michael Campbell's love of steam railroading was sparked by a childhood trip to Disneyland. He is currently the President of the Carolwood Pacific Historical Society and a Board Member Emeritus of the Carolwood Foundation, the non-profit organization that maintains and operates Walt Disney's Barn in Griffith Park. Exhibitions celebrating Walt's love of trains, planned and prepared by Campbell, were showcased at the California State Railroad Museum in 2002 and at the Disney Gallery in 2012. Campbell has presented talks about Walt and railroading for many groups, including Disneyland Resort, Walt Disney World Resort, Pixar Animation Studios, and various schools, charities and railroad organizations. Recently, he was the Project Director for the Carolwood Foundation's project to acquire, restore, and preserve the Wells Fargo Combine: Walt's favorite car from his Santa Fe and Disneyland Railroad passenger train. 
Campbell—in collaboration with Walt's daughter Diane Disney Miller, and her son Walter Elias Disney Miller—assisted in the creation of railroad-related content on view in The Walt Disney Family Museum's core galleries.
All Aboard: A Celebration of Walt's Trains is produced by The Walt Disney Family Museum.