Cost
FREE | Sign-up Required
Join Academy Award®-nominated Director Mark Osborne for a workshop on the fundamentals of pitching and creating a story for the screen. Learn how Osborne created the world behind The Little Prince (2015) using his famous "magic suitcase" full of incredible, hand-made optical delights—charming investors, composer Hans Zimmer, cast members Jeff Bridges and Rachel McAdams, and students around the world.
Walt Disney's Birthday Celebration Event
Join us for a virtual celebration of Walt Disney's birthday, honoring the many innovations Walt and his company have contributed to the entertainment and animation industry, and the diverse artists that continue his legacy of innovation today. The Walt Disney Family Museum will be offering a week-long array of free virtual programming in honor of Walt's Birthday in 2020 to allow everyone the opportunity to enjoy the museum from the comfort of their own home. Join us online during the week Monday, November 30 to Saturday December 5 for programs that highlight Walt's life, work, and legacy. Happy Birthday, Walt!
See the full array of programming on the Walt's Birthday event page.
Q&A and Requirements
Questions can be submitted during the webinar through Zoom's Q&A function. Due to anticipated demand and limited Q&A time, not all submitted questions will be answered.
All participants must sign up by noon PT on Tuesday, Dec 1. Participants must have a Zoom account to attend the webinar. A link to the webinar and instructions for joining will be sent via email prior to the event.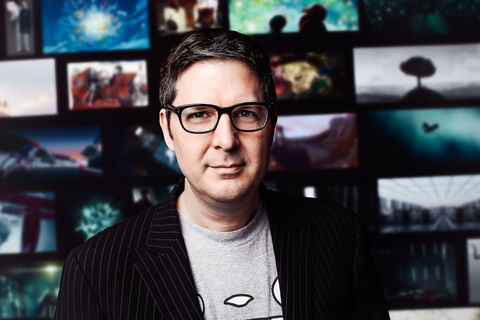 About the Speaker
Mark Osborne is a two-time Academy Award®-nominated filmmaker, a Guggenheim Fellow, and a recipient of the Chevalier of l'Order des Arts et Letters for his cultural work on behalf of the country of France. He most recently directed the first-ever animated feature film adaptation of Antoine de Saint-Exupéry's beloved classic, The Little Prince (2015). Mixing stop-motion animation and CGI, the film features an impressive cast of voice talents led by Jeff Bridges, Rachel McAdams, and Mackenzie Foy. Premiering Out of Competition at the Cannes Film Festival, The Little Prince (2015) grossed over $100 million dollars at the global box office and garnered remarkable worldwide acclaim, capped by the 2016 French César Film Award® for Best Animated Feature, a Children's BAFTA Award® for Best Feature Film of 2016, and an impressive Rotten Tomatoes rating of 94%.
Osborne's breakout was DreamWorks' critically acclaimed animated blockbuster, Kung Fu Panda (2008), which received an Academy Award nomination for Best Animated Feature. Osborne's other credits include the stop-motion animation short film, More (1998), which received an Academy Award nomination for Best Animated Short Film in 1999, a Special Jury Prize at the Sundance Film Festival, and dozens of others distinctions.
Osborne has also worked in live-action, directing sequences for The SpongeBob SquarePants Movie (2004), as well as live-action sequences in the first three seasons of the popular TV series. Osborne graduated from California Institute of the Arts with a degree in Experimental Animation, previous to that he attended Pratt Institute in Brooklyn, NY where he met his wife Kim, who incidentally gave him his first-ever copy of The Little Prince (1943). They now have two children, Maddie, who inspired the main character of his adaptation, and Riley, who voiced the titular character in the movie at age 11. Osborne is currently living just outside NYC, working on two animated feature film projects for Netflix Animation.
Help Us Continue Our Digital Efforts
Since opening over 10 years ago, we have sought to make the museum a place where our guests could find animation, innovation, and inspiration and immerse themselves in the remarkable life story of Walt Disney—the man who raised animation to an art, tirelessly pursued innovation, and created a distinctly American legacy, transforming the entertainment world.
Over the course of our closure, we have increased our digital presence to stay true to our mission. Your donations ensure that we can continue opening our museum virtually to the world, and that future generations can continue to be inspired by Walt Disney's life and legacy.
On-Sale Information
Tickets for Virtual Workshop | The Art of Storytelling: The Making of The Little Prince (2015) with Academy Award®-Nominated Director Mark Osborne are available as follows:
All member levels: Purchase tickets online beginning Tuesday, November 24 at noon
Public (non-members): Remaining tickets available online beginning Wednesday, November 25 at noon