During this virtual tour of the museum, take a deeper look at the life and career of Walt Disney, focusing on themes of innovation and diversity of talent at his Studio.
Walt Disney's Birthday Celebration Event
Join us for a virtual celebration of Walt Disney's birthday, honoring the many innovations Walt and his company have contributed to the entertainment and animation industry, and the diverse artists that continue his legacy of innovation today. The Walt Disney Family Museum will be offering a week-long array of free virtual programming in honor of Walt's Birthday in 2020 to allow everyone the opportunity to enjoy the museum from the comfort of their own home. Join us online during the week Monday, November 30 to Saturday December 5 for programs that highlight Walt's life, work, and legacy. Happy Birthday, Walt!
See the full array of programming on the Walt's Birthday event page.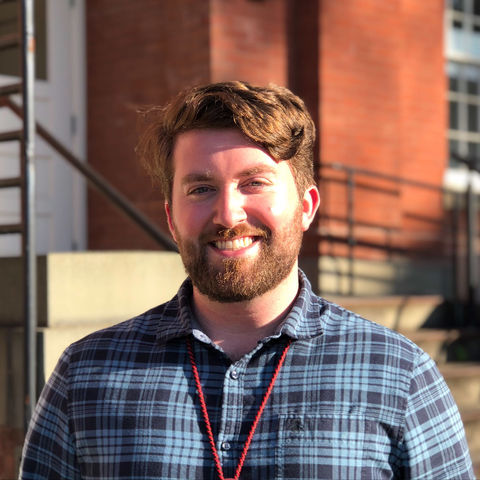 About the Speaker
Chris Mullen is the Senior Marketing and Communications Coordinator, a Storyteller Tour Guide, and the co-host of the WD-FM Podcast at The Walt Disney Family Museum. Mullen started at the museum in 2014 as a Guest Experience Associate, trained to give tours and Spotlight Talks based on a variety of periods in Walt Disney's life, and became a contributor to the museum blog in 2016.
As part of the Guest Experience team, he helped to open and welcome guests to several special exhibitions in the Diane Disney Miller Exhibition Hall, including All Aboard: A Celebration of Walt's Trains (2014), Wish Upon a Star: The Art of Pinocchio (2016), Awaking Beauty: The Art of Eyvind Earle (2017), and Walt Disney's Nine Old Men: Masters of Animation (2018).
While on the Marketing team, he co-moderated a Q&A with Disney Legend Bob Gurr, hosted tours of virtual community art exhibition openings, and gave a virtual talk about the history of Disneyland in honor of the Park's 65th anniversary. He currently coordinates copy editing, copy writing, program announcements, and content creation duties for departments across the museum.
Chris Mullen earned his Bachelor of Arts in History from California State University, East Bay in 2016.
Help Us Continue Our Digital Efforts
Since opening over 10 years ago, we have sought to make the museum a place where our guests could find animation, innovation, and inspiration and immerse themselves in the remarkable life story of Walt Disney—the man who raised animation to an art, tirelessly pursued innovation, and created a distinctly American legacy, transforming the entertainment world.
Over the course of our closure, we have increased our digital presence to stay true to our mission. Your donations ensure that we can continue opening our museum virtually to the world, and that future generations can continue to be inspired by Walt Disney's life and legacy.