Cost
FREE | Sign-up Required
Join designer and modelmaker Mark Hurt as he discusses his process and in-depth research for creating the intricate scale-model of Walt Disney's Carolwood home for our previous special exhibition Home for the Holidays at Carolwood (2017–19).
Walt Disney's Birthday Celebration Event
Join us for a virtual celebration of Walt Disney's birthday, honoring the many innovations Walt and his company have contributed to the entertainment and animation industry, and the diverse artists that continue his legacy of innovation today. The Walt Disney Family Museum will be offering a week-long array of free virtual programming in honor of Walt's Birthday in 2020 to allow everyone the opportunity to enjoy the museum from the comfort of their own home. Join us online during the week Monday, November 30 to Saturday December 5 for programs that highlight Walt's life, work, and legacy. Happy Birthday, Walt!
See the full array of programming on the Walt's Birthday event page.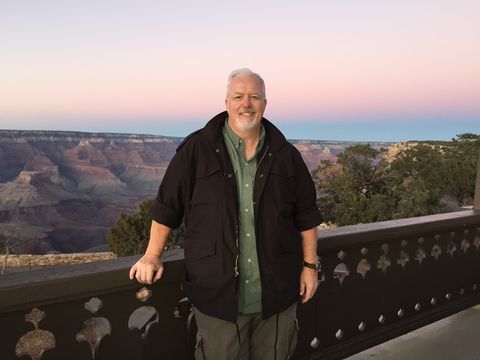 About the Speaker
Through his own engineering and manufacturing firm, Constructioneer Mark Hurt specializes in the field of entertainment engineering, designing and fabricating elements for the motion picture industry, amusement park attractions, and custom process development and machinery for commercial organizations. His customers include such companies as Walt Disney Imagineering, Marvel Studios, Universal Studios, Sony Pictures, Lockheed, British Aerospace, Apple, Coca-Cola, Hilton Hotels, and Norwegian Cruise Lines.
Hurt is one of the founders of the Atlanta-based company Nanoventions, which combines innovative optical and non-optical microstructure mastering techniques with economic manufacturing methods to bring high quality micro-optic solutions to many already established markets. Current applications of the company's technologies include: document and product security and authentication technologies to prevent counterfeiting of currency, driver's licenses, event, and transit tickets, and pharmaceuticals; and industrial optical films for use in commercial lighting, LCDs, televisions, and solar cells.
Hurt holds 26 US patents with numerous patents pending. He is a member of, and published author for, the International Society for Optics and Photonics. He supports Best Friends Animal Society, and the Pumpkin Foundation, which benefits rescued animals. Hurt is a founder and the President of the Kauai Society for the Prevention of Cruelty to Animals. He and his wife currently reside in North Carolina, while their son, a United States Marine, is an Aerospace Engineer at NASA.
Help Us Continue Our Digital Efforts
Since opening over 10 years ago, we have sought to make the museum a place where our guests could find animation, innovation, and inspiration and immerse themselves in the remarkable life story of Walt Disney—the man who raised animation to an art, tirelessly pursued innovation, and created a distinctly American legacy, transforming the entertainment world.
Over the course of our closure, we have increased our digital presence to stay true to our mission. Your donations ensure that we can continue opening our museum virtually to the world, and that future generations can continue to be inspired by Walt Disney's life and legacy.
On-Sale Information
Tickets for Capturing Walt's Carolwood with Model Designer Mark Hurt are available as follows:
All member levels: Purchase tickets online beginning Tuesday, November 24 at noon
Public (non-members): Remaining tickets available online beginning Wednesday, November 25 at noon