Date
Sat, Mar 20 | 11am PT
Cost
FREE | Sign-up Required
We invite you and your family to celebrate Women's History Month with a Virtual Storytime of Star Wars: I Am a Padawan with Actress and Author Ashley Eckstein. In this special presentation, learn about Eckstein's path to bringing the story of Star Wars' Ahsoka Tano to readers around the globe.
Registration
Registration for this program will open to the public starting Wednesday, March 3 at noon.
Members receive priority access for registration to these programs. A limited number of spots for each program are reserved for members only on a first-come, first-served basis. To get priority access to future programs, join as a member today.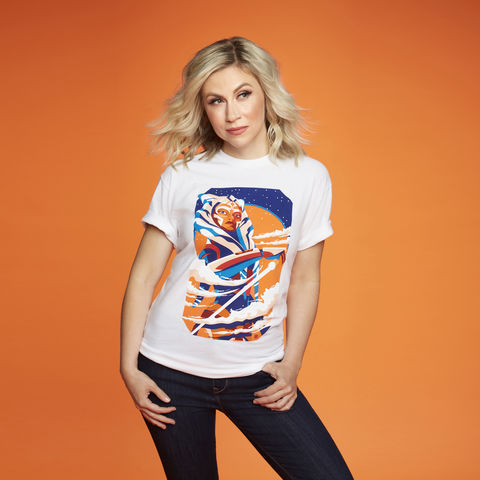 About the Speaker
Ashley Eckstein has been widely recognized and honored as an actress, entrepreneur, author, and Fangirl trendsetter. Most known as the voice of Ahsoka Tano in Star Wars: The Clone Wars, Eckstein also founded Her Universe in 2010—the groundbreaking fangirl fashion and lifestyle brand. A leading authority on female fandom, Eckstein has been featured on CNN, Forbes, Entertainment Weekly, New York Times, Los Angeles Times, and the Wall Street Journal, among many others. She was a speaker at Fortune's Next Gen Most Powerful Women Summit, and was chosen by Good Housekeeping magazine as one of their "25 Awesome Women" and by CNET as one of their "Women Who Inspire." Eckstein is married to former Major League Baseball player and 2006 World Series MVP, David Eckstein.
Ashley Eckstein's book, It's Your Universe, You Have the Power to Make It Happen, is an inspirational guide on how to make your dreams come true. She shares her own life lessons as well as lessons from iconic Disney characters, as a roadmap for how to dream it and do it.
Help Us Continue Our Digital Efforts
Since opening over 10 years ago, we have sought to make the museum a place where our guests could find animation, innovation, and inspiration and immerse themselves in the remarkable life story of Walt Disney—the man who raised animation to an art, tirelessly pursued innovation, and created a distinctly American legacy, transforming the entertainment world.
Over the past year, we have increased our digital presence to stay true to our mission. Your donations ensure that we can continue opening our museum virtually to the world, and that future generations can continue to be inspired by Walt Disney's life and legacy.